Spotlight
Glenn Lesser
---
November 2012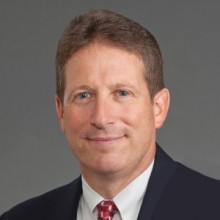 We were excited to have the opportunity to hear from the extremely accomplished, Glenn J. Lesser, M.D., F.A.C.P., Professor and Director of the Neuro-oncology Service at the Brain Tumor Center of Excellence at Wake Forest.
Dr. Lesser was born and raised in the northeast and spent much of his youth just outside of Philadelphia. After high school graduation, he was accepted to Duke University and graduated summa cum laude with a Bachelor's Degree of Arts. He then went on to pursue a medical degree from Pennsylvania State University, Milton S. Hershey School of Medicine, and graduated in 1987. He spent the next several years completing his postdoctoral training in Internal Medicine, where he was named Chief Resident at the North Carolina Baptist Hospital. Upon completion of his Residency and Internship, he was accepted as a Senior Clinical Fellow at the Johns Hopkins University School of Medicine. Throughout his time at Johns Hopkins, Dr. Lesser developed a strong passion and energy for the clinical side of medicine and believed that he was best suited for direct patient care. He found that he truly enjoyed the personal interactions with his patients and their families working together as a team, and he loved the science that helped in every day decision-making. He spent his next three years at Johns Hopkins working under the leadership and guidance of Dr. Skip Grossman, a distinguished neuro-oncologist , in the department of medical oncology. In 1995, Dr. Lesser moved to North Carolina where he joined the team at Wake Forest to create and develop the Brain Tumor Program, which is now nationally known for their expertise in neuro-oncology, both clinically and scientifically, as well as for their clinical trial expertise.
Dr. Lesser and his wife Tracy, of 25 years, have 3 children, Megan, Alexandra and David. When he is not working, he and his wife can be found on the tennis courts where they are USTA league players or spending time with their children and Golden Retriever, Dolby.
It is quite clear why Dr. Lesser was asked by Dr. Mark Gilbert, to join our Scientific Advisory Board two years ago. In addition to his numerous achievements as a Professor and physician, he is also an expert clinical trial specialist, and has been very helpful in the critiquing process as we develop new clinical trials for ependymoma patients. When we asked Dr. Lesser what he thought was unique about the CERN Foundation, he had this to say, "What CERN has done extremely well is to bring together both outstanding clinicians and bench scientists to provide a setting for direct and ongoing interactions between all of the researchers involved in developing better understanding and treatment of ependymomas. Additionally, the ongoing and immediate peer review process built in to the CERN Foundation meetings is somewhat unique and clearly enhances the output of the group. All of the interactions professionally, and even socially, have created a platform to build trust among the group. This in turn, inevitably, leads to better interactions in the medical arena. The CERN Foundation is an extraordinarily novel and unique undertaking in the fight against an orphan disease."
Having individuals like Dr. Glenn Lesser as part of the CERN Foundation team reminds us that we have the best and brightest minds on board to help keep us focused and headed in the right direction in our search for a cure. We are grateful to Dr. Lesser for all of his contributions and enthusiasm for the CERN Foundation.