Risk Project
The Risk Project intends to answer the one question that plagues most all patients: Why did this happen to me? CERN is expanding the work of our successful Ependymoma Outcomes Surveys to improve our understanding of risk factors associated with the occurrence of ependymoma. Sign up today!
Stories
Connecting you with other ependymoma patients and caregivers.
Referrals
Connecting you with neuro-oncologists who specialize in treating ependymoma.
"When I was first diagnosed six years ago - my life was turned upside down. I contacted the CERN Foundation and they were so kind and genuinely interested in providing information and direction. With their help, I was able to find a medical center experienced in treating ependymoma."
---

CERN Headlines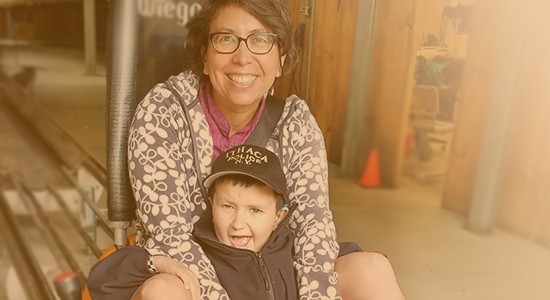 CERN Foundation Releases Ependymoma Community Blog Series
This series of blog articles is written by members of the ependymoma community. Some are ependymoma survivors and others are caregivers. They share their advice to help others with ependymoma cope with their illness.
Metabolic Regulation of the Epigenome Drives Lethal Infantile Ependymoma
Ependymomas are glial tumors that occur throughout the central nervous system. Of the nine distinct molecular types of ependymoma, posterior fossa A (PFA) ependymomas, found in the hindbrain of infants and young children, are the most prevalent type. In this publication, the investigators have identified a metabolic-epigenomic link in PFA ependymomas that informs the phenotype of PFA ependymoma and possible development of novel therapeutic strategies for these lethal cancers.

Ependymoma Awareness Day is May 3, 2020
Join the CERN Foundation to raise awareness of ependymoma! On May 3, 2020, CERN will mark the ninth Annual Ependymoma Awareness Day with a virtual butterfly release to honor loved ones, caregivers and to increase public recognition of this rare tumor.

Taboo Cancer Topics
Ependymoma survivor, Matt, shares how to bring up taboo cancer topics with your doctor - prognosis, intimacy, embarrassing side effects, second opinions and disagreeing with the treatment plan.
View All News >