Ependymoma Awareness Day 2021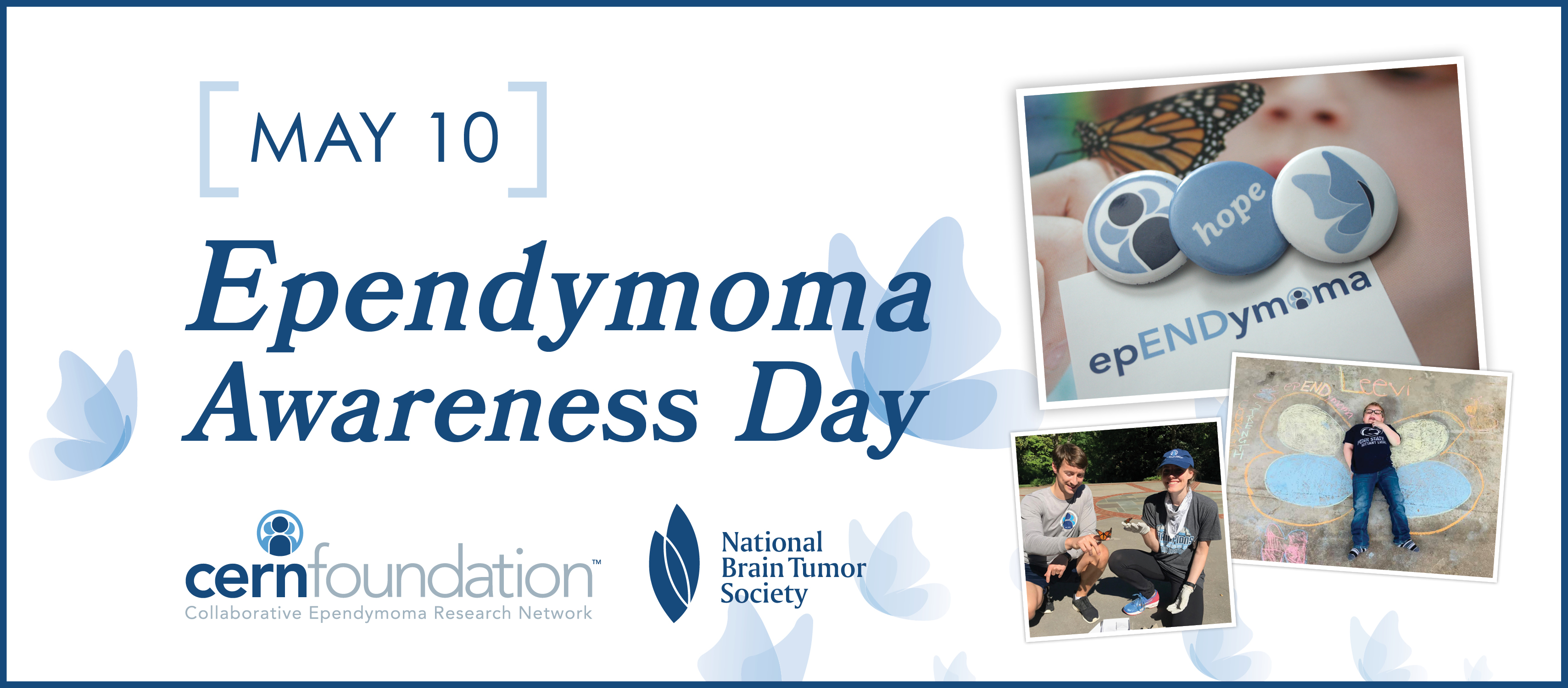 Patients, care partners and medical professionals from around the world dedicate May 10, 2021 as the tenth annual Ependymoma Awareness Day!
Ependymoma Awareness Day
Join the CERN Foundation and the National Brain Tumor Society during Brain Tumor Awareness Month to commemorate the 2021 Ependymoma Awareness Day! This year Ependymoma Awareness Day will be held on May 10 to represent the 10 different molecular groups of ependymoma. Held every year since 2012 as global advocacy event, Ependymoma Awareness Day highlights the importance of an accurate diagnosis and the urgent need for better targeted treatments.
Ependymoma Awareness Day (EAD) was established in 2012 by the CERN Foundation as part of a global effort to shine a light on this poorly understood disease. Our goal with Ependymoma Awareness Day is to increase public recognition of this rare tumor and the urgent need for more clinical studies to improve diagnostic methods, develop better targeted treatments and improve outcomes for those living with this disease. View the 2020 Ependymoma Awareness Day for more ideas.
Ependymoma is a heterogenous disease, meaning there is great diversity within the disease. We know about these differences because of the extensive work that has been done in molecular classification by an international group of collaborative scientists. Molecular analysis allows us to look inside a cell to identify important DNA or RNA changes and markers. The classification of molecular groups and subtypes for ependymoma is constantly evolving. Today, 10 different major types (molecular groups) of ependymoma are recognized and are distinguished according to location, pathology, and distinct molecular features. Understanding these important molecular differences will help guide future clinical protocols designed to identify targeted therapies. To learn more about molecular diagnostics watch the c-IMPACT NOW Educational Event.
CERN has been a significant contributor of the scientific research efforts that lead to the discovery of the ependymoma groups.
Butterfly Release
On Ependymoma Awareness Day, butterflies around the world are released to honor loved ones with ependymoma, recognize care partners and medical workers, and to support ependymoma research efforts. The delicate and beautiful butterfly was chosen to represent the spirit of the ependymoma community as a symbol of hope through change. Read more for ways to get involved on May 10 for Ependymoma Awareness Day! "The butterfly was chosen as a symbol to represent hope. Just as a butterfly dramatically changes its shape, so does the meaning of hope along this journey. Hope is something that I am guessing everyone here has been forced to cling to in our greatest moments of despair. Ependymoma survivor Maise said it best: HOPE is Holding On for Possibilities that are Extraordinary." Kimberly Wallgren, Executive Director of the CERN Foundation, a program of the National Brain Tumor Society.
The CERN Foundation will commemorate Ependymoma Awareness Day with a live streamed virtual event that will take place on May 10, 2021 at 1PM EST on the CERN 2021 EAD website and Facebook Live. The 30-minute program will feature educational and awareness content from CERN Advisors and Members, historical clips from previous EAD events, key issues from the ependymoma community, and will conclude with a butterfly release.
RSVP for the virtual EAD event
Show Your Support!
The CERN Foundation is currently engaged in a range of community outreach programs and support efforts designed to have a positive impact on the lives of children and adults living with ependymoma, as well as their families and caregivers. Please consider supporting our efforts by making a donation or creating your own online fundraising campaign.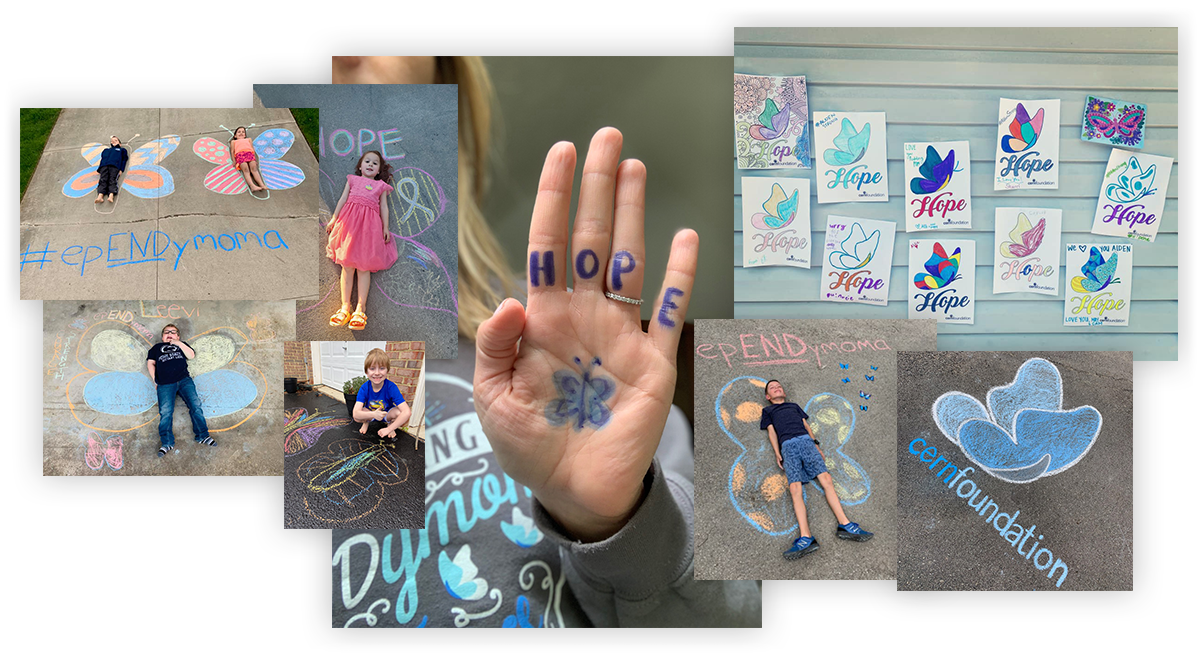 Ependymoma Awareness Outreach
Create Awareness Where You Live! On a local level, we urge you to participate in an ependymoma awareness activity, helping to create a greater understanding of the disease. You could support awareness in the following ways:
Ways to Raise Awareness!
Register for the 2021 Ependymoma Awareness Day Virtual Event on May 10th at 1pm EST by emailing administrator@cern-foundation.org or join the Facebook Live Event!
Get creative with the CERN Butterfly Coloring Page, Chalk Art, and CERN Hands for Hope activity and share on your social media page. Make sure to send us a copy and tag #CERNButterfly #hands4hope #GRAYMAY #BTAM
Share information on ependymoma with another person who has never heard of it!
Tell your medical team about Ependymoma Awareness Day!
Document your awareness efforts on Facebook, Twitter, Instagram, or blog and use the hashtag #CERNButterfly #GRAYMAY #BTAM
Seek recognition from your local government or ministry of health!
Ways to Take Action!
Contact Your Local Officials
You can create awareness of ependymoma where you live! In the past, we were honored that Ependymoma Awareness Day was officially recognized by numerous municipalities around the world, including: Colorado, Illinois, Indiana, Kansas, Massachusetts, Michigan, Missouri, New Hampshire, New York, North Carolina, Ohio, Oregon, Pennsylvania, Tennessee, Texas, Virginia, Wisconsin, Harford County, Montgomery County, Shelby County, Trigg County, Washington, DC, Austin, Chicago, Cincinnati, Columbus, Dayton, Detroit, Eureka, Happy Valley, Houston, Ithica, Los Angeles, Madison, Memphis, Palo Alto, Pittsburgh, San Diego, Santa Barbara, Seattle, Sunnyvale, Texarkana, Toronto, Chapel Hill, Schaumburg.
Make sure your town is included in this list in 2021! You can download a sample proclamation and sample letter asking your local officials to recognize May 3, 2020 as Ependymoma Awareness Day!
Contact Your Local Media
You may also want to contact your local media including newspapers, radio stations and TV stations to let them know about your efforts. These media outlets are often interested in covering awareness events in their local area. You can download our sample press release asking local media to run a featured story!
Toolkit
Let Us Hear From You!
We would love to hear from you! Please feel free to share your experiences with us and submit information and pictures of your own activities so that we may include them in future events on our website, giving inspiration and direction to others as they get involved in Ependymoma Awareness Day!