2021 Ependymoma Awareness Day Outreach Report
— Categories: Press Release Posted on May 20, 2021
In a groundswell of international support, patients, care partners, medical professionals and advocates participated in a variety of events marking May 10, 2021 as Ependymoma Awareness Day.
Collectively, these events helped to create a greater awareness of ependymoma and garnered momentum from around the world. Below are a few of the 2021 Ependymoma Awareness Day activities that were held around the world this year!
Daughter of Ependymoma Survivor is Athleta Girl of the Month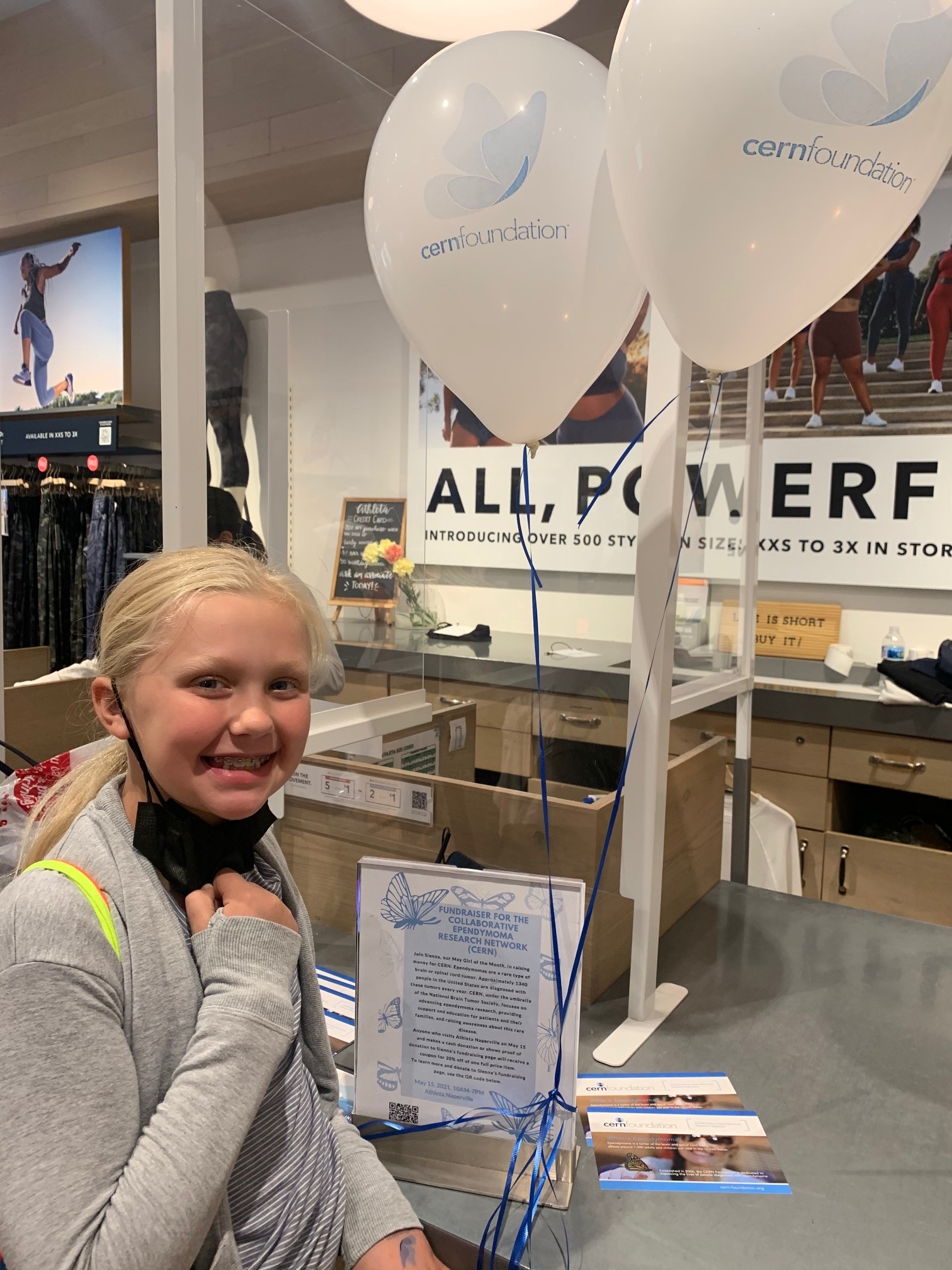 (Naperville, IL) Sienna was chosen as the Athleta May Girl of the Month and raised awareness and support for the CERN Foundation, a program of the National Brain Tumor Society. Anyone who visited the Athleta store in Naperville, IL on May 15 and made a donation to Sienna's fundraising page, received a coupon for 20% off one full price item. Sienna and her friends spent the entire day creating change in honor of her father, Kevin. Sienna's mother, Melissa said "She not only raised money, but equally as important, was able to spread awareness. It was beyond impressive to sit back and let the girls talk to customers about the cause." We want to recognize and thank Athleta for empowering young advocates and congratulate Sienna on an incredible effort!
CERN Blogger Shares Why Awareness Is Important
(California) Ependymoma survivor, Jennifer, shares the importance of awareness and how internal awareness is step one. Jennifer writes "Awareness began for me when I began to worry about what felt like a little fire inside my left temple." Read her second Ependymoma Community Blog entry titled Awareness Starts with You to learn more about her personal experience with awareness.
Ependymoma Community Creates Awareness
(Worldwide) Ependymoma survivors, care partners, medical professionals, and advocates participated in many different activities all designed to raise awareness for the rare disease. People shared butterfly artwork, personal stories, and fundraising efforts on social media. You can search #CERNbutterfly and #epENDymoma on Twitter, Facebook, and Instagram to view more!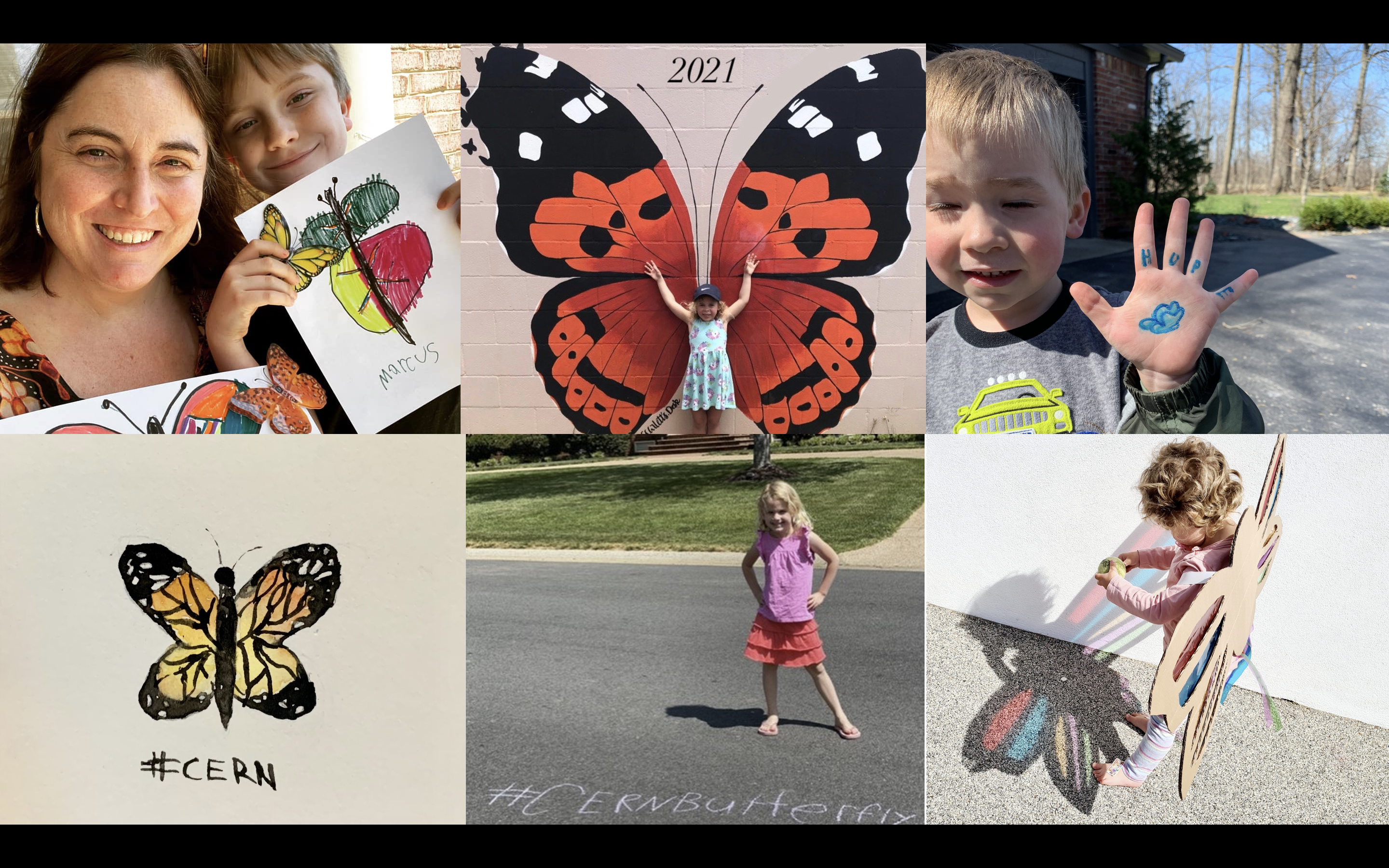 Ependymoma Survivor Raises Her Voice and Makes and Impact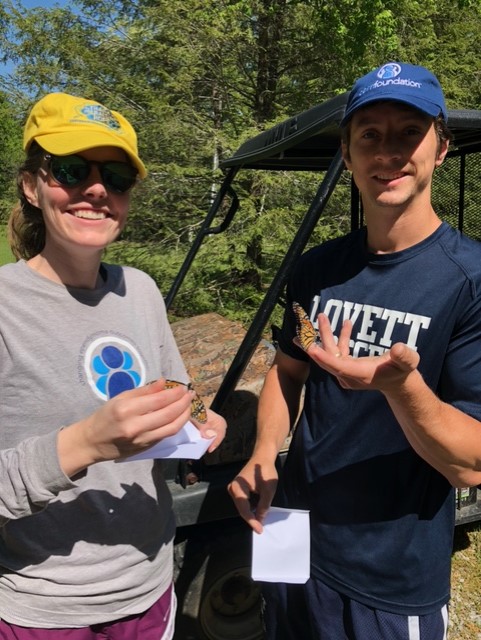 Ependymoma Survivor Mary Lynne has been involved with the CERN Foundation and the National Brain Tumor Society for years. She first got involved with the Race for Hope DC and has also participated in the flagship brain tumor advocacy event, Head to the Hill with NBTS. This year she was able to participate in both the National Brain Tumor Walk & Race for Hope DC and Head to the Hill in the virtual format. A lot of her family and friends were able to participate in the event across the country as it was virtual this year. Mary Lynne received many pictures and videos of her team gathering from California to Virginia and many places in between. Mary Lynne's team raised enough money to achieve the butterfly incentive and was able to host her own release in the mountains of Georgia with her husband and in-laws.
IBTA Feature Ependymoma Key Issues
(United Kingdom) To mark Ependymoma Awareness Day (Monday, 10th May), the IBTA is proud to support the newly-released Ependymoma Key Issues graphic which has been coordinated by the Collaborative Ependymoma Research Network (CERN) in the United States along with other brain tumour organisations which together form the Ependymoma Advocacy Groups (EAG) initiative: CERN, the National Brain Tumor Society (NBTS), Robert Connor Dawes Foundation, PNOC Foundation, EpendyFamilies/EpendyParents, Tommy Strong, Astro Brain Tumour Fund, and Adult Ependymoma Online Support Group.
Kansas Proclamation
(Kansas) Chris submitted a proclamation request for the state of Kansas on behalf of his daughter, Allie, who was diagnosed with a grade III anaplastic ependymoma in 2016 at the age of 24. Laura Kelly, Governor of the State of Kansas, proclaimed May 10, 2021 as Ependymoma Awareness Day
. Chris and Allie have a unique bond. Both having lived through a brain tumor diagnosis, he was able to guide her through surgery and continues to support her through treatments.
PNOC 2021 Ependymoma Informational Webinar
Patient families and pediatric brain cancer advocates hear directly from PNOC doctors from multi-institutions about the latest findings, current state of research and clinical trials for pediatric ependymoma brain tumors. The distinguished panelists are leaders dedicated to improving the outcomes of those affected by this disease. Also joining the panel is a patient family sharing their family's journey. This webinar was recorded on May 21, 2021 as part of the PNOC webinar series for specific tumor types. We gratefully acknowledge the support of PNOC's Ependymoma Working Group and the collaborating foundations for promoting and sharing the webinar with their communities: Dragon Master Foundation, Tommy Strong Foundation, National Brain Tumor Society, CERN Foundation and Robert Dawes Foundation. Watch the full webinar here.
Official CERN 2021 Ependymoma Awareness Day Virtual Program
The CERN Foundation, a program of the National Brain Tumor Society, commemorated the 2021 Ependymoma Awareness Day event with a virtual program that included educational and awareness content from CERN Advisors and Members, historical clips from previous EAD events, key issues from the ependymoma community, and concluded with a butterfly release. Thousands of people from all over the world viewed and shared the virtual program in an effort to raise awareness about ependymoma. Feedback from the community included:
"I watched and thought - if only THIS is what people would see when they Google 'ependymoma'!!! Such great information!" Beth
"Thank you for such a lovely event. I was in tears throughout the whole thing - just beautiful." Patti
"My heart was in my throat through the entire event. To see doctors and medical researchers around the world studying ependymoma to better understand it and to look at new therapeutic directions is a huge boost to our hope. Thank you for everything you do – I cannot underscore how fundamentally important it is to our family." Rachel
The first three educational videos feature previous CERN Fellowship Recipients, a prestigious award given to young investigators to conduct ependymoma research and encourage an interest in ependymoma work. Robert Connor Dawes Foundation is a prominent partner in the fellowship program.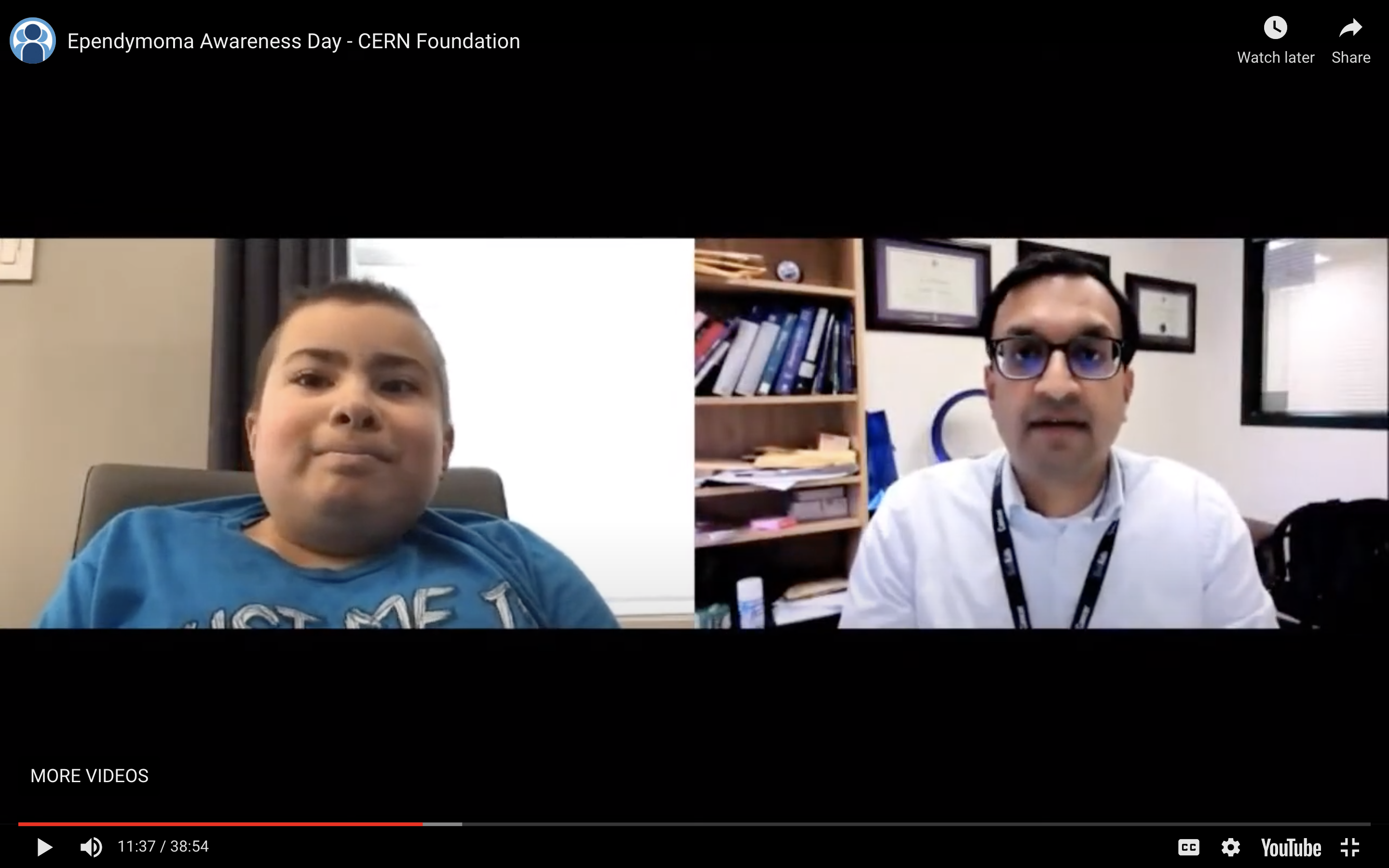 Title: Kids Interview Dr. Vijay - What is ependymoma?
About: An interview hosted by ependymoma survivors with Dr. Vijay Ramaswamy, 2016 CERN Scientific Fellowship Recipient, from SickKids in Toronto, Canada gives an overview of the rare disease with a personal touch.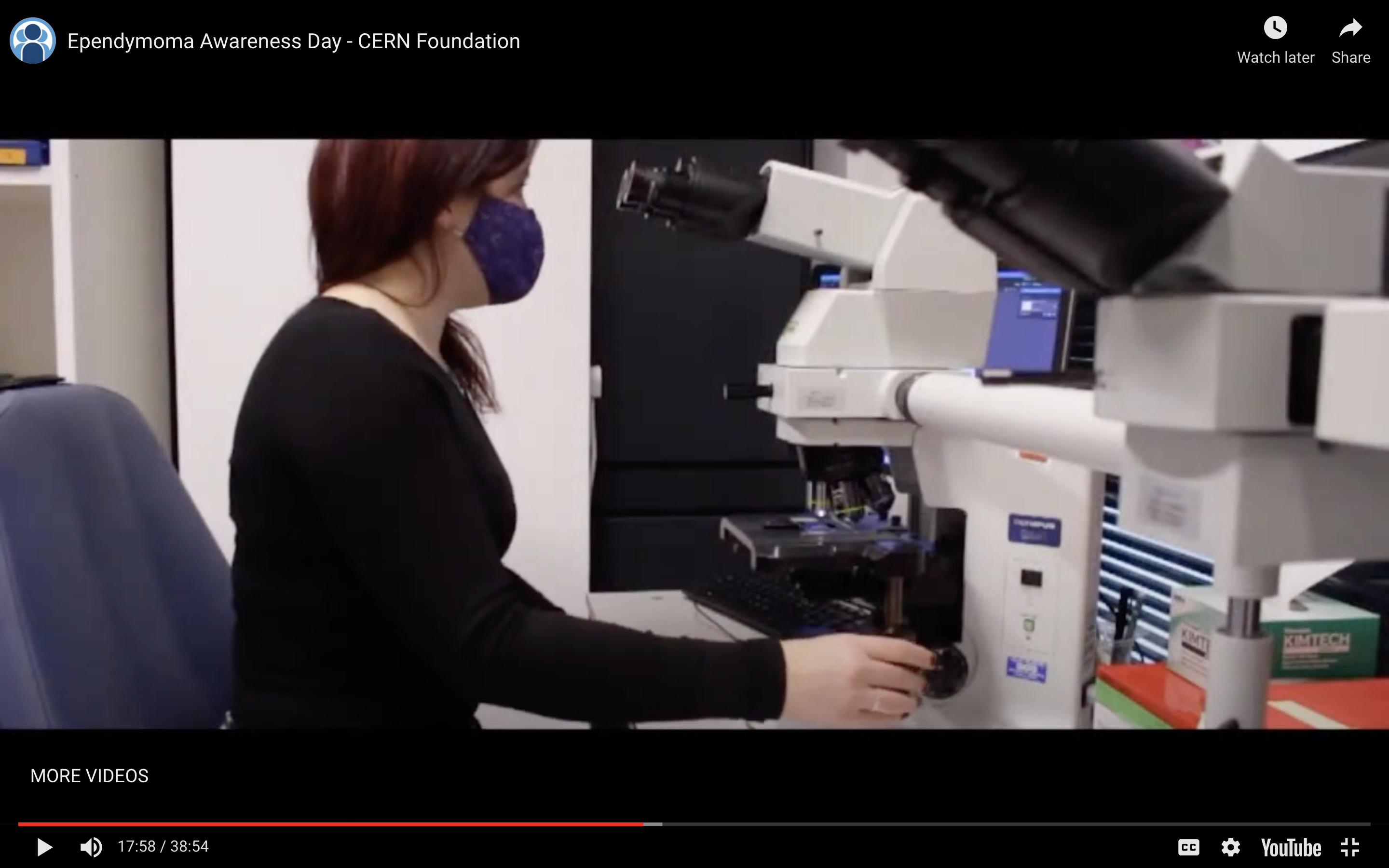 Title: Behind-the-Scenes Ependymoma Lab Tour
About: Join Dr. Claire King, 2018 CERN Robert Connor Dawes Pediatric Fellowship Recipient on a behind the scenes tour of the Gilbertson Group lab at Cambridge and learn about the intricate work of performing molecular diagnostics for ependymoma.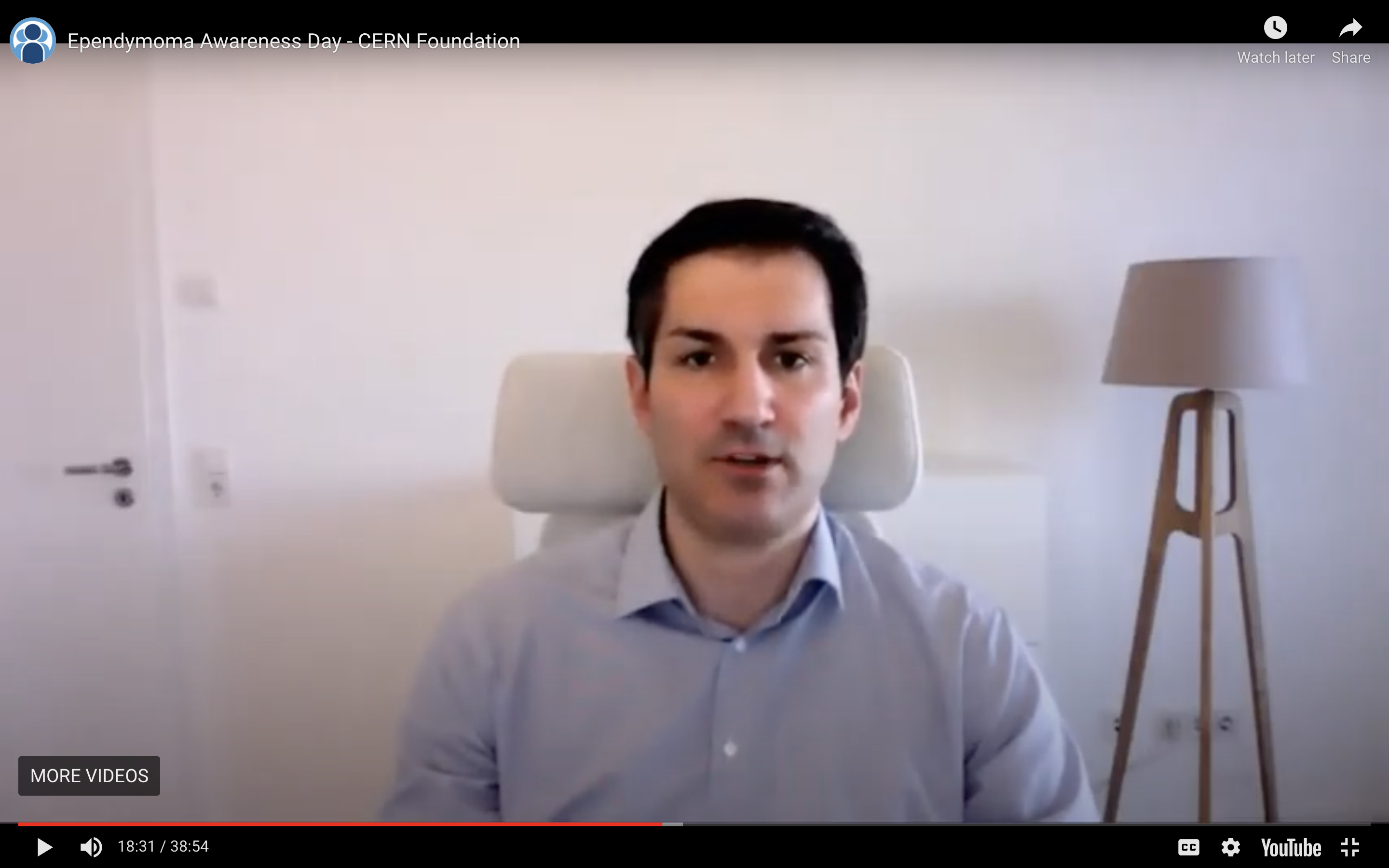 Title: Ependymoma Molecular Groups Explained
About: Dr. Kristian Pajtler, 2018 CERN Scientific Fellowship Recipient, from KiTZ Hopp Children's Cancer Center in Heidelberg, Germany, gives a patient friendly presentation on the recent advancements made on the ependymoma molecular groups and why this is important to the ependymoma community.
Watch the entire program here.