Alexa's Gifts of Hope Foundation
Name: Alexa R.
Type of Cancer: Ependymoma
Diagnosed: Age 2, 2000
By: Rosa (Alexa's Mother)
— Categories: Brain Pediatric
---
Alexa's Gifts of Hope Foundation raises money for pediatric brain tumor research and helps support children who are afflicted with this disease. The foundation was able to raise funds for the first annual Ependymoma Awareness Day and many butterflies were purchased in honor of Alexa.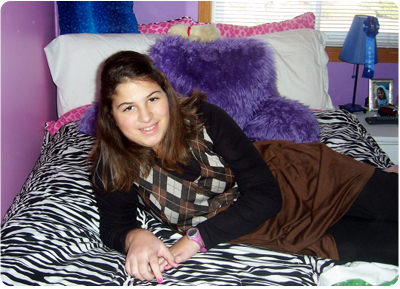 This foundation was formed to honor the life of an amazing girl named Alexa (otherwise known as Peach) who inspired and touched the hearts of everyone she met. She taught everyone around her how to be brave during tough times and to always have hope. She taught everyone around her how to be grateful for the things that we have and to be understanding of others who fight their own battles. She didn't live a day without showing her love and appreciation for everyone. Her life on earth was short but the lessons she taught everyone will live on.
Alexa's mother, Rosa, writes about Alexa's journey on the Alexa's Gifts of Hope Foundation website.
Alexa's Story
September 15, 2000, is a day that we will never forget because it was the day that our lives changed forever. Our daughter, Alexa Leigh, was diagnosed with a brain tumor.
It was two weeks before her third birthday and the only symptom that she had was that she had vomited just about every day for the past month and a half. After researching the internet, I questioned the pediatrician about a brain tumor but he didn't think that was the issue. We insisted that she get a CAT scan to be sure and that's when we found out that she had a "large mass" on the back on her brain. The following day would be the day that she would have her first brain surgery to remove the mass and the beginning of a long journey. The surgery was a success and we were told that the entire tumor was removed. She then went through six weeks of radiation to remove any cells that may have been left behind. The tumor was categorized as an Ependymoma – grade 1. She remained cancer free for almost four years after that and she lived a normal life. No one would ever know that this little girl had a brain tumor.
In August, 2004, she complained of a headache (she never was a complainer) so we were concerned. After taking her in to the Emergency Room, a CAT scan revealed a hemorrhage and she was immediately airlifted back to Lutheran General Hospital. She then had another brain surgery, which revealed another tumor in a different part of her brain; this was unusual for Ependymomas. From 2004 through 2010, her life was a rollercoaster. She would have another 8 brain tumors removed, received double the amount of radiation allowed in a lifetime, and countless rounds of experimental chemotherapy, but these tumors were relentless and kept coming back. We never gave up hope in finding something to help her. During the last year and a half of her life, her so called "normal" life started to decline. She lost the use of her right hand and eventually her right side and was then confined to a wheelchair. She was also losing her short term memory and then she lost the ability to eat, which was her favorite thing to do. After all that this little girl went through, we asked ourselves how this could be happening. Rob, her father, contacted doctors from all over the United States asking them for their advice and expertise. Doors were being closed on us constantly as "she wasn't eligible for their treatment" or because funding wasn't available or was being held up. Getting your child into a clinical trial is not easy, there are many rules and regulations that need to be followed. As a parent, we didn't care about "rules or regulations", we wanted help and NOW! Alexa lost her battle on May 2, 2011, and although our hearts were broken, we knew she was safe and wouldn't go through any more pain. A lot of people's hearts were broken that day.
Remembering Alexa
Although Alexa went through more in her 13 1/2 years than most people will go through in their lifetime, she always remained happy. She never feared the disease or anything that went with it. When she was told that she would have to have another surgery, she would say "don't worry, I'll be fine. I've done this before". She was the bravest person we have EVER known and she provided comfort to us when we would worry. One of Alexa's best qualities was that she always had gratitude for anyone and everyone who helped her in any way. She never forgot to say "Thank You!" Even when the doctors and nurses would poke and prod her, she thanked them. She would thank us constantly for taking care of her when she was sick. She never took anyone for granted and truly appreciated and loved everyone.
She had a love for dogs like no other. When she would see the commercials on t.v. to help dogs in shelters, she would say "grab the phone mom, we have to call now!" She would also cover her eyes because she didn't want to see the suffering dogs. She also loved to sing and dance. We are so thankful for all the videos we have of her singing and dancing. She also loved to make cards and crafts. We cherish those cards and crafts we have today and most of the cards that she gave us thanked us in some way. She truly was an angel on earth. She touched the lives of everyone she met in one way or another. She never complained for what she had to go through and for the pain she endured and never asked why it happened to her. It's almost as if she knew that she was brave enough and strong enough to go through it.
Honoring Alexa
Alexa was a special girl who would give anything to anyone (except her chocolate) and always wanted to help. Over the years we were very fortunate to receive support from so many people, and now we will try to support others. Sitting in the waiting area of an Oncology Clinic and seeing all the children who are fighting for their lives will give you a different perspective on life. Unless you are in that situation, you really can't know or fully understand what it's like on a day to day basis. We, unfortunately, DO understand and that is why we need to help. This foundation will honor Alexa's life and give to those who need it….the children. We will provide money for research because Alexa would always say "tell the doctors to fix it." To her, it was that simple — just fix it. We will also provide smiles to the children who are given challenges every day they battle their disease because that is what Alexa would have wanted."
For more information about Alexa's Gifts of Hope, visit the website at www.alexasgiftsofhope.org.