Children's Book Released to Help Families Faced with an Illness
Name: Jax
Type of Cancer: Ependymoma
Diagnosed: Age 1, 2017
By: Samarrah (Jax's Mom)
— Categories: Brain Pediatric
---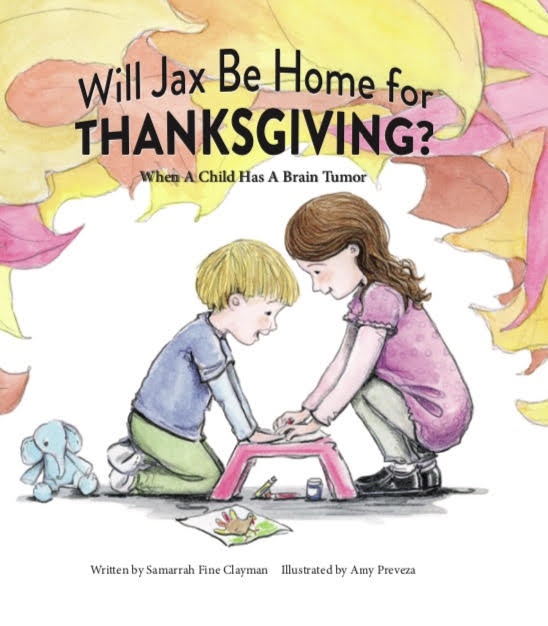 Samarrah Clayman, a social worker and writer, launched a children's picture book that helps families with a child who has been diagnosed with a brain tumor or other critical illness.
In 2017, Samarrah's 23-month-old son was diagnosed with an ependymoma - a brain tumor that can occur at any age, but most often in young children. The tumor can cause headaches, seizures and paralysis. The main treatment is surgery and radiation, though the tumors can often reoccur. There is no cure, but there is hope that with additional research, these tumors can have a better outcome.
After, her son's diagnosis, Samarrah and her husband, Jeffrey, created The Ependymoma Research Foundation. The Ependymoma Research Foundation supports basic research to produce progress towards a cure for ependymoma – currently funding a project at Dana Farber Cancer Institute investigating cellular targets that may be amenable to use for immunotherapy.
Samarrah's book called, "Will Jax Be Home for Thanksgiving?" is inspired by her experiences. All profits from the sale of the book support The Ependymoma Research Foundation.
"While my son was in the hospital recovering, I searched everywhere for children's books to share with him and his five-year old sister. I never found one that spoke to me or my family," says Samarrah. "I decided to meet that need for other families faced with illness. This story is about gratitude and a celebration of life - no matter what. No one can predict what life has in store for us so we must always celebrate the gift of a new day."
In the story, Lyla who is seven asks, "Where is my loud, silly brother?" Her three-year old brother, Jax is in the hospital. He has a brain tumor. Lyla hopes he will be well enough to be home for Thanksgiving so the family can all be together.
Any family that has a sick child will recognize the uncertainty and anxiety that Lyla expresses. With this story, Clayman hopes to help other children and their parents make it through challenging times, by emphasizing the importance of love and the gift of hope.