Emma Continues to Smile Through Cancer

Name: Emma T.
Type of Cancer: Grade III Anaplastic Ependymoma
Diagnosed: Age 1, 2014
By: Kelli (Emma's Mom)
— Categories: Brain Pediatric
---
People of CERN: Maci's Story
In this short film, we meet Maci and Emma; two sisters whose lives were irrevocably affected by an ependymoma diagnosis in 2014.
Emma's Journey
Emma's journey began on March 13, 2014 (she was 13-months-old) when her pediatrician noticed a slight drooping on one side of her face. A MRI confirmed that Emma had a large tumor in the right frontal portion of her brain. Emma underwent brain surgery just four days after discovering the tumor. Thanks to the talented neurosurgeon and the good Lord, the tumor was fully resected. The pathology revealed that the tumor was a grade III anaplastic ependymoma, an aggressive variant of this cancer.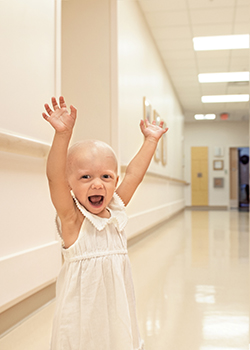 Particularly at Emma's age, treatment is not entirely straightforward because of the potential side effects of radiation on such a young brain. We tried to stay away from the internet and reading too much information. Once we found the CERN Foundation website, we used it as primary research tool. Emma started chemotherapy in April, 2014, and underwent four rounds of aggressive treatment. She completed the protocol up to this point and is enjoying being a normal toddler for now. We received four other second opinions from the top pediatric cancer hospitals in the U.S. and we decided to postpone Emma's radiation until she's at least three years old, unless it comes back before then.
Emma has continued to smile even on her worst days over the past seven months. Her happy spirit and strong-willed personality have helped her persevere and overcome obstacles the doctors said she wouldn't. She is a fighter and we will continue to beat the odds of this terrible disease!