Kendal No Longer Takes Anything for Granted
Name: Kendal M.
Type of Cancer: Grade III Anaplastic Ependymoma
Diagnosed: 2012
By: Kendal
— Categories: Adult Brain
---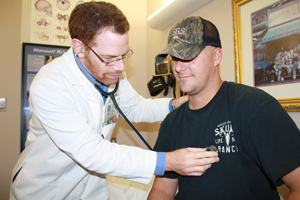 Kendal spent a decade plagued with numbness, tingling and seizures, and undergoing numerous tests that shed no light on the problem. It wasn't until his left side became paralyzed that he finally was diagnosed with an anaplastic ependymoma brain tumor.
As far back as high school, Kendal recalls he had numbness and tingling in his shoulder and arm. He was a baseball pitcher, and doctors ordered tests, which revealed nothing concerning, so they said it was a pinched nerve. He had a serious motorcycle accident in 2003, during which his helmet cracked and fell off his head. A few years later, on the job at an oil refinery, he stood up quickly, smacked his head on a pipe and cracked his hard hat. Several months later he began having seizures and had a computed tomography (CT) scan. The neurologist determined he had a bruise on his brain in the right cerebral hemisphere, which he said was likely caused by the motorcycle accident. He said the seizures would lessen over time. They did not, so Kendal saw a different neurologist, who prescribed an anti-seizure medication.
Throughout the ordeal, Kendal became increasingly concerned that something serious might happen to him, and he worried about the future for his wife, Sarah, and their kids, Dylan, Haileigh and Taytum, now 10, 9 and 3. They decided Sarah should go to nursing school. She graduated in 2010 and became a registered nurse, working in labor and delivery.
The medication seemed to help, although Kendal still had seizures. It wasn't until spring 2012, when Kendal became paralyzed, that doctors discovered the truth.
Kendal had been away from home for 10 weeks on a job as a pipeline inspector in rural Wisconsin, a 14-hour drive away from home in Beggs, Oklahoma, just outside of Tulsa. The seizures had been getting worse. When the job ended, he was anxious to get home, especially in light of a building snowstorm, and decided to make the trip in one straight shot. On the way, he drove through a tornado system in Missouri that turned his truck sideways on the highway.
He got home in the wee hours, lay down on the bed to talk with Sarah and within 15 minutes said his chest was really hurting, and that the burning and tingling in the arm had worsened. Sarah noticed his face drooping and Kendal realized his left side was paralyzed. Sarah drove Kendall to the hospital, where he had another CT scan. Doctors thought he might be having an aneurysm or be suffering from effects of pressure changes from the tornado. The hospital neurosurgeon looked at the scans – the new one and the one taken previously – and sent Kendal to the intensive care unit (ICU). He said Kendal had a mass in his brain, not a bruise, and it needed to be removed immediately.
Kendal had brain surgery March 5. The neurosurgeon removed a tumor, which he said was the size of a walnut, and had more than doubled in size since the previous CT scan was taken. Fearing the tumor was a glioblastoma, an extremely deadly type of brain cancer, he told Sarah to get Kendal's affairs in order because he might only have a year to live. The neurosurgeon then consulted with a brain cancer expert who thought it was a different tumor, called an astrocytoma. During the stretch of recovering and waiting anxiously for the second opinion, the Mills' celebrated Taytum's third birthday, trying to enjoy every moment together.
The neurosurgeon suggested Kendal and Sarah go to a hospital that specialized in treating brain tumors, so they went to see Dr. Mark Gilbert. There, they learned that the cancer was not a glioblastoma, not an astrocytoma, but a stage 3 anaplastic ependymoma, a rare type of tumor that typically affects children. They said Kendal likely had developed the tumor while in high school. Dr. Gilbert recommended that Kendal undergo six weeks of radiation treatment, which he was able to complete at a hospital near home. He travels to MD Anderson every two months for tests. So far, so good – no sign of cancer. But the doctors have warned Kendal that there is a 40 percent chance the tumor will return. If it does, he will undergo chemotherapy.
Dr. Gilbert told Sarah and Kendal about CERN Foundation, so Sarah started reading the website and doing research. She found reading people's stories a good resource, giving her a better understanding of what to expect. She also reads a number of cancer blogs.
Sarah said she has been impressed with Kendal's determination to get better. After the surgery, he was in a wheelchair, but bent on getting back to the life he loved. He pushed himself hard, and soon was able to get around with a walker, and then a cane, and eventually unassisted, far ahead of schedule. He still has numbness and tingling on the left side of his body, likely damage from the tumor pressing on a nerve for so long. But a month after the surgery he was back at work.
His experience changed the way he looks at things, said Kendal. He said he no longer takes anything for granted. Kendal, Sarah and the kids go to church regularly now. They golf, hunt and fishing enjoy football, basketball and baseball games together. Kendal has stepped away from management at work, allowing him to cut back on work travel and to spend as much precious time as possible enjoying his family and chasing his kids around.