Miracle Boy Sharing Hope

Name: Ian A.
Type of Cancer: Grade III Anaplastic Ependymoma
Diagnosed: Age 15 months, 2009
By: Gina (Ian's Mom)
— Categories: Brain Pediatric
---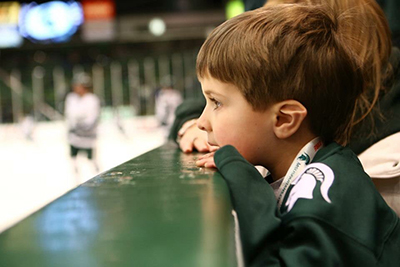 In May of 2009, when Ian was 15-months-old, he was rushed to emergency surgery. The cause – an anaplastic ependymoma brain tumor. He had a very low chance of surviving and his parents were told to prepare for the worst. After a scary surgery, he began 19 months of successful treatment and was declared cancer free. Now, at age 11, this miracle boy is sharing hope to the world and to those battling ependymoma that need an inspiration.
A Family Bond
Ian is the water boy at his local high school, Bay City Central. With his sister, Greer, he helps on the sidelines and cheers on the football team, including his brother, Easton. See how these siblings, and best friends, support each other through sickness and in health.
Credit: FOX Sports Detroit
Impacting a Team
At Michigan State Hockey, Ian works with his best friend, Dave (Ace), in the training room with pregame prep and assisting injured players through the Friends of Jaclyn Foundation. See how Ian has been inspiring the Spartans for the last eight seasons.
Credit: MSU Spartan Athletics