One in a Million

Name: Katy B.
Type of Cancer: Ependymoma
Diagnosed: Age 12, 1989
By: Katy
— Categories: Brain Pediatric
---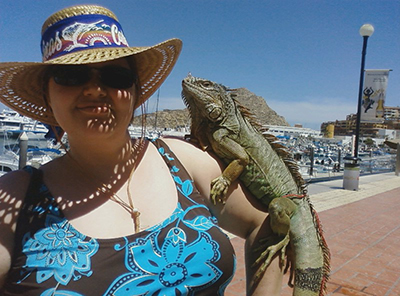 As I write, I am a few months shy of the 30th anniversary of my diagnosis.
I grew up in Santa Rosa, California. In early fall of 1989, I had been throwing up first thing in the morning once a week for maybe four or five months, and then feeling fine. I had a CT scan and while I sat with mom in the waiting room of my pediatrician's office for the results, my mom tells me, "it's a one in a million chance that anything is wrong baby girl! The doctor just wants to make sure." I still remember the red chairs and my doctor telling me, "Katy, from the CT, um… it looks like you have a brain tumor." I don't remember my reaction.
Coping Through Treatments
My parents took me to a local cancer hospital, where I was told I was diagnosed with an ependymoma, and probably a grade II. My pediatric neurosurgeon performed the surgery to remove the tumor that was located at the base of my brain. The surgery was supposed to take about four hours… 12 hours later, I woke up quickly in the elevator screaming, "MOM!!!!!!"... and she came running! Apparently, the tumor was also wrapped around my spinal cord and they were able to remove 80% of the tumor. I can only imagine my parents worrying in the waiting room, and my dad had to leave my mom while I was still in the operating room because my brothers were out of school and needed a parent too.
Mom says I was out of the hospital in about six days. I just remember the doctors promising to get me home in time to watch the World Series with my dad – where the Giants lost because of an earthquake.
I was home for a week or two and then I started my seven weeks of radiation therapy. During that time, my mom and I stayed at a house for families at the hospital. Radiation was twice a day, five days a week, but at least on weekends I got to go home to see my dad and brothers. Radiation sucked the life out of me. I had no appetite. My mom would offer to make me ANYTHING I wanted and I'd eat two or three bites and be done. Big girl turned into skin and bones.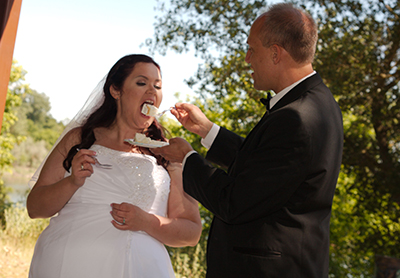 My mom tried to get me outside to explore the amazing city I have always loved, but the best she could get from me was, "SIGH! I suppose..." Being so tired, I slept a lot too. All that said, I always felt the kids on chemo were sicker than me. I didn't realize I was in the same boat. We thought my tumor was benign, and no one called it cancer back then, at least not around us.
When I was finally done with radiation and ready to be a normal kid and go back to school, it was the first day of Christmas break! I was so frustrated! Being an eighth-grade girl with half a head of hair (shaved from the very top back) and a big red scar down the back of my head and neck… it was not as fun as I was told it would be in the brochure.
How My Life Changed
How has this changed my life? I have a hard time thinking of how it has not!
Make-a-Wish Foundation planned a week-long trip to London for my family. The trip caused a London addiction and I have now returned 8 times!
Not as cool as Make-a-Wish, but the radiation therapy in 1989 gave me epilepsy 20 years later.I have had three more brain surgeries in the past few years just to try to find out where exactly the seizures are coming from. One surgery was simple, two were craniotomies. Ouch!
I gave up driving a few years ago for everyone's safety. I now get around by public transportation, Lyft, and mooching rides from my husband and friends… again not as promised in the brochure.
I have a college degree. I've traveled the world and married a wonderful man! Totally worth it all to have lived my life! Everyone has something negative that will happen to them, but a lot of people aren't aware of what is in store for them. Push through and do your best to get over it, let it pass because that's about all you can do to get it over with and LIVE YOUR LIFE!
I am Not Alone
For years, I had been wanting to know if there were any other ependymoma survivors and thrivers from my day. A few weeks ago, I FINALLY found out from a doctor at St. Jude Children's Hospital (being part of a Long-Term Follow-Up Study) that there are a few like me! While it was nice to feel "special", it is better to know I am not alone.
I was in Washington D.C. on May 5, 2019 for Ependymoma Awareness Day (and four days before my birthday) and Head to the Hill, a gathering of people with any connection to any kind of brain cancer. I've only met two people in all my life who also had ependymoma before I went. I met two more at this event! It added to not feeling alone! Over 300 attendees released butterflies for Ependymoma Awareness Day. For me, it was calming, just letting ependymoma go.
Head to the Hill was different. I was excited and scared at the same time, as this was my first year. We had people from 30-something states, each of which met with their Senator's staff members and asked for basically, more funding for medical research. When I met with a staff member in my own representative's office, I was very nervous, but she was laid back and seemed to think the representative would agree with all that our group was asking. Then there was a knock at the door... and my representative walked in just to say hi! I was so shocked and amazed to see him - in a picture, I looked star struck! Wow, how lucky did I get? I met a congressman! I am absolutely going next year and I encourage anyone from the ependymoma community to go!