Sienna's Hope

Name: Sienna N.
Type of Cancer: Anaplastic Ependymoma
Diagnosed: Age 8, 2015
By: Kylie (Sienna's Mom)
— Categories: Brain Pediatric
---
Kylie's blog, Sienna's Hope, documents her daughters journey with anaplastic ependymoma. This has helped her cope, but she also wanted to share her blog with other families facing the same battles.
September 30, 2015
As people know from my previous posts that Sienna's initial MRI scans post treatment have indicated Sienna is tumour and cancer free. Apart from a recent visit to the hospital with headaches, Sienna is a picture of health and happiness.
So where to from here?
Sienna will require three monthly MRI's for the next two years. Ependymoma's are notorious for growing back so Sienna will require close monitoring for the next couple of years. I do hope the MRI's get easier to tackle, but from what I can understand from talking to other families who go through the same ordeal, it does not. The lack of sleep, the constant feeling of dread and all of us being extra grumpy was all part of the week leading up to Sienna's scan and appointments. Sienna's next scans are booked in for November and we are already planning something as a family unit to distract us a couple of days out from the scan.
With such great news you think we would be walking on air. This is mostly true, but the weeks post Sienna's latest MRI has been hard for the whole family. I was an emotional mess and in the process have had migraines and in general have been feeling absolutely exhausted. Matt has felt very similar to me (minus the crying) and Sienna has been a tsunami of emotions. I think Ebony is the only one who has bought equilibrium to the house and to be honest I am extremely grateful to have such a cool and collected ten year old.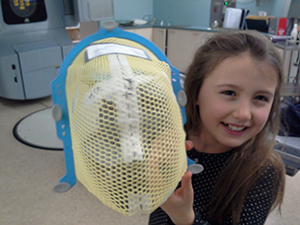 So why so much emotional baggage?
I think firstly it is the fact that we have been able to finally take our first breath since May, let ourselves relax and face the prospect of getting our lives back to some sort of normality. But what this has done is actually allow us time to process the enormity of what has happened and what we still face.
Secondly, it was an unexpected phone call, which could only be described and delivered as an emotional curve ball. But to put it in context, I must first give you some background.
I still remember the time, date and exact words that Matt spoke to me when he told me Sienna was diagnosed with a brain tumour. I was at work sitting at my desk working in front of my computer when the phone rang and Matt uttered those dreadful words. I still to this day cannot believe how calm and collected Matt was and as you already know from my previous posts I was a blubbering mess. I am not silly, I know this experience will affect our family and each person will have their own particular issues. I have worked long enough in mental health to see the emotional toll of significant life events. Nonetheless, how much I have been affected by this 'life event' has even shocked me and to be honest this really only became apparent during the last couple of weeks.
So when I received an unexpected phone call at work on the same day that Sienna was to have her most recent MRI's, a lot of those initial feelings and emotions with regards to Sienna's diagnosis come flooding back. I was sitting in the same chair, same desk and I received a phone call from an individual who has become a tower of strength for our family during a dark period and who Sienna absolutely loves and idolizes. This person's family had just received bad news in regards to a family health issue and they had to cancel an important engagement with Sienna. Regardless of what words were spoken to me, in not one but two consecutive phone calls, I will never forget the actual despair and terror in the person's voice which was like living déjà vu from May. What do you say to someone who has been blindsided by such terrible news? Our family was only there a couple of months ago and I know from experience that a lot of people did not know what to say to Matt and I and to be perfectly honest some people still don't.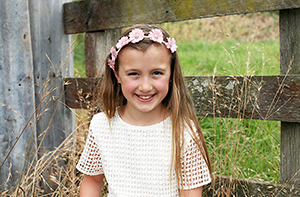 On reflection I am still in shock on how this second event affected me emotionally. I cried at work again (I really hate doing this) and I was not the only one crying. Sienna was also affected by the news of this family. When Sienna was told the news she became quiet, teary and withdrawn, but it didn't stop her firing a good number of related questions at me as I drove down the freeway. Her behavior deteriorated and her "fish fingers and custard hunky dory" apology which we normally hear about 50 times a day was being fired at me one average about 10 times per hour. I even became concerned at one point that she would not make it through her MRI. It was only when she got to see her mate in person a couple of days later did Sienna's behavior improve and the smile return.
What I have learned is that as a family unit we are still vulnerable. I like to think that our family is resilient and strong. Maybe we are in certain respects, but we are also carrying some heavy emotional baggage. As long as we can acknowledge this I am sure there will be a light at the end of the tunnel and as a family we will get there.
Read more stories from Kylie's blog, Sienna's Hope.