The Day Our Lives Changed Forever

Name: Ava Nicole V.
Type of Cancer: Grade III Anaplastic Ependymoma
Diagnosed: Age 10 months, 2014
By: Tiffany (Ava's Mom)
— Categories: Brain Pediatric
---
Our Blessings
I was one who always wanted to be a mom and never thought it would ever happen. So, when I gave birth to my first child eight years ago, I was the happiest I had ever been. On my wedding anniversary, November 11, 2013, I was blessed again with a baby girl, Ava. I thought life was pretty perfect. When I was pregnant with Ava, my daddy passed away from lung cancer and having Ava helped heal my heart. I never thought in a million years I would be helping my baby girl fight for her life!
In September of 2014, I noticed Ava tilting her head to the right and she began throwing up. She could not move her neck, so I called her pediatrician and took her in for an appointment. The doctor said it was torticollis (a condition in which the head becomes persistently turned to one side caused by muscle spasms) and sent us home with some exercises to try at home, but nothing was working so I called the pediatrician. I just felt like something wasn't right.
On September 11, 2014, we were sent to a hospital in Atlanta. That day, our lives changed forever. We were told Ava had a brain mass and she needed to have surgery. A couple days later, she had surgery to remove the tumor and we found out she was diagnosed with grade III anaplastic ependymoma.
Headed to St. Jude
After surgery, we didn't like their treatment course and requested a referral to St. Jude Children's Research Hospital, a participating CERN site, for a second opinion, and then for treatment for ten months. Deciding to go to St. Jude was the best decision we ever made. This was a difficult time for my family. We were separated. I stayed with Ava at St. Jude and my husband and son stayed home. She had six rounds of chemotherapy (including six months of oral chemo) and 33 rounds of photon radiation.
One of the hardest weeks we had at St. Jude physically and emotionally was the week of Ependymoma Awareness Day. Ava was inpatient and we had two more rounds of IV chemo and this was the toughest course on her. Her blood cell counts dropped to 0 so we couldn't leave until her counts came up and to top it off, she started having the symptoms of her shunt malfunctioning. After the doctors examined her, they decided she needed to have shunt surgery while her blood counts were at 0, so it was a very scary day. The following day was Ependymoma Awareness Day and we were looking forward to seeing the butterfly release at St. Jude and being a part of it. Ava didn't have a fever, so they let us out of inpatient for a couple of hours so we could go to the event. This event was everything I needed. I was reminded never give up! It put something back in me I didn't know that I lost. Ava needs her momma strong for her!! The CERN Foundation gave me hope.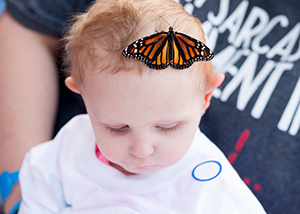 She's now had seven head surgeries: two to remove the tumor, a cerebral spinal fluid leak, two new shunts and two shunt revision surgeries and it's looking like she will having another one. We are praying she doesn't, but she still has some fluid now in her spine.
The Good News
We just had her scheduled MRI and she is six months cancer free!
From this experience, I realized that I'm a lot stronger than I ever knew. I know now who loves us and who doesn't. When someone is sick, you definitely find out who is real. My family means everything to me. I learned going through this journey with Ava that I will never stop helping her fight!! She's the sweetest and the funniest baby I've ever seen. She loves life, loves to laugh, and loves music and dancing. She is turning into a daddy's girl and she loves her big bubba (brother) and our dog, Molly.