Three Important Things I learned from my Ependymoma Journey

Name: Pierre C.
Type of Cancer: Spinal Ependymoma
Diagnosed: 41
By: Pierre C.
— Categories: Adult Spine
---
''How many of these have you seen in your career?''
''One.''
This answer by the first neurosurgeon I met after an MRI revealed a tumor occupying the entire diameter of my spinal canal at the thoracic level is what sparked a frantic search for information, expertise, support and guidance to try to understand this rare disease, its implications, and the best way to treat it. Along the way, like any cancer survivor, I made some important learnings that have been instrumental on my journey.
1st Learning: Take Charge
Having had the unfortunate opportunity of accompanying my father through the initial misdiagnosis of an aggressive cancer shortly before my own diagnosis, I knew the importance of taking charge of my health and making sure to leave no stone unturned in seeking the best path forward. The six weeks between diagnosis and surgery also made me realize how important bringing family and friends into the process was. People genuinely care and want to help, I viewed them as an integral part of my care team and have benefited tremendously from having them by my side. My wife and I also decided early on to be fully transparent with our four kids and to keep them in the know. What is shared with them and how it's shared is obviously age dependent, but kids definitely feel when something is wrong and there was no way we were going to leave them in the dark. It is through this wild search for information leveraging all resources I could find that I came across the tremendous resources provided by the Collaborative Ependymoma Research Network (CERN) Foundation, a program of the National Brain Tumor Society. This eventually led me to having the unique opportunity of being treated by the world-class rare CNS cancer experts at the NIH which wouldn't have been possible had I not decided to surf the terrifying wave ahead of me rather than allowing the swirl to overwhelm me.
2nd Learning: Hope for the Best, Plan for the Worst
As soon as I woke up after surgery, I took great comfort in realizing that all the efforts to seek out the most experienced care team had paid off. Not because, as I had hoped, the surgery went exactly as planned, but quite to the opposite because it didn't. When my neurosurgeon came to my bedside and asked if I could feel him touching my feet, we were both perplexed that after thinking about it for a moment, my answer was that I can feel his hands being cold, but I can't feel them touching me. My tumor took somewhat longer and was more complex to remove than anticipated, which also led to the care team recommending radiation therapy post-surgery. While I was initially convinced that my preoperative fitness level would lead me to be among the group that comes out on the other side with less deficits than coming in, I realized very soon that it would unfortunately be the opposite. Although I like to think that things could have been much worse, I believe that should I need to go through this again, foreseeing all outcomes, and not just the best ones, as real possibilities would make the impact of bad news easier to digest. Statistics are quite useful when trying to understand potential outcomes, but every case is truly unique. Hoping for the best while planning for the worse is a great way of combining the necessary positive mindset with realistic expectations.
3rd Learning: Relearn to Win
Going from being an avid runner and snowboarder working out six times per week to waking up having to relearn to walk, dress, shower, etc. with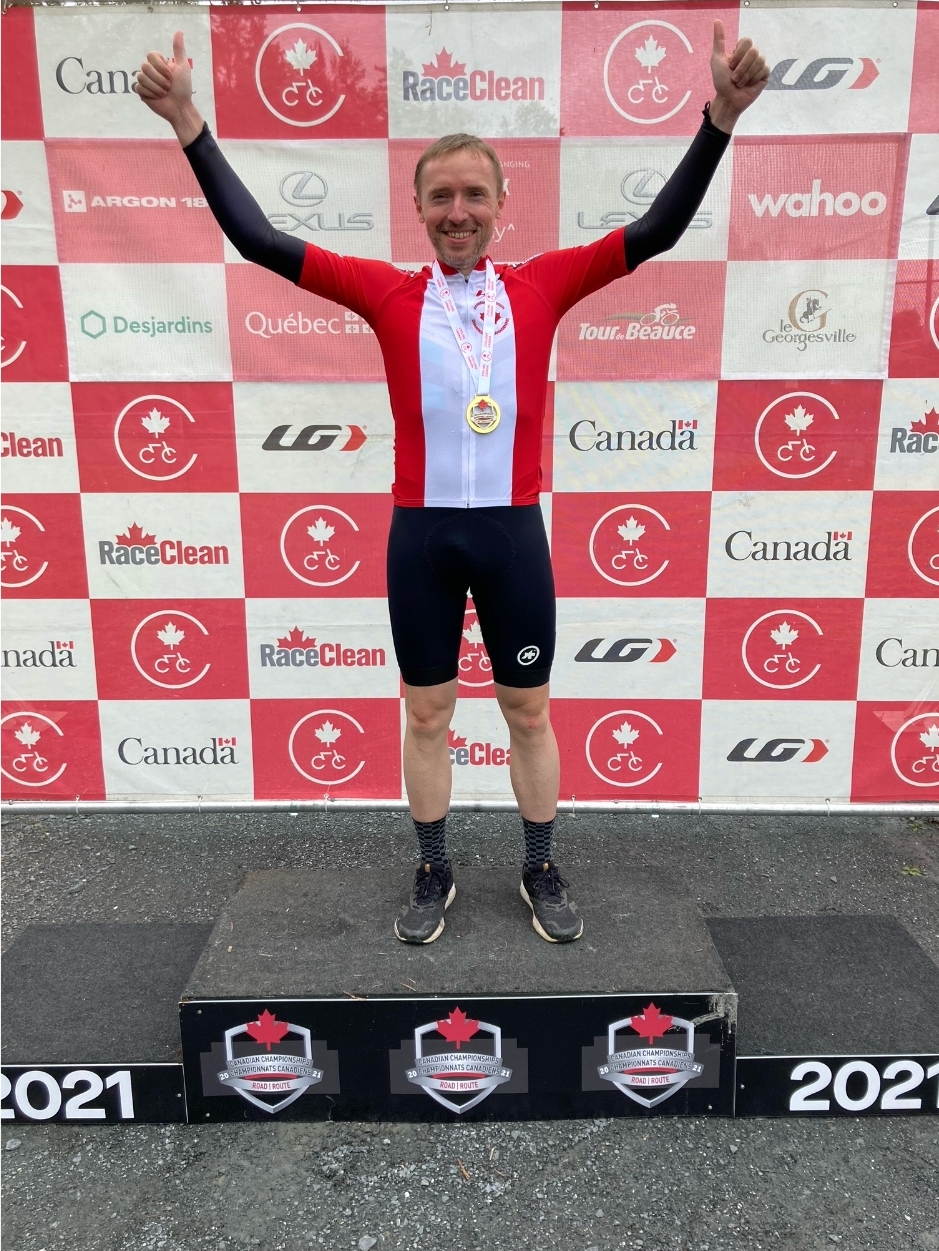 continuous pain and fatigue has been a real challenge, mentally as much as physically. The only exercise I was able to do was to pedal at a slow pace on a recumbent bike for a maximum of 10 minutes. Ten minutes slowly grew to 12, 15, 20 and so on. Back pain and balance were definitely an issue, but after a while, I was able to switch to a spinning bike. I had ridden bikes as a kid like everyone but never really enjoyed it too much. My wife had turned from a runner to a triathlete and had been trying to get me into cycling for a few years, but I always found that it just wasn't my cup of tea. I was a runner. To my despair, it was clear pretty early on that running would now be out of the question. That said, I was growing increasingly intrigued as I realized I was starting to enjoy working out on the bike, which I actually found to be somewhat different from cycling itself. My challenge was that in order to find motivation, in order to enjoy training and working out, I've always needed very ambitious objectives. Although my ability was now significantly impaired, I continued to feel this urge to perform, to push myself to the limit and be the best I could be. As a kid, like many others, I dreamt of going to the Olympics. Like the vast majority of those kids I had put a cross on that dream a long time ago, but this completely unforeseen experience brought a crazy idea to my mind: maybe I could try out paracycling. So I reached out to the provincial cycling federation that put me in touch with a paracycling coach at the national federation. After discussions on my athletic background, motivations, discipline and potential goals, the coach agreed to take me under his wing and build a training plan for me. We both had little idea where this would lead us but nine months after surgery and five months after finishing radiation, at 42 years of age, I was committing to giving it my all, curious, excited, and a little anxious to see what would come out of it. Well, 12 months and 10,000km of dedicated training later, I became a completely speechless 2021 Canadian paracycling champion in the men's C4-C5 time trial. Although this outcome was beyond my wildest dreams, it was the result of a profound commitment to never giving up, to pushing through ups and downs, peaks and troughs, and not letting abilities limit possibilities. Embracing the new reality and relearning to win, celebrating small successes every step of the way, from the most basic ones like standing up for the first time, to the most unlikely like becoming Canadian paracycling champion, is how I chose to make the best of the hand I was dealt. The future is as bright as you'll dare to see it!