2013 Annual CERN Meeting
— Categories: Press Release Posted on November 15, 2013
The CERN Foundation held its 2013 annual meeting on October 25-27 in Palm Beach, Florida.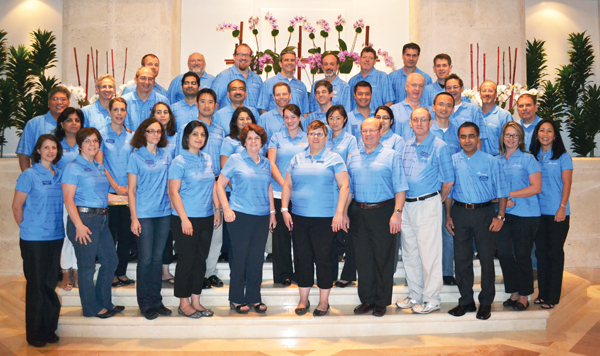 Over an intensive two-day period, CERN team members shared updates on their progress and charted a course for the Foundation's future research and treatment efforts.
Project 1
CERN's Chief Medical Officer, Dr. Mark Gilbert, began the meeting on the first topic of the day: Project 1: Clinical Trials. The CERN Foundation currently offers the only clinical trial for adults with ependymoma in the United States. The group discussed the possibility of working with institutions and collaborative groups both inside and outside of the U.S. to bolster accrual efforts for future CERN sponsored trials. The leader of the CERN Foundation's pediatric clinical trial effort, Dr. Amar Gajjar, provided an overview of the current national landscape of ependymoma trials for children. He reiterated the extent of surgery a key factor in outcome in pediatric ependymoma and stressed the importance of considering prior treatment in the design of future pediatric clinical trials. There is currently one CERN sponsored Phase I trial open for enrollment at St. Jude Children's Research Hospital involving the drug fluorouracil, commonly known as 5-FU. This agent has been extensively tested by the CERN Foundation investigators and plans are now underway to open a Phase II 5-FU clinical trial at all of the pediatric CERN sites.
Project 2
The next area of discussion focused on CERN's Project 2: Tumor Profiling and Pathology. Project leader, Dr. Kenneth Aldape, and his group have made great progress in identifying distinct genetic subgroups of ependymoma. Dr. Stefan Pfister of Heidelberg, Germany, noted the need for further molecular classifications of ependymoma and there was general agreement that this should be a collaborative priority. Project 5 leader, Dr. Terri Armstrong, began a discussion on the related topic of tissue profiling. The CERN tissue repository now has over 550 clinically annotated samples – the largest repository of its kind in the world. This tremendous resource is allowing CERN researchers to better identify biomarkers of ependymoma, which in turn is contributing to better prognosis of the disease.
Project 3
The next topic was Project 3: Developmental Therapeutics and a discussion of possible CERN drug pipeline candidates. The current focus is on identifying drugs that are already FDA approved and may have activity against ependymoma. In the past year, literally hundreds of readily available compounds have been put through preclinical drug screening. Considerable progress is being made in evaluating potential agents, and potential combinations of agents, for the next round of CERN trials.
Project 4
Co-lead investigator, Dr. Richard Gilbertson, presented on the considerable progress of Project 4: Tumor Laboratory Models. He shared that he and his team have been able to validate several ependymoma oncogenes (cancer causing genes), tumor suppressor genes (cancer fighting genes) and have formulated a range of new mouse models that will help CERN researchers evaluate even more potential compounds in the future.
Project 5
Project leader, Dr. Terri Armstrong, presented Project 5: Patient Outcomes. She shared with the group her results from the Ependymoma Outcomes (EO) projects. These important projects have contributed to a better understanding of patient experience with the disease, symptom management and treatment.
Executive Director, Charles Haynes, presented on the Foundation's awareness efforts and how these efforts contribute to the overall mission of CERN. He gave an update on outreach to the ependymoma patient and caregiver community, including the development of new patient and caregiver resources, the CERN website, increase exposure through social media and awareness events including the annual Ependymoma Awareness Day. Patient support leader, Kim Wallgren, gave the group an update on the network's outreach to the patient and caregiver community and shared some of the moving comments that come in from the ependymoma community worldwide.
Recognizing that ependymoma is a challenging, difficult disease, it is clear that the CERN Foundation is making steady progress. The CERN scientists, clinicians and administrative staff attending the meeting left Florida energized and with a renewed determination to realize the CERN Foundation's ultimate goal of finding a cure for ependymoma.