2016 Ependymoma Awareness Day Outreach
— Categories: Press Release Posted on May 24, 2016
In a groundswell of international support, patients, caregivers, professionals and advocates participated in a variety of events marking May 2, 2016, as Ependymoma Awareness Day.
Collectively, these events helped to create a greater understanding of ependymoma. Below are a few of the Ependymoma Awareness Day activities that were held around the world this year!
Butterfly Release Held in Wisconsin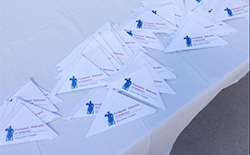 (Wisconsin) The Paralyzed Veterans of America, Wisconsin Chapter, released 200 butterflies for Ependymoma Awareness Day on May 2 in Milwaukee, WI.
The event was hosted by Scott Griffith, a 17-year ependymoma survivor. The PVA – WI Chapter is a non-profit organization dedicated to improving the lives of people with spinal cord injuries and dysfunction. View the WDJT article.
Students Honor Friend in Georgia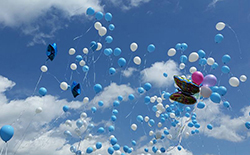 (Georgia) Students at Johnson High School released balloons on May 2 to honor a classmate, Madison, who was recently diagnosed with a grade III anaplastic ependymoma. Since her diagnosis, Maddie is receiving an outpouring of support from the community.
Maddie is currently undergoing proton radiation. She goes every morning, five days a week, for 30 minutes of radiation. She said her cancer is "definitely a fight," but it's one she will win. "And when I win it, I want to help others win it, too," she said. "I want to help them stay positive and win theirs." Read Gainseville Times article.
Monarch Butterflies Painted at School in Illinois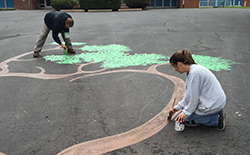 (Illinois) The Sts. Peter & Paul School in Nauvoo, IL showed their support for Hayden and her family by participating in Ependymoma Awareness Day to raise awareness for Hayden's condition (ependymoma), students painted monarch butterflies on the blacktop drive of the school. The students even wore orange and black. After painting their butterflies, they joined in prayer. View the painted butterflies.
Awareness Day in South Africa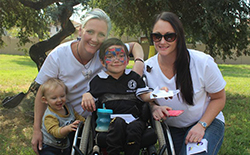 (Lonehill Johannesburg, South Africa) Ependy Angels released butterflies as a symbol of hope as community members and friends gathered to honor Ependymoma Awareness Day on May 7 in support of Lonehill resident, Layla, who has been suffering from an ependymoma for the past three years.
"This day means so much to me and it is close to my heart, not because of the children who suffer from it, but the day being a symbol of hope for those who suffer from it," said Layla's mother, Sharyn. Community members brought their picnic baskets along and children enjoyed creating glittering arts and crafts butterflies. "Just as a caterpillar changes to a butterfly… a butterfly changes to hope, and hope is holding on, never giving up, holding on to the power of possibility." Read Fourways Review article.
Butterflies Released in Massachusetts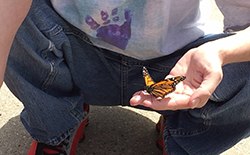 (Massachusetts) Pam released 24 beautiful monarch butterflies for Ependymoma Awareness Day in honor of her son, Aaron. After receiving a proclamation from Massachusetts, she was determined to see the butterflies fly and held the release a few days early due to weather forecast. Aaron was diagnosed with an ependymoma two weeks after his first birthday in 2006 and recurred in November 2008, which was followed by treatment.
Ependymoma Awareness Day T-shirts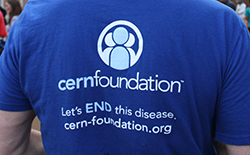 We encouraged the ependymoma community to purchase an epENDymoma t-shirt to wear on Ependymoma Awareness Day to create a greater understanding of the disease.
Over 55 t-shirts were sold! Profits raised go towards our mission: improve the care and outcome of people with ependymoma.
Proclamations
Numerous city and state governments have shown their support by issuing proclamations naming May 2, 2016 as Ependymoma Awareness Day; including: Alabama, Harford County Maryland, Houston, Indiana, Maryland, Massachusetts, Milwaukee, and Texas.
Hope Signs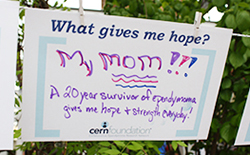 We asked the ependymoma community to share with us – what gives you hope? These signs were shared and displayed at the butterfly release in Washington DC.
We received numerous inspirational quotes. Thank you for your participation!
Others Create Awareness
Many families, patients, bloggers and advocacy organizations spread the word about Ependymoma Awareness Day and their experiences with local news services, on Twitter, Facebook or their personal blogs. Here are some of those posts.