2019 Ependymoma Awareness Day Outreach
— Categories: Press Release Posted on May 29, 2019
In a groundswell of international support, patients, caregivers, professionals and advocates participated in a variety of events marking May 5, 2019, as Ependymoma Awareness Day.
Collectively, these events helped to create a greater understanding of ependymoma. Below are a few of the Ependymoma Awareness Day activities that were held around the world this year!
Radio Interview in Korea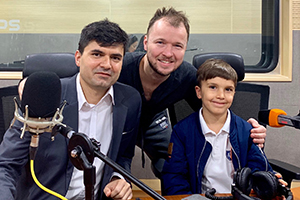 (Seoul, Korea) Ependymoma community members, Stelios P. and his child, Nick, were featured on TBS eFM This Morning in Seoul, Korea, along with Pediatric Neuro-Oncologist and CERN Advisor, Dr. Amar Gajjar, from St. Jude Children's Research Hospital. The radio show aired on May 5 to recognize Ependymoma Awareness Day, as well as Children's Day in Korea. The radio interview provides an excellent example of the importance of awareness and getting a second opinion. Dr. Gajjar offers a unique perspective, as a leading expert in the treatment and research of ependymoma. He mentions, "the key advice that the family followed prior to radiation therapy was to get all the tumor out because that is one of the key factors which influences cure rate." Nick's father goes on to say, "awareness is a key point to raise research funds, to help people fight against, and to help improve outcomes." The CERN Foundation is honored to have assisted this family in navigating their treatment decisions and is proud to join international efforts in raising awareness for this rare disease.
Listen to TBS eFM This Morning interview
Picnic in New Zealand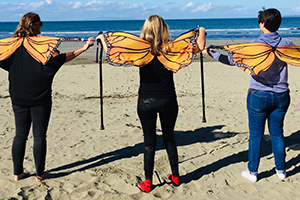 (New Zealand) The inaugural New Zealand Ependymoma Awareness event (picnic) took place at NZ's first regional park. Attended by three new friends - Gretel, Candice and Rosalind, who live with the impact of spinal ependymoma. "We laughed, cried and shared our stories, as well as our hopes for what we'd like to achieve via an organization I am in the process of setting up called www.spinalstories.com. Through this patient-led organization we'll share our stories, create resources and fundraise for CERN. Next year we hope to celebrate Ependymoma Awareness day in the South Island, and include as many of our NZ ependymoma families as possible, moving around the country as the years roll by. Aroha nui (great love) to everyone celebrating this special day around the world, from our emerging community in New Zealand." - Gretel
Race in Washington, D.C.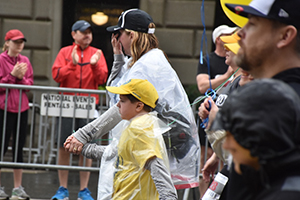 (Washington, D.C.) Ependymoma survivors and caregivers joined together to participate in the Race for Hope 5k run/walk in the nation's capital on May 5 on Ependymoma Awareness Day. This is one of the largest fundraisers in the county benefiting the brain tumor community.
Kansas Issued Proclamation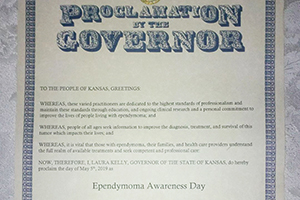 (Kansas) Kansas recognized May 5, 2019 as Ependymoma Awareness Day by issuing a proclamation. Chris submitted the request in honor of his daughter, Allie, who was diagnosed with a grade III anaplastic ependymoma in 2016 at the age of 24. They have a unique bond. Both having brain surgeries, he was able to guide her through surgery and continues to support her through treatments.
Butterflies Released in Washington, D.C.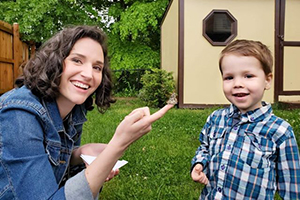 (Washington, D.C.) Megan's family honored her mother, Janet, a 22-year survivor of a spinal ependymoma by fundraising to support CERN, attending the CERN butterfly release and then releasing butterflies in their own backyard. Megan's family has attended the CERN butterfly release for the past four years. "It is always a meaningful event, a reminder of the blessing of survivorship and the long journey of recovery." - Megan
Awareness in England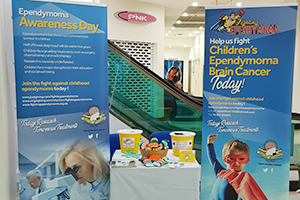 (United Kingdom) On Ependymoma Awareness Day this year, the family of Chris B. from Harrogate, UK, went to The Victoria Shopping Centre to help raise awareness of the disease that claimed Chris' life in 2013. £126 was collected for Chris' charity, Fighting Ependymoma. The charity was setup in his memory and has so far donated £177,500 ($226,600 U.S. dollars) to paediatric ependymoma research projects. More about the charity can be found at www.fightingependymoma.org.uk.
Advocate Shares Her Story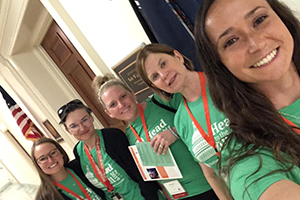 (Washington, D.C.) Kristina attended the National Brain Tumor Society's Head to the Hill for the first time, representing the ependymoma community. "I was surrounded, mostly, by bereaved parents, siblings, and spouses. Head to the Hill was a reminder of the duty that I have to speak for those who can no longer use their voices; other brain tumor patients who have succumbed to the disease. The overall 5-year survival rate for brain cancer is 35%, and as one of the choice few who are still here, I want to do everything I can to ensure that number rises. Obviously, I can start by not dying, which I'm sure trying to do - but this year, I was honored to give voice to the NBTS' platform, in addition to my annual fundraiser and joining walks to raise additional money. I was also incredibly moved to be able to participate in my first CERN Foundation butterfly release, celebrating others who, like me, have been diagnosed and fought ependymomas. Head to the Hill is a fantastic experience, not just because it provides an opportunity to share your story and your hopes for a cure in a way that can have tangible results, but because I have never felt more at home in a room full of strangers than I did during training. At my table was a woman who lost her husband due to a misdiagnosed ependymoma, a woman whose siblings had the same oncologist, and another survivor who understood the overwhelming frustration of chemo brain popping up every now and then, even a year later. There is a camaraderie - no, it's more than that - there's a kinship that comes from battling brain tumors, and it is an honor to be included in the ranks. Please make plans to join us next year." - Kristina
Listen to the Cliff Notes interview (episode 10)
Read Kristina's book, "I Quit: Facing Cancer with Faith, Family and Friends
Others Create Awareness
Many families, patients, bloggers and advocacy organizations spread the word about Ependymoma Awareness Day and their experiences with local news services, on Twitter, Facebook or their personal blogs. Search #CERNbutterfly for posts.