A Sweet Gesture Goes A Long Way
— Categories: Press Release Posted on November 9, 2015
One bake shop owner decided she wanted to help out a family in need and support ependymoma research.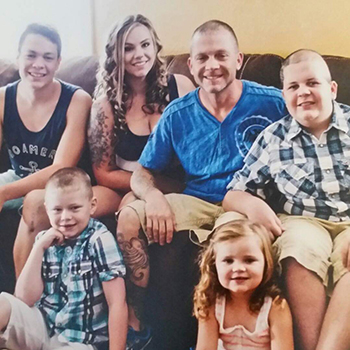 Maria Kauflin's sixteen-year-old nephew, Jason, was being treated for lymphoma in a local hospital in Dayton, Ohio. Cameron Neal was also getting treatment there.
Cameron was also from Dayton. On April 6, 2010, Cameron was diagnosed with anaplastic ependymoma, along with Von Willebrand disease, which is a condition that can cause extended or excessive bleeding. He had his first brain surgery a few days later to remove a softball-sized tumor from his brain leaving him with partial paralysis on the right side of his body. Cameron received proton radiation. The family was informed that all of Cameron's tumor had been removed and the outcome was hopeful, leaving everyone with a huge sigh of relief.
Maria would cross paths again with the Neal family at a fundraiser for the Leukemia and Lymphoma Society. Jason and Cameron's family came to help. "I was so struck by how Cameron's parents helped out while they were going through this," shares Maria.
Unfortunately, on November 21, 2011, an MRI showed that Cameron was having seizure activity on his brain and on the following April, it was once again discovered that Cameron's tumor was back, followed by his second brain surgery. Doctors were unable to remove the entire tumor and by September 18, 2012 Cameron was having his third brain surgery, followed by chemotherapy and proton radiation.
"I kept up with him on Facebook and found out there was nothing that can be done for them," Maria shares. She owned a small special-order bakery called Maria's Buckeyes. She decided to bring them treats and Cameron really liked the Buckeyes (peanut butter balls dipped in chocolate).
"It just hit me. You have something you can do – a talent. Use your talent to try and help someone in your community," said Maria. She decided to sell boxes of Buckeyes and promoted them on Facebook and raised $400 that she donated to the Neal family.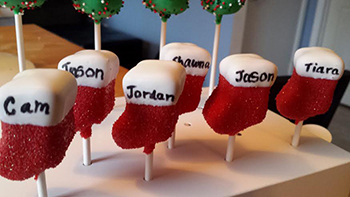 Sadly, on September 14, 2015, Cameron passed away. Maria was heartbroken. A family friend setup a Go Fund Me page and Maria wanted to continue to help them to pay for bills and final expenses. So every other month she decided to create a special sweet to sell or give what she makes to the family. "He had an anaplastic ependymoma and this cancer doesn't get much funding and that made me sad, so I decided to give some to them and some to the CERN Foundation. I hope this inspires others to find somebody in your community that needs help and utilize whatever your talent is to help," Maria shares.
Cameron's mother, Shawnalee, is grateful that Maria continues to deliver treats to their family. It's the one thing that Cameron loved that they can still enjoy. "That's the one thing that has not changed for us. When Maria shows up to deliver her treats, we all rush to snag our favorites. We are so thankful that Maria came into our lives… and never left. We are very happy that she has it in her heart to still help us as well as help others!"