CERN Foundation Partners with the National Institutes of Health (NIH)
— Categories: Press Release Posted on July 12, 2018
The CERN Foundation is excited to announce it has partnered with NCI-CONNECT to facilitate engagement with patients with rare CNS tumors, including ependymoma.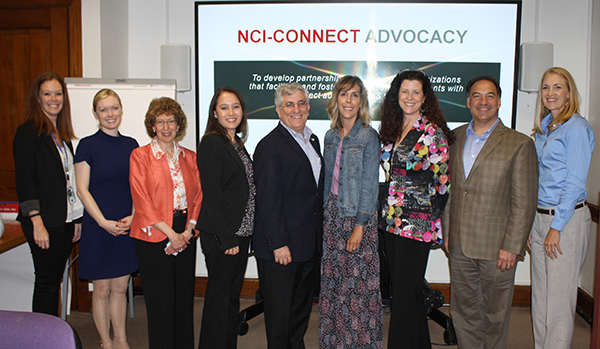 [Pictured left to right: Kristin Odom, Catharine Young, Kathy Oliver, Nicole Willmarth, Ralph DeVitto, Kimberly Wallgren, Kristina Knight, Michael Antonellis and Brittany Cordeiro]
The CERN Foundation was honored to attend the inaugural 2018 NCI-CONNECT Meeting that was held in conjunction with the Annual Meeting of the Brain Tumor Trials Collaborative (BTTC) at the National Institutes of Health (NIH). The meeting on June 11-12, 2018 was hosted by the Neuro-Oncology Branch at the Center for Cancer Research, National Cancer Institute, and was the largest to date with over 100 attendees. It included clinicians and investigators from 32 BTTC institutions and NIH, research collaborators and advocates from five non-profit organizations – the American Brain Tumor Association, Biden Cancer Initiative, CERN Foundation, International Brain Tumour Alliance and National Brain Tumor Society.
The goal of the meeting was to bring together leaders in neuro-oncology clinical care, basic science and clinical research with advocacy partners in a collegial and collaborative environment to discuss current and future brain tumor clinical trials. Attendees shared new clinical trial concepts that merged quality scientific method with concern for patient quality of life and outcomes. The aim is to help advance treatments for patients with malignant brain tumors.
This year, the meeting introduced NCI-CONNECT (Comprehensive Oncology Network Evaluating Rare CNS Tumors), a new program supported by the Cancer Moonshot℠. It will use the existing and successful BTTC infrastructure and network for clinical trials. NCI-CONNECT aims to advance the understanding of rare adult central nervous system (CNS) cancers by establishing and fostering patient-advocacy-provider partnerships and networks to improve approaches to care and treatment.
The BTTC and NCI-CONNECT are led by CERN advisors, Drs. Mark Gilbert and Terri Armstrong who have been involved with the CERN Foundation since inception. With their support, the CERN Foundation has been responsible for the publication of over 50 peer-reviewed papers in leading medical journals. This body of research has greatly advanced our understanding of ependymoma and has left a lasting legacy for future investigators to build upon.
"We're integrating patient support and focused research efforts so that we can make more therapies available to more patients sooner. So, what would take 10 years, we hope to achieve in five years," says Mark Gilbert, M.D, Chief of the Neuro-Oncology Branch and co-director of NCI-CONNECT.
The meeting included focused discussions on innovative clinical trial concepts specific to patients with rare CNS tumors, including ependymoma. "We integrated advocates in these discussions to allow investigators to hear the perspective of people who help patients find and participate in clinical trials, educate patients on clinical trials and subsequent treatment and care decisions, and basically, advocate for brain and spine tumor patients. They were a valuable addition to the conversation," says Dr. Terri Armstrong, Senior Investigator in the Neuro-Oncology Branch and co-director of NCI-CONNECT.
NCI-CONNECT has a number of studies that are open and available for participation, including two treatment trials. One clinical trial is investigating the immunotherapy drug nivolumab as an effective treatment for people with recurrent ependymoma. The other trial is investigating the combination of bevacizumab and carboplatin to help control recurrent ependymoma. Patients can also participate in the outcomes and risk project that intends to answer the one question that plagues most all patients: Why did this happen to me?
Looking forward, the CERN Foundation is excited to announce it has partnered with NCI-CONNECT to facilitate engagement with patients with select rare CNS tumors and provide NCI-CONNECT educational and clinical trial information to patients. The partnership will involve focused discussions on patient education and communications, advocacy training and resources, clinical trial accrual, clinical care and treatment at the NIH and programmatic next steps. "This partnership will allow us to help improve outcomes for ependymoma patients. We are thrilled that the CERN Foundation model (collaborating with scientists, neuro-oncologists and the patient community) is now able to help even more people affected by rare CNS tumors," shares Kim Wallgren, President of the CERN Foundation.
The CERN Foundation will be sharing more information as the partnership advances and NCI-CONNECT expands. In the meantime, view the NCI-CONNECT and the Neuro-Oncology Branch websites to learn more. You can contact NCI-CONNECT for more information at NCICONNECT@mail.nih.gov or 240-760-6530.