Coping With The Holidays
— Categories: Press Release Posted on December 7, 2015
The holiday season is often time of tradition and renewed hope. If you or a loved one has an ependymoma, or if you have lost someone to the disease, the holidays may be more stressful. This can make it hard to feel connected, unable to meet demands, and out of sync with those around you.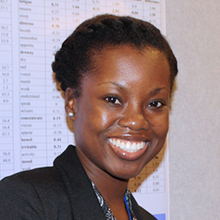 By Alvina Acquaye, MS, LPC - Research Associate for the CERN Foundation
The CERN Foundation Outreach Team offers these suggestions to help you cope during the holiday season.
Allow yourself to feel certain emotions: If you want to cry, laugh or be sad embrace when it's happening. It's okay you are human.
Find support: Whether it's family, friends, support groups, a counselor, having support will allow you to have a listening ear to express yourself about any uncertainty or anxiety you may have, without feeling any judgment.
Eat healthy: Have a balanced diet and know your limits. Consume sweets and alcohol in moderation to avoid dips in your energy. Be aware of the foods you can and cannot eat and plan ahead.
Take some of the responsibility off of you: It's okay to accept help. If you don't want to cook, maybe have a potluck. If you don't want the gathering at you house this year, suggest another alternative for family and friends.
Start your own tradition: If you can't see everyone, Skype or Facetime them, send out personal cards or volunteer do what you can do and want to do, it's okay to say NO!
Focus on you: Find things that bring you pleasure and help you relax, such as journaling, listening to music, exercising. Think back to activities that you once enjoyed and have since stopped.
Goal setting: Set realistic goals for yourself. Allow yourself to complete the tasks that you can. Reward yourself for what you can do even though you can't do everything on your list, you are still able to do something productive.
Stop the blaming game: Don't blame yourself for things out of your control. Be mindful and present and work through things you can control.
Reduce stress: Plan out your trips to remove any anxiety you may feel about any burden you may put on others. You want this time to be as stress free as possible so making arrangements ahead of time reduces that.
Pace yourself: Schedule out your days so you don't get overwhelmed. Figure out when you have the most energy during the day to pace yourself and work on completing the tasks that are more important during the times when you are able to get more things done. Productive
If you have a loved one that has passed: The holidays can be especially difficult. Celebrate him or her by making a new tradition and if kids are involved, ask for their input on how they want to remember them. Other suggestions include: Writing a letter or journal, writing personal messages on balloons to send off with a group of friends and family, sharing memories and stories about them with each other, or lighting a candle.