Ependymoma Meeting
— Categories: Press Release Posted on March 22, 2019
The Fourth Biennial Ependymoma Consensus was held at NIH, February 20 to 22, 2019. Neuro-oncology experts worldwide met to advance their knowledge and collaborate to find better treatments for people with ependymoma.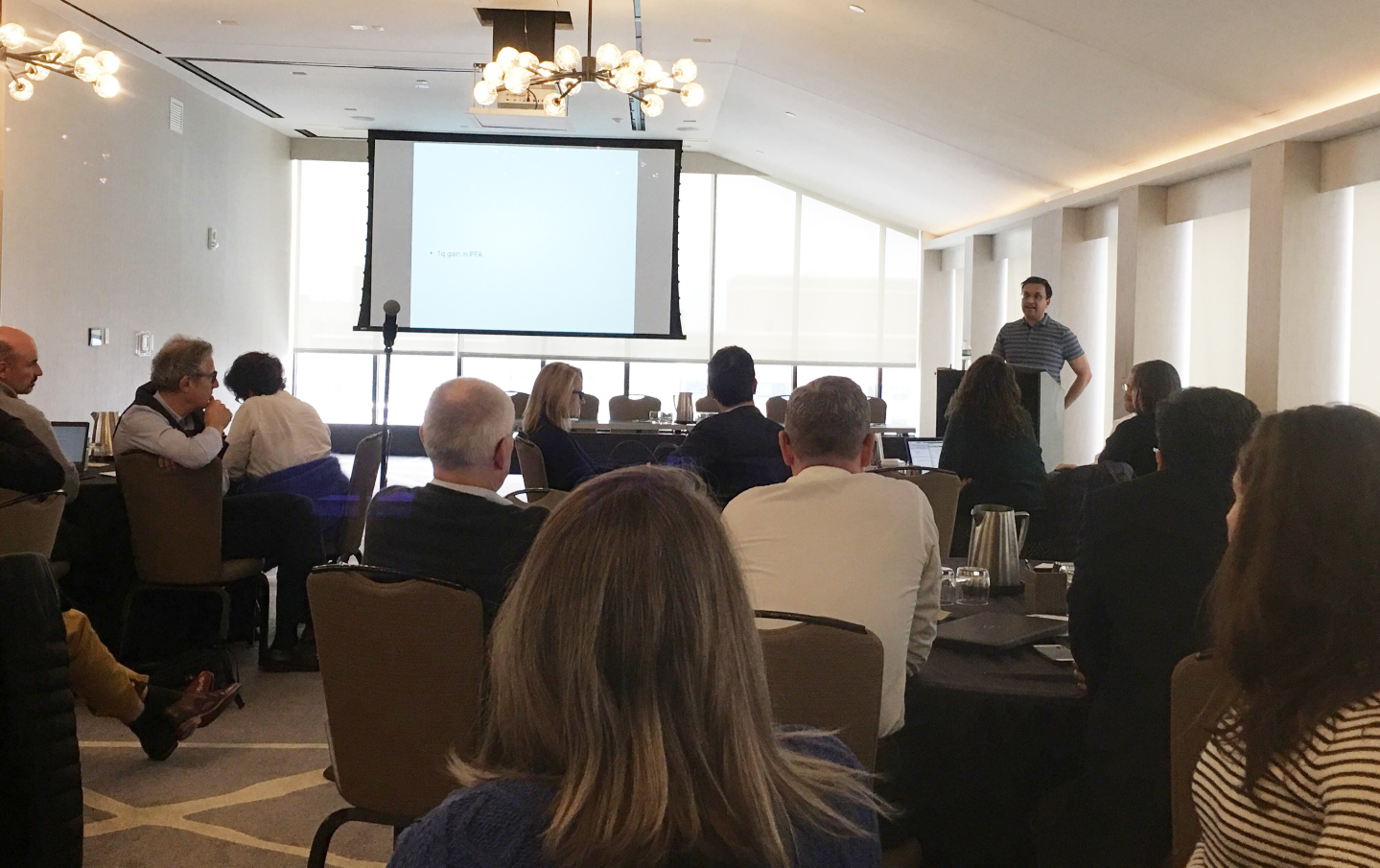 The consensus was co-led by CERN Advisors, Kenneth Aldape, M.D., chief of NCI's Center for Cancer Research (CCR), Laboratory of Pathology, and Mark Gilbert, M.D., chief, and Terri Armstrong, Ph.D., deputy chief, both of NCI's CCR, Neuro-Oncology Branch, at NIH. Participants included basic scientists and researchers, clinical scientists and researchers, neuro-oncologists, and advocacy partners.
In its history, the Ependymoma Consensus has helped define areas of research for ependymoma and advance therapies for patients. Importantly, the consensus is an international collaboration. Participants recognize the complexity of ependymoma – a rare brain and spine cancer – and the need to work together to understand tumor genetics and molecular characteristics to advance treatments.
During the 2019 consensus, participants presented the latest research and advances in the field. Then, they gathered in three working groups to discuss preclinical models, the pathology and molecular classification of tumors, and to discuss clinical trial designs.
"It was exciting to bring world leaders in the field of ependymoma together to highlight the pressing problems and develop strategies to collectively and effectively address these problems in ways that can lead to improved patient outcomes," says Dr. Aldape.
Participants also discussed a global effort to sort the various subtypes of ependymoma, and how to define and treat the various subtypes, and the state of genetic testing. "We are gaining new insight into ependymoma subtypes, which we believe will improve our ability to treat ependymoma and provide valuable and meaningful care to patients," says Dr. Armstrong.
Advocacy partners, including members from the CERN Foundation and American Brain Tumor Association, and collaborator, the Robert Connor Dawes Foundation, were an integral part to the conversation. They brought the patient perspective to help researchers and clinicians understand how to communicate their efforts to patients and their families.
Recognizing the challenges in rare cancer studies, the attendees discussed the design of novel clinical trials, which are critical to developing new therapies. "Additionally, researchers and clinicians highlighted the importance of molecular and genetic testing to design targeted trials and the need to develop trials for patients whose tumor has recurred after the initial treatment," says Dr. Gilbert. Inclusion of clinical outcomes assessment, or how the treatments impact the person, were also discussed as integral to trial designs.
The Fourth Biennial Ependymoma Consensus was successful to bring together motivated and knowledgeable experts. It determined areas of research for ependymoma to make progress in patient outcomes with an understanding of the complexity of the disease. With these goals and strategies, participants will collaborate to more effectively address these issues.
Ependymoma Meeting was originally published by the National Cancer Institute.