Sarah Delivers Speech at 2018 Ependymoma Awareness Day
— Categories: Press Release Posted on August 3, 2018
Sarah gave these remarks to patients and caregivers at the Hogan Lovells Law Firm during the National Brain Tumor Society's Head to the Hill event.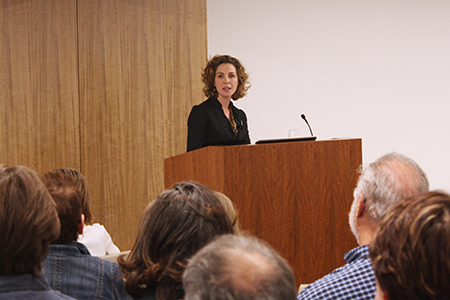 Participants gathered to raise awareness of ependymoma at the 2018 Ependymoma Awareness Day butterfly release.
I'm truly honored to be here with all of you tonight.
My name is Sarah Rosenfeld. I'm a mother, a wife, daughter, a twin, a sister, a grand-daughter. I'm a preschool teacher. We wear many hats but I stand here today as an ependymoma survivor.
When people learn that a tumor was discovered in my spinal canal, the first question they have is always: how did you find it?! They ask partially out of sheer curiosity but also to somehow convince themselves that they *too* don't have a tumor growing in their spinal canal. Fair enough.
I have two daughters. Grace is 6-years-old and Olivia is 9. 6 and 9 years ago my babies were born by cesarean section. An ependymoma was blocking my spinal canal and preventing the epidurals from working. Needless to say, the deliveries were terrifying and incredibly painful. None of the physicians or anesthesiologists could explain what had gone wrong either time but my daughters were born healthy, so we put the deliveries behind us as best we could.
In 2015, I began having sciatica pain down my leg. The tumor had grown to critical mass and was pressing on my sciatic nerve. My internist suggested physical therapy and muscle relaxers but nothing eased the pain. I eventually had a MRI which revealed the cause: an ependymoma.
When you have a major health scare or any big life crisis for that matter, you can choose one of two paths. Fight or flight. Put on your boxing gloves and face what lies ahead or pull the covers over your head. I chose fight and being the Type A personality that I am, I knew that knowledge was power, and went into full blown research mode. I found CERN through Dr. Google and dove into their website headfirst. I interviewed all the top neurosurgeons in the DC Metro area and decided on a surgery date.
Unfortunately, my first surgery was unsuccessful. My ependymoma was unencapsulated, meaning it had burst, or somehow spread throughout the base of my spinal canal. My neurosurgeon later told me he had never seen anything like it in his life. He wasn't able to remove it all and suggested annual scans to monitor the remaining cells.
Something about that just didn't sit well with me, so I sought a second opinion and was then referred to the National Institutes of Health in Bethesda, Maryland. I grew up around the corner from the NIH but never could've imagined that one day I'd be admitted as a patient for a rare central nervous system tumor.
I met with Dr. John Heiss and Dr. Alex Ksendovsky - they claim to be NIH neurosurgeons but are actually angels in disguise. I was also fortunate enough to meet Dr. Mark Gilbert, who founded CERN and is head of the Neuro-Oncology branch at the National Cancer Institute at the NIH as well. In 2016, I had a second, revision surgery followed by 6 weeks of radiation and now have regular MRI scans.
That's MY story. But everyone here has a different story, unique as a butterfly. What we all have in common, though, is that each of us in this room have been touched by a brain or spine tumor in some way. We have all experienced fear, frustration, perhaps anger.
But tonight, I feel only gratitude and hope. I hope that my butterfly, a symbol of resilience as well as freedom, will carry my wish that VERY SOON, there will be new treatments and a cure for brain and spine tumors. As my butterfly soars far away and out of my sight, it carries that hope for us all.