Steve Cox Delivers Speech at 2016 Ependymoma Awareness Day
— Categories: Press Release Posted on June 5, 2016
Steve gave these remarks to patients and caregivers at Georgetown University Hotel and Conference Center during the National Brain Tumor Society's Head to the Hill event.
Participants gathered to raise awareness of ependymoma at the 2016 Ependymoma Awareness Day butterfly release.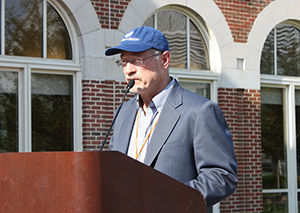 Thank you all for inviting me to speak today. My name is Steve Cox. I am an ependymoma survivor. My story is a little different because I was also a caregiver. My wife had a brain tumor as well. Hers was a glioblastoma.
We were in our early 50′s with a son and daughter in college. Life was pretty good. We were beginning to enjoy our new empty nest when I started to present with some odd health issues. Chronic hiccups were the first sign that something was wrong. After almost a year of worsening hiccups, I made an appointment with my primary care doctor. We both suspected that it might be a stomach issue, so he referred me to a gastroenterologist who treated me for acid re-flux. For several more months the symptoms only continued to get worse. I then began to have headaches, vertigo and difficulty swallowing. Realizing that this was not typical of acid reflux, my primary care doctor referred me to a neurologist.
The neurologist evaluated my symptoms and prescribed an MRI of my head. While leaving his office, he told me not to be concerned if I didn't hear from him for several days after the MRI. Two days later I had the MRI at a local hospital. Afterward, I returned to my home office a few miles away where I worked for an international company. Soon after arriving, my phone rang. Expecting a business call, I picked it up. It was the neurologist. Remembering what he had said when I left his office, I knew that the news he was about to reveal must be important. Indeed it was. He informed me that I had a mass in my brain, a brain tumor. It was the size and shape of a large chicken egg and in the forth ventricle, close to the brain stem. At that point in time, my life changed forever. More than I could have imagined.
Having to tell friends and family that I had a brain tumor was not an easy task. It was especially painful to have to tell our children. They fully understood the implications. My lovely wife, Barbara, was equally devastated.
A few weeks later I had nine hours of brain surgery. My family is fortunate to live near Boston where there are many fine hospitals. A skilled surgeon was able to completely remove the ependymoma from my forth ventricle. When I awoke from surgery, I had lost the ability to swallow or control my tongue. I could not speak coherently. My blood pressure would fall so low that I was unable to raise my head off the pillow. These symptoms persisted for many weeks. Eventually I regained the ability to swallow, and to walk and speak again. After five weeks in a hospital bed I was allowed to go home. At that point, I could walk with a cane, speak with a slur and the feeding tube was no longer needed.
Life as it is in a corporation, I couldn't recover fast enough for my employer, and I lost my job. With two kids in college, the bills started to pile up. My wife worked part time at the local school system, and we were fortunate to be able to have the health insurance provided by the school.
For several months, my wife took care of me while I focused on perfecting my speech and learning how to walk without a cane.
With my wife's help, my health slowly improved over the next several months. Yet, something else was happening. Barbara began to walk with a limp and started losing dexterity in one of her hands. These strange symptoms prompted her to make an appointment with our primary care doctor. Barbara and I thought that she might have had a minor stroke.
We were completely taken by surprise when an MRI found a six centimeter tumor in her head. A few days later, Barbara had surgery. The same doctor who operated on me operated on her. The same nurses who tended to me tended to her. Our roles reversed. I became the caregiver and now she was the patient.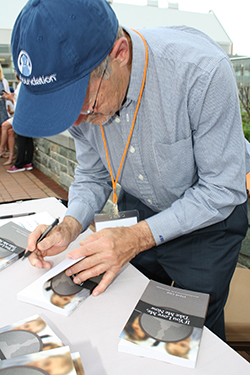 What are the odds that both husband and wife would have brain tumors? Another vexing question is "What caused our brain tumors?" When the causes are understood, we will be closer to a cure.
I applaud the CERN Foundation, and The National Brain Tumor Society for their efforts to find a cure. No one should have to experience what my family did.
Barbara, like me, was let go from her job because she was too sick to work. Just when we needed it the most, we lost our health insurance. This further underscores the financial impact faced by many brain tumor patients.
My lovely wife, Barbara, passed away less than a year after her diagnosis and within 2 years of my diagnosis.
The lessons I learned from these two years in my life are plentiful. One is that the patient is not the only person who is affected by a lesion on their brain. Everyone around them is impacted and some more than others.
Another lesson I learned is that a seriously ill patient needs to be their own best advocate, or have someone close to them assume that role. The advocate has to be asking questions, taking notes, finding the best medical treatment, and demanding attention when they feel they may not be getting all they need.
If my wife had not been my advocate, I'm convinced that I wouldn't be standing here today. If I hadn't been her advocate, her life might have been a year shorter.
I was surprised how little was know about ependymomas. It is truly an orphan disease. When I was diagnosed in 2004, I felt very isolated. Many doctors I sought help from had never even heard of an ependymoma. Today, newly diagnosed patients have the CERN Foundation to turn to for information and hope.
A year ago I published a book about my family's ordeal with brain cancer. It is called: If You Love Me, Take Me Now. I wrote the book for several reasons. I wanted to leave a legacy to the 6 grandchildren who will never meet their grandmother. I am also hoping that crafting the words in this book might help others understand how devastating brain tumors are to a family. And lastly, I have been and will continue to donate proceeds from book sales to brain tumor causes.
Thank you for being here today.