Students From Joplin Host Chili Cook Off
— Categories: Press Release Posted on March 4, 2013
Three students from Joplin, Elaina Warren, Emily Watson and Michael Gonzalez, wanted to help fellow classmate and friend, Cooper Vocelka, reach his goal to raise money and awareness for brain cancer research.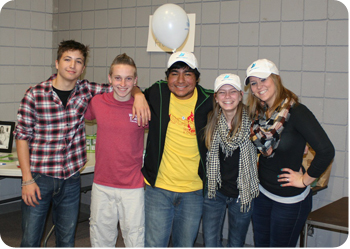 Emily Watson, one of the organizers, told Four States News Services, Cooper's selflessness has made an impact on many, so they wanted to do something that would benefit him. "Anyway that we can help him get the goal that he wants for others… To help them prevent going through what he's gone through is really his goal, and we're just trying to help him in that, and be his extra set of hands," said Emily Watson, Joplin High School.
Cooper was diagnosed with an anaplastic ependymoma in 2008 when he was 13-years-old. After three months of intermittent vomiting and headaches from what doctors initially thought was stress or a gastrointestinal complication, Cooper's mom, Sherry, requested an MRI. A scan revealed a 5-centimeter mass in Cooper's brain and he was immediately sent to surgery. By April of 2009, Cooper completed his treatment, which included two brain surgeries, chemotherapy and 33 rounds of radiation therapy.
In September of 2011, he had a seizure and scans revealed tumor recurrence. He then had another surgery and additional radiation. In April of 2012 more tumor growth was discovered so he began a clinical trial in hopes of stabilizing the tumor. In July 2012, an MRI revealed increased tumor growth and fluid buildup, inducing the need for yet another surgery. Unfortunately, the doctors were unable to remove the entire tumor. Cooper began treatment with another clinical trial drug, but he experienced adverse effects and has now been taken off of the chemotherapy.
Read more on Cooper's CaringBridge site.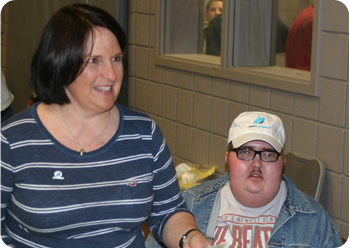 When asked what prompted Cooper to choose the CERN Foundation and brain cancer research as the focus of his fundraiser, Cooper told The Joplin Globe, "I feel one of my callings is to be a humanitarian and activist for cancer research. Brain cancer is more rare than other types of cancer, and so they need the most research."
The chili cook off was held at First United Methodist Church in Joplin, Missouri on March 10. There were performances by Magdelene Band and the Joplin High School Band, a bake sale and silent auction. With the generous contribution and efforts of the community, over 375 people attended the cook off and $6,600 donated to the CERN Foundation.
Portions of this story adapted from these articles: