Ependymoma Awareness Video
Ependymoma Awareness Day (EAD) was established in 2012 by the CERN Foundation as part of a global effort to shine a light on this poorly understood disease. Our goal with Ependymoma Awareness Day is to increase public recognition of this rare tumor, highlight the importance of an accurate diagnosis, and the urgent need for better targeted treatments in order to improve the outcomes for those living with this disease.
"I watched and thought - if only THIS is what people would see when they Google 'ependymoma'!!! Such great information!" Beth
Stories
Connecting you with other ependymoma patients and caregivers.
Referrals
Connecting you with neuro-oncologists who specialize in treating ependymoma.
"When I was first diagnosed six years ago - my life was turned upside down. I contacted the CERN Foundation and they were so kind and genuinely interested in providing information and direction. With their help, I was able to find a medical center experienced in treating ependymoma."
---

CERN Headlines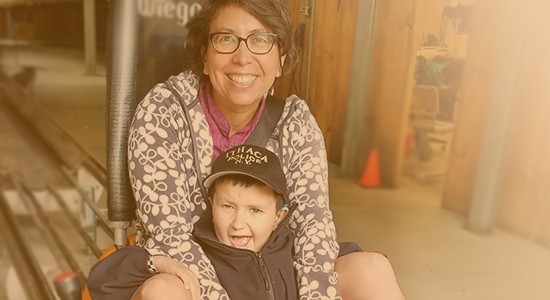 CERN Foundation Releases Ependymoma Community Blog Series
Featuring a collection of articles written by members of the ependymoma community. Some authors are ependymoma survivors and others are care partners. They share their advice to help others with ependymoma cope with their illness.
Taking Your Life Back After Ependymoma
Ependymoma Community Blogger Matt Cotcher describes a view into the complexities of reclaiming life after a brain or spinal tumor diagnosis and treatment. Cotcher empowers readers to take an active role in moving forward. He shares "Acknowledge the change that comes with treatment and focus on small tasks that can be accomplished." Read more to learn about his personal experience with accepting change and taking steps to reconnect with life as he knows it.

Power of Presence
Ependymoma Community Blogger Adam Holland shares his perspective on the power of presence and the impact it had on him during his treatment and survivorship of ependymoma. Throughout his entire journey, various medical professionals and allied healthcare workers, strangers in the waiting room, friends, family, and more have come alongside him in a meaningful way. Adam shares "The reality of the entire cancer process is that we cannot do it alone, we need others more than ever in our lives." Read more about the powerful ways connection has shaped his experience and changed his perspective.

Funding Opportunity! Posterior Fossa A Ependymoma Translational Research Award
National Brain Tumor Society (NBTS) is pleased to announce a request for proposals (RFP) for projects related to Posterior Fossa A (PFA) ependymoma, an underserved cancer that occurs primarily in young children and is generally associated with a poor outcome.
View All News >