Spotlight
Amar Gajjar
---
October 2016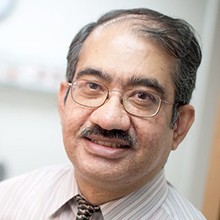 Pediatric Studies Explore Drug and Molecular Therapies
When pediatric neuro-oncologist Amar Gajjar, M.D., joined the CERN Foundation leadership team at its inception, he took on a daunting challenge to find new and effective drugs to treat ependymoma.
The disease is typically treated with surgery and radiation because most existing chemotherapy agents are not very effective, explains Dr. Gajjar, also the director of the Neuro-Oncology Division at St. Jude's Children Research Hospital. Ependymoma is the third most common brain tumor in children.
In collaboration with an international team of investigators, including CERN investigator Richard Gilbertson, M.D., Dr. Gajjar co-led a trial that discovered the drug 5-fluorouracil (5-FU), which is widely used for colon cancer, could have an impact in treating ependymoma if administered rapidly. This discovery in mice led to a phase I clinical trial supported by the CERN Foundation that determined the drug is safe to administer to children. The trial included 26 patients who were 22 years old and younger with ependymoma that recurred after treatment.
"The drug showed modest activity against the tumors that were tested, but it has led to subsequent research that has tested chemotherapy drugs in combination with 5-FU," Dr. Gajjar says. Such studies are still in development.
Dr. Gajjar is also studying the molecular profile of tumors to develop targeted therapies, a project known as risk stratification for ependymoma patients. "We know the molecular profile of a tumor affects how the tumor will behave and whether a certain therapy will be effective or not," Dr. Gajjar says. "So, based on these profiles, we are now focusing on developing specific therapies for ependymoma that have similar molecular profiles so patients have better outcomes."
Dr. Gajjar is collaborating with multiple CERN Foundation brain tumor sites on the risk stratification project and expects to publish data in the next eight months. He also says the therapies developed for pediatric patients would translate to adults.
While his research and the discovery of promising treatment therapies is of utmost importance, Dr. Gajjar also values being a resource for ependymoma patients and their families. "Ask us and we can guide you as to where you child can get cutting-edge therapy," he says.
Dr. Gajjar encourages people to use him and the CERN Foundation as the go-to source for clinical trials, in addition to ClinicalTrials.gov, a website that lists most all clinical trials for ependymoma patients. "We can guide the patient more efficiently than most trials sites on where they can seek the best care," he says.
"As a team, CERN members are working very hard to bring the latest advancements to adult and pediatric patients and develop novel clinical trials for the ependymoma community," Dr. Gajjar says.