Spotlight
James Davenport
---
September 2012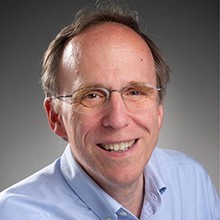 In continuing with our efforts to highlight the research and work of our CERN Foundation Team, we spoke with James Davenport, Ph.D., researcher at St. Jude Children's Research Hospital.
Dr. Davenport graduated in 1975 from the University of Michigan with a Bachelor's Degree in Cellular Physiology and went on to receive his Ph.D., from Cornell University in Biochemistry. He ultimately settled in Memphis in 1990 and began work at St. Jude on a project focused on a mouse strain that models childhood Leukemia. After 10 years at St. Jude, he moved to UCLA and began working with DNA and RNA samples in children. Once Dr. Davenport completed his research at UCLA, he decided to return to St. Jude Children's Research Hospital to continue to engage in basic research with a strong clinical dimension. It was then that he connected with one of the CERN Foundation's Project Leaders, David Ellison, M.D., Ph.D., and began his research work in childhood ependymoma. Dr. Davenport is married with three children and in his time away from research enjoys hiking, live music and the ever more varied restaurants in Memphis.
Dr. Davenport's primary research goal is to develop clinically useful tests that will help distinguish between different types of ependymomas and more accurately predict tumor behavior. For example, while research has shown that spinal ependymomas tend to be less aggressive, scientists and clinicians are still not sure why this is usually so, and they don't yet understand the exceptions. An exciting opening in the field was created when a CERN Foundation research team lead by Dr. Richard Gilbertson at St. Jude measured the patterns of gene activity in more than eighty ependymomas they collected from medical centers worldwide. The team found that some genes show especially variable patterns of expression that may make them markers for biologically distinct types of ependymoma. Dr. Davenport is working with other researchers at St. Jude to develop immunohistochemical techniques to more easily measure the activity of these genes and are hopeful that the results will enable them to predict whether a tumor will be more or less aggressive. Because immunohistochemistry is already in use in most large hospitals, once the tests are developed physicians around the world will be able to use them to tailor treatment to the individual patient's disease.
When asked about the importance of the CERN Foundation, Dr. Davenport shared the following thoughts with us. "This sort of coordination and cooperation is critical for work on less common tumors like ependymomas, where every sample is precious. In the past I have worked on basic problems in tumor cell biology that can be studied in cell lines. Our work with the CERN Foundation is very different. We work every day with patient tissue samples and we are always reminded of the human cost behind them." The collaborative approach in the CERN Foundation is also seen within their laboratory where boundaries are fluid and interaction, coordination and discussion is the rule. Part of what drives Dr. Davenport's motivation is the knowledge that he and his colleague's research efforts will lead to discoveries that can make a difference in a patient's life in the short-term, not just ten (10) or twenty (20) years down the road. The CERN Foundation is grateful for the passion and motivation that Dr. Davenport brings to our team on a daily basis.
Gratitude and recognition goes out to the following team members: David Ellison, M.D., Ph.D. and Richard Gilbertson, M.D., Ph.D. – for their leadership; Drs. Ruth Tatevossian and Bo Tang – for bringing their medical and molecular research expertise; James Dalton and Divya Patwardhan – for their performance of daily FISH and immunohistochemistry to characterize candidate genes and analyze patterns of gene behavior.