Spotlight
Khalida Wani
---
February 2014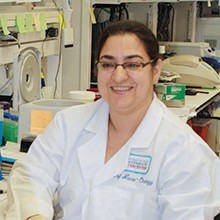 This month we had the privilege of speaking with Khalida Wani, Ph.D., one of the CERN Foundation's Research Fellows at MD Anderson. Along with her expertise, Dr. Wani has brought an extremely positive attitude reflective of her own excitement for the CERN Foundation and our goals.
Dr. Wani graduated from Mumbai University in 2002, with a Ph.D. in Biochemistry. Her research has always centered on translational studies, specifically prognostic markers. In her clinical research she has spent most of her time looking at how specific individuals will respond to different therapies, in a sense, personalized medicine. Khalida Wani, Ph.D. chose to join the team at MD Anderson because of their world renown translational studies program. She lives in Houston with her husband and seven year old son, and enjoys socializing with family and friends.
Khalida Wani, Ph.D. spends most of her days in the lab identifying biomarkers and tumor profiling by looking at tumors retrospectively from patients that have already undergone treatment and have clinical data available. Dr. Wani starts by isolating the genomic material (RNA and DNA) out of these tumors and then begins the intricate process of profiling the tumors on multiple platforms. In other words, she is aiming to determine if certain genes that are present or absent, are indicative of prognostic factors. Ultimately, once profiling is complete, she would be able to isolate RNA and look at the expression of specific genes to determine if a patient would respond to a specific treatment. This entire process requires a large cohort of cases and she and her team are working diligently toward this goal. Thus far they have already had very encouraging results.
When we asked Dr. Wani about her experience working with The CERN Foundation, she had this to share with us, "The good thing about The CERN Foundation is that they have a mix of both basic science professionals and clinicians. We, in the lab, are able to gain insight into how clinicians think, and how they translate what's working in the lab to the clinic. We complement each others' work allowing this knowledge to move forward at a much faster pace."
Dr. Wani graciously contributes to the collaborative spirit that The CERN Foundation strives for, and she helps to bring us closer to one of our ultimate goals – personalized medicine for each and every patient diagnosed with an ependymoma.
Gratitude and recognition goes out to the following team members: Kenneth Aldape, M.D.