Spotlight
Kiplin Guy
---
May 2013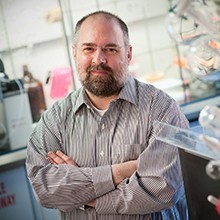 At the CERN Foundation, a number of our team members spend their days and nights working diligently in the research lab to help us identify new drugs and compounds that will impact the way ependymoma are treated now, and in the future. One of these remarkable individuals, R. Kiplin Guy, Ph.D., Creator and Chairman of the Department of Chemical Biology and Therapeutics and a Member (Professor) of the St. Jude Faculty, spent some time with us this month to share his knowledge, experience and hopes for the future of ependymoma treatment.
Dr. Guy received his Bachelor's Degree in Chemistry from Reed College in Portland, Oregon and went on to work for Polymer Sciences at IBM as a Process Development Chemist. He soon realized that he wanted to further his education and decided to attend graduate school. In addition to having a strong interest in the biological and medical applications of chemistry, he was also a strong proponent of preserving the environment, with a particular fondness for old growth forests. At the time, the bark of the Pacific Yew, which grows exclusively in old growth, was being harvested for paclitaxel (also known as taxol – a chemotherapy agent used in treating breast, ovarian and other cancers), a process that required clear cutting the forests. Young and passionate, he made it his mission to "save the trees" by working on the synthesis of taxol. His passion for oncology drug development was further fueled when Dr. Guy's dear Aunt passed way from breast cancer.
Dr. Guy was recruited to the 1st class at Scripps Research Institute in La Jolla, CA, and graduated with a Ph.D. in Organic Chemistry under the mentorship of Dr. K.C. Nicolaou, in 1996. His time at Scripps was spent finishing the first synthesis of taxol and beginning to develop his interests in clinical applications shadowing doctors in the oncology and drug development departments. After earning his Ph.D., he moved to the University of Texas Southwestern Medical Center in Dallas where he completed his postdoctoral fellowship in Cellular Biology with Drs. Brown and Goldstein. He was then recruited by University of California, San Francisco (UCSF) where he spent the next seven years moving through the ranks to full Professorship. While at UCSF he helped bring the techniques of high throughput screening and chemistry to the University by establishing and directing the Bay Area Screening Center and the Center for Chemical Diversity. Almost immediately after becoming a Professor at UCSF, he left to create the Department of Chemical Biology and Therapeutics at St. Jude Children's Research Hospital.
At St. Jude, in the Guy Lab, the main focus is on a mix of chemical biology and therapeutics development. He works very closely with Dr. Richard Gilbertson, Co-Principal Investigator for the CERN Foundation and Executive Vice President, Member and Director of the Comprehensive Cancer Center at St. Jude's Children's Research Center, running the drug screening portion of the program. Most of his time is spent facilitating information-based decision making to help determine which drugs look the most promising to move forward to the clinic. Dr. Guy spent the first four years at the CERN Foundation focused on repurposing existing drugs that had already gone through the FDA approval process for the disease. While this process continues, there is now a stronger focus on new drug discovery. Additionally, they are developing careful descriptions of what drugs are needed to help enable and further the discovery of new drugs. As far as how he feels about being a part of the CERN Foundation, Dr. Guy shared this with us, "I have been doing drug development in the academic sector for a long time, and the CERN Foundation is the most goal and product oriented effort I have ever seen in oncology." He attributes this focus in large part due to the leadership oc CERN and strong vision. "I really enjoy working with such an intellectually intense group; it's truly a nice group to engage with."
Dr. Guy is married to Caitlin Allen, a pediatric psychologist, and they have two children, a fourteen year old son, Ciaran Allen-Guy and a four year old daughter, Sioban Allen-Guy. His wife, son and daughter are avid equestrians participating in eventing, with Dad helping out wherever he can. As a family, they are all outdoors people in their own way and enjoy spending as much time together as possible.
We are so grateful to have Dr. Guy on our team as one of our leaders in this quest to discover and identify new and better treatment options for ependymoma. His drive, intellect and desire for finding a cure for orphan diseases, continue to bring us closer to reaching our goals!