Spotlight
Kristin Odom
---
June 2012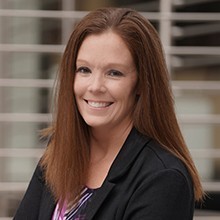 At the CERN Foundation we are constantly striving to make a positive impact on the lives of our patients, and their family and friends. All of our efforts are focused on doing something that will be meaningful and significant in their lives. It was that same thought process that led Kristin Odom, the CERN Foundation's Communications Coordinator, to become a part of our foundation.
Mrs. Odom graduated from Louisiana Tech University in 2003, earning a Bachelor of Arts degree in graphic design. She was always drawn to the creative aspect of graphic design and enjoys drawing and design work. After graduating from college, Kristin spent the next five years as a Composing Manager for a local newspaper in Ruston, Louisiana where she was responsible for page layout and design. She left her position at the newspaper to pursue work with a marketing company where she designed brochures, billboards and logos, and later worked for another local paper in Farmerville, Louisiana, where she was responsible for page layout, design, bookkeeping, and advertising sales.
In August of 2011, Kristin's family received heartbreaking news that her twin sister, Melissa, had been diagnosed with a rare form of pancreatic cancer, pseudopapillary neoplasm. Without a second thought, Kristin moved to Houston to help care for her sister and spend as much time with her as possible. In November of 2011, her beloved sister lost her battle against her disease. The obvious impact that this left on Kristin's life had her rethinking her current career path. At the same time the CERN Foundation had a need for someone with her expertise and she found the perfect combination – helping others and sharing her passion for creativity and design. Kristin joined the CERN Foundation in March of 2012 and resides in Houston with her husband, Kurt and her two children. Together they enjoy spending time as a family exploring nature, camping, swimming and trips to the zoo.
Her role as Communications Coordinator at the CERN Foundation has Kristin busy reaching out to the community through social media avenues, the website, designing and managing the Ependymoma Guide, fundraising and organizing the Ependymoma Awareness Day activities. As part of Ependymoma Awareness Day, Kristin is instrumental in the coordination of our butterfly release established to honor loved ones fighting this disease, remembering those loved ones who have passed and representing hope for patients and families.
When we asked Kristin her thoughts on the CERN Foundation, she had this to share, "I get to see firsthand what a tight knit group the CERN Foundation medical and research team is, as well as the family and caregivers. The passion and strength that they exhibit to advance the lives of those affected by ependymoma makes me proud to be part of such an incredible and unique effort. Everyone takes pride in what they're doing to help out, and it is clear that this is much more than a job to them."
Kristin's warm spirit shows in all that she contributes to the CERN Foundation. We have no doubt that she will continue to provide the expertise and teamwork needed to help us in our outreach efforts to patients, caregivers and the medical community.
With Gratitude and Recognition: Mark Gilbert, M.D., Chas Haynes, J.D., Kim Wallgren, B.S., and Terri Armstrong Ph.D., ANP.