Spotlight
Mark Gilbert
---
May 2016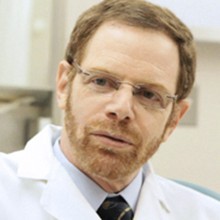 CERN Clinical Trials Update
As the CERN Foundation continues to evolve to better serve the ependymoma community, so do its members. Mark Gilbert, M.D. was named a senior investigator and the chief of the Neuro-Oncology Branch at the National Institutes of Health (NIH), within the Center for Cancer Research at the National Cancer Institute (NCI) in November 2014. The Neuro-Oncology Branch is a joint program of the National Institute of Neurological Disorders and Stroke. The branch conducts clinical trials, measures patient outcomes and develops best practices in patient care.
In his new position at the NIH, Dr. Gilbert will continue his collaborative and translational research focused on finding new treatment strategies for patients with malignant primary brain tumors. Specifically, his adult ependymoma research, which includes completing the phase II clinical trial, CERN 09-02, which has been folded into the ongoing research in the Neuro-Oncology Branch, as part of a rare central nervous system cancer initiative. The initiative was started by Dr. Gilbert as a subset of the Rare Tumor Initiative at the NCI Center for Cancer Research. The research program gives investigators the opportunity to focus resources and efforts on diseases that have less than 1,000 patients diagnosed in the U.S. each year.
The CERN 09-02 adult clinical trial, which is studying the chemotherapy drug Carboplatin in conjunction with the drug Bevacizumab (Avastin), is open and actively accruing patients. The first phase of the trial is a preliminary assessment of effectiveness in over 20 patients. If the first phase is effective, a second phase to study over 20 more patients will be initiated. The trial is accruing patients at four participating CERN sites: the NIH, Memorial Sloan Kettering Cancer Center, Harvard Cancer Center and the University of Pittsburgh Cancer Institute.
Dr. Gilbert also has plans to study immunotherapy treatment strategies for a variety of rare cancers, including ependymoma. His research team has identified new drugs to start testing in the lab in hopes of developing agents that could target specific signaling pathways.