Spotlight
Mary Lovely
---
September 2013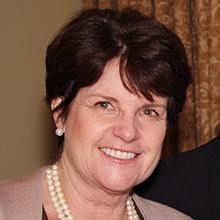 One of our truly exceptional team members, Mary Lovely, Ph.D. , R.N., is a member of our Scientific Advisory Board.
After earning her Bachelor's and Master's Degree of Science in Nursing from the University of Washington, Dr. Lovely began working at the San Francisco General Hospital's department of neurosurgery. It was there that she became intimately involved in research and helping patients who had been diagnosed with a traumatic brain injury. She then went on to become a Neuro-clinical specialist at the Veteran's Hospital and began working with patients diagnosed with a brain tumor. It was in her position at the Veteran's Hospital that she knew she had found her calling working to help patients navigate through their journey after diagnosis. In 1996, Mary earned a Ph.D. focusing her efforts on symptom management in brain tumor patients.
Mary lives with her husband, Jim Quanci, in San Francisco and is the mother of two wonderful sons who are currently attending college. Through her years as a clinical and research nurse, an impressive career in the non-profit neuro-oncology community and now as Senior Advisor at the American Brain Tumor Association, she has come to find the true value of living each day to the fullest. She and her husband enjoy taking advantage of all that life has offered to them whether it's spending time at local restaurants with friends and family, messing around in their sailboat, or simply enjoying the beauty that surrounds them in San Francisco Bay.
Dr. Lovely joined the CERN Foundation in 2010 as part of our Scientific Advisory Board. The CERN Foundation's Scientific Advisory Board is comprised of top clinical specialists and researchers whose primary goal is to provide objective opinions on potential treatments and quality of life endeavors. Mary's background made her a perfect fit for helping our Project V outcomes and quality of life team. Her expertise and experience has allowed her to share her knowledge and point of view to help enhance the overall "landscape" of this very important project focused on patient support and education, quality of life and outcomes research.
When speaking with Mary about her thoughts on the CERN Foundation, her enthusiasm and excitement to be a part of our team is very apparent. "I am honored to be a member of the CERN Foundation's Scientific Advisory Board and will put forth every effort to help the team recognize their mission and ultimate goal to finding a cure for ependymoma. This is one of the most well organized research networks I know of and it is with special thanks and gratitude to Mark Gilbert, M.D. and his phenomenal colleagues for having the forethought and determination to put together such an incredible collaboration. They (the team) are constantly on top of things working to create the most exciting research pipeline from advanced science to clinical trials and recognizing the importance of patient outcomes. This is truly a breakthrough in advancing the efforts to find a cure for cancer." We couldn't have said it better ourselves, Mary, and are grateful and humbled to have individuals such as you on our team!
Dr. Lovely's participation in our foundation will no doubt help to ensure that a patient's journey through their diagnosis not only includes treatment of their disease, but also enhances their quality of life and improves their outcomes.