Spotlight
Richard Gilbertson
---
July 2013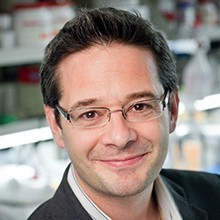 Each month we take the opportunity to talk with and appreciate the many team members of the CERN Foundation, taking a closer look at what they bring to this exciting and meaningful endeavor. This month, Richard Gilbertson, M.D., Ph.D., Co-Principal Investigator of the CERN Foundation shared his experiences and what led him on his journey to impact pediatric brain tumor research in such a profound way.
Since the early age of six, Dr. Gilbertson knew he wanted to be a doctor. He doesn't remember a time in his life when he wasn't passionate about science, and has always enjoyed working in pediatrics; though when he first entered medical school it was not with the intent of pursuing a career in pediatric medicine. Dr. Gilbertson attended The University of Newcastle-upon-Tyne in the United Kingdom where he received his medical degree in 1992. The education system in the United Kingdom allows medical students the opportunity to begin working directly with patients in a clinical setting as soon as they enter medical school. It was during this time that Dr. Gilbertson developed his respect and admiration for pediatric medicine. Through his mentors, he saw the complexity of working in pediatric medicine and the rewards that went along with helping children. During his 2nd year of medical school, Dr. Gilbertson was offered the chance to work on a research project focusing on pediatric medulloblastoma, which served as the impetus for him to complete and receive his Ph.D. in molecular biology in 1998. In 2000, he joined the faculty of St. Jude Children's Research Center in Memphis, Tennessee, as an Assistant Professor, and as a result of years of extreme dedication and hard work was named as the Executive Vice President and Director of the Comprehensive Cancer Center at St. Jude in 2011.
As the Lead Co-Principal Investigator, alongside Dr. Mark Gilbert, Dr. Gilbertson's supreme knowledge of pediatric neuro-oncology, innovative thinking and initiative have been a major part of the guiding principles of the CERN Foundation. In his role, Dr. Gilbertson is responsible for leading Projects III and IV, which represent drug development and tumor models to better understand ependymoma as a disease and help identify new and more effective treatments. Additionally, he oversees the CERN Foundation overall to ensure that it is moving globally in the best and most appropriate direction for our mission. When we asked Dr. Gilbertson about his feelings thus far working with the CERN Foundation, he shared these thoughts with us, "Even though this is a large enterprise, that includes individuals from diverse disciplines, the level of professionalism, collaboration, and friendship in CERN is remarkable. I have no doubt that this attitude, displayed by all our members, is a large reason for the spectacular progress that has been made by the CERN Foundation." Hearing these words from Dr. Gilbertson, an internationally recognized and admired leader in pediatric neuro-oncology research, is just one more assurance that the CERN Foundation is upholding its mission and will reach its goal of individualized treatment plans created to cure ependymoma.
A natural teacher, leader and compassionate researcher, Dr. Gilbertson brings genuine hope to patients and their families on a daily basis. He has brought so much to the CERN Foundation on so many different levels, we all feel honored to be working with him. In his time away from research and the laboratory, Dr. Gilbertson relishes his time with his wife and children.