Spotlight
Saba Abutaseh
---
May 2012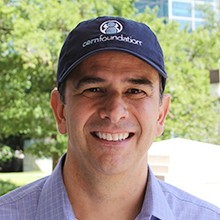 Our team members at the CERN Foundation are constantly working to improve the lives of patients diagnosed with ependymoma. In order to accomplish this, they are often involved in multiple projects, identifying new treatments and striving for better outcomes. This requires an ability to multitask at the highest level, something Saba Abutaseh, the CERN Foundation's Program Coordinator, is extremely adept at accomplishing on a daily basis. We were fortunate to speak with and get to know him a little better.
Originally from Amman, Jordan, Mr. Abutaseh moved to Texas in 1985 to pursue a college degree and hone his English language skills. In 1993, he graduated from the University of Houston with a Bachelor's Degree in Science, majoring in Psychology with a minor in Marketing. After graduation, Saba began working in research at the University of Texas Health Science Center, focusing first on research of different psychiatric medications and later getting involved with research in HIV. In 2008, he joined the Neuro-Oncology Department at MD Anderson, working closely with Dr. Mark Gilbert and Dr. Kenneth Aldape on the CERN Foundation as the Program Coordinator. When he isn't working, Saba spends most of his time with his new wife, Debbie, exploring new restaurants, or relaxing at home with his two cats, Zeus and Sammy.
As the CERN Foundation's Program Coordinator, Mr. Abutaseh was integral in the design of the CERN Foundation's website and continues to work in Outreach and Awareness for the CERN Foundation. In addition to his work in Outreach and Awareness, he is responsible for maintenance of the CERN Foundation's budget for MD Anderson, as well as assisting with the adherence of the overall budget for the CERN Foundation. He also works with the regulatory body at MD Anderson that conducts and oversees the data management of the CERN Foundation's clinical trials. As if that weren't enough to keep him busy, Saba also pitches in as needed by helping our Meeting and Event Coordinator with the CERN Foundation's Bi-Annual and Annual meetings. His can-do attitude and flexibility is just another reminder of the uniqueness and ambition that our team members at the CERN Foundation bring to this endeavor every day.
When we asked Saba what his favorite part of working with the CERN Foundation was, he reflected on some of his past interactions with patients and caregivers, helping to guide them through their diagnosis and provide support, whether it was emotional, medical or logistical. He also told us, "I truly enjoy watching the pieces of the CERN Foundation come together on a daily basis. Having the opportunity to experience firsthand as the researchers, scientists and clinicians identify and create new treatment options for clinical trials is a true honor and leaves me filled with awe and amazement. Our team really is looking at this disease from every angle, whether it is improvement of quality of life for patients, pathology and stem cell laboratory data, or developmental therapeutics."
As our conversation came to an end, Saba told us that he admires every person that he has encountered with the CERN Foundation because of their "levels of dedication, positive energy, and a palatable commitment" to what they are doing. The fact that he, too, exhibits each of those traits makes him a perfect fit for the CERN Foundation and our commitment to win the battle against ependymoma.
With Gratitude and Recognition: Mark Gilbert, M.D., Kenneth Aldape, M.D. and Terri Armstrong Ph.D., ANP.