Spotlight
Stefan Pfister
---
January 2018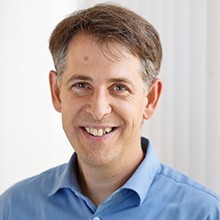 New Research Profiles Childhood Brain Tumors to Develop Targeted Therapies
Pediatric neuro-oncologist Stefan Pfister, M.D., at the Hopp Children´s Cancer Center at the NCT Heidelberg (KiTZ), is investigating the molecular profiles of childhood brain tumors like ependymoma in hopes of developing novel treatments for patients.
"An important step to improve treatment is to understand the different biological subgroups that drive the disease," says Dr. Pfister. His research with the support of the CERN Foundation and its investigators has identified a total of nine subgroups of ependymoma, all of which in the end might need different treatment.
Researching the cell of origin
Dr. Pfister's investigations have started with trying to understand the cell of origin of the disease so he can create a preclinical model of the disease in his lab.
"We think that really defining the cell type specific to the ependymoma subgroup it derives from will guide our decision for therapeutic targets," says Dr. Pfister. "We want to be able to mark the tumor cell of origin in order to sort these cells and generate faithful models for preclinical drug testing."
The effort mimics research in leukemia, in which researchers were able to identify and mark the cell of origin and then make it vulnerable. This could potentially also be exploited for future immunotherapy approaches.
Understanding posterior fossa ependymoma
Dr. Pfister is also investigating posterior fossa ependymoma (PF), which accounts for two-thirds of childhood ependymoma. Posterior fossa ependymoma has two distinct molecular subgroups: Group A (PFA) and Group B (PFB). Group A is more aggressive and accounts for worse outcomes and the most deaths.
Dr. Pfister is collaborating with St. Jude Children's Research Hospital investigators to determine the genetic and epigenetic mechanisms underlying ependymoma. "We want to identify the driving mechanism behind PFA ependymoma in order to get first therapeutic hints," says Dr. Pfister.
Dr. Pfister is currently collecting tissue samples and using models in the lab to analyze and sequence the samples. So far, Dr. Pfister has collected over 1,000 ependymoma tissue samples.
"We need to better diagnose ependymoma by identifying its subgroup, and then a patient's treatment regimen would be based on this subgroup," says Dr. Pfister. "This will make treatments more tailored to disease biology and disease risk."
Dr. Pfister is confident that in the next few years, researchers will understand how to translate their molecular subgroup findings into treatment approaches. Then, clinical trials will specifically target subgroups rather than all types of ependymoma.
Collaborating on a rare cancer
Yet, ependymoma is a rare cancer, less than 2,000 people are diagnosed a year. "So, funding for trials is limited," says Dr. Pfister. "Collaborating is the only way to move forward." For that, he is grateful to the CERN Foundation.
"CERN has helped strengthen my research collaborations, so the [community of ependymoma researchers] are all actively working together to develop better treatments for patients," says Dr. Pfister.