Spotlight
Tanya Kranenburg
---
October 2013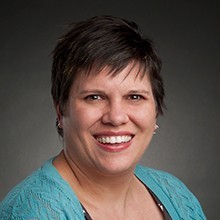 The CERN Foundation has many moving parts, each of which is as important as the other. From the research team and clinicians, to the outreach and awareness group, as well as the administrative team members that keep us organized and focused on our goal. This month we had the pleasure of speaking with one of the key members of our administrative team, Tanya Kranenburg, Ph.D., the CERN Foundation's Project Manager at St. Jude Children's Research Hospital.
Dr. Kranenburg received her Ph.D. in Medical Research in 2005 from The University of New South Wales in Sydney, Australia. She had always been intrigued with understanding the human body and why things go wrong medically. When Dr. Kranenburg was deciding on a career path, medical research was a clear choice as it would provide the necessary platform for her to contribute to that understanding. Initially, she focused on immunology and different things that contribute to and control allergic responses. At the time, it was an area that she felt needed more focus to help determine the causes of allergies, as well as developing more effective treatment options for individuals suffering from allergies. After completing her degree, she accepted a postdoctoral fellowship at St. Jude Children's Research Hospital where she was given the opportunity to expand her knowledge in immunology. Her research focus transitioned to studying acute myelogenous leukemia (AML), a blood-born cancer, looking at not only what goes wrong with an individual's blood, but also what can cause cancer in an individual's blood. After completing her postdoctoral fellowship in AML research, Dr. Kranenburg joined the laboratory of Richard Gilbertson, M.D., Ph.D., Comprehensive Cancer Center director at St. Jude and turned her attention to studying medulloblastoma, a primarily pediatric brain cancer. It was through her professional work with Dr. Gilbertson that Dr. Kranenburg was first introduced to the CERN Foundation.
At the end of 2011, the project Dr. Kranenburg had been working on was drawing to a close, and she decided at that point she would like to get involved in the project management side of medical research. Given her strong scientific background coupled with a personality that lent itself to being highly organized and extremely detail oriented, Dr. Kranenburg approached Dr. Gilbertson, who was also the CERN Foundation's Co-Principal Investigator, about moving her career in a new direction. Coincidentally, the CERN Foundation was also in the process of creating a project management position for our research and drug discovery teams, a position which Dr. Kranenburg was perfectly suited to lead.
Since joining the CERN Foundation, Dr. Kranenburg has developed an invaluable tool that allows for real-time tracking of our research so that our drug development team members have rapid access to data that allows them to make more informed decisions on whether or not to move a drug to pre-clinical and/or clinical trials. As Project Manager, Dr. Kranenburg is responsible for keeping the information in our database organized and current and collecting input from our researchers and scientists as they uncover new information about a particular drug or compound being tested in our pre-clinical models. In addition, Dr. Kranenburg is heavily involved with the development of the drug pipeline at St. Jude, providing background research on new and currently used drugs in oncology, as well as the identification of new drug classes that could potentially have a positive impact on the treatment of ependymoma.
Dr. Kranenburg is hopeful that the CERN Foundation will not only find better treatments for ependymoma but also help those individuals diagnosed with an ependymoma to live full and fulfilling lives. With members like Dr. Kranenburg working diligently to help manage and track the data that is being generated daily from our laboratories and clinics, we no doubt will continue to move at an unprecedented pace towards finding a cure and better treatment for ependymoma.
Dr. Kranenburg and her husband Paul Gibson, Ph.D., share their home in Memphis with two cats, Shmokey and Miss Kitty. They enjoy their time together traveling to new places, checking out the local art exhibits, eating out and spending time with their visiting family.