Spotlight
V. Ramaswamy
---
April 2016
Ramaswamy receives the inaugural CERN Basic Science Ependymoma Research Fellowship
In late 2015, the CERN Foundation was pleased to announce that Vijay Ramaswamy, MD, PhD, was selected as the inaugural recipient of the CERN Basic Science Ependymoma Research Fellowship. Applications for this award came in from around the world and were of uniformly high-quality, making the selection process especially difficult for the selection committee! Ultimately, the committee determined that Dr. Ramaswamy's proposal offered a strong likelihood of resulting in high-impact research in the fight against ependymoma.
Dr. Ramaswamy is now working in Dr. Michael Taylor's lab at the University of Toronto in Canada. We recently had the opportunity to check in with Dr. Ramaswamy to get to know a little more about his background, and the important work he is doing with Dr. Taylor.
Dr. Ramaswamy received his medical degree in 2005 from the University of Alberta, and continued his training there in pediatric neurology. During his training in neurology, he had the chance to assist in the care of children undergoing neurosurgical treatment for brain cancer. It was a field that immediately struck a chord with him and he quickly realized that this is a population of children who have incredibly complex medical needs. However, despite the complexity of their medical needs, he was amazed to see the spirit and resilience that both his patients and their families exhibited throughout their treatment. This is essentially what drove him to focus his studies on the field of neuro-oncology. Additionally, after completing a dedicated fellowship in pediatric neuro-oncology at Memorial Sloan Kettering Cancer Center (MSKCC), he was persuaded even further to go into research. Once again, he was met with patients who exhibited so much spirit and positivity, but this time he was able to see the children after treatment and the side effects, deficits and toxicities that came as a result of those treatments. Dr. Ramaswamy knew then that in addition to treating these patients in the clinic, he also wanted to be involved in laboratory research trying to find better and more effective treatments for children diagnosed with brain tumors, more specifically ependymomas. He received his PhD in Cancer Genomics in 2015, under the guidance and supervision of Dr. Michael Taylor.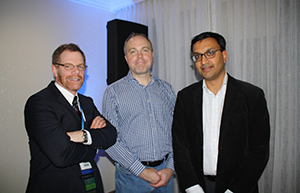 Dr. Ramaswamy learned of the CERN Foundation during his fellowship at MSKCC and he was later able to attend meetings hosted by members of the CERN Foundation at the annual Society for Neuro-Oncology meetings. He was very impressed with the CERN Foundation's devotion to this disease and the awareness and advocacy that the CERN Foundation was generating in the medical community. His research work in ependymoma treatment under Dr. Michael Taylor, also a member of the CERN Foundation, led to a natural progression for Dr. Ramaswamy to join the CERN Foundation. Dr. Taylor's group has previously profiled the DNA of posterior fossa ependymoma and found that there are no mutations rather changes of the DNA (called methylation) which alter change in how the cell reads the DNA. They preliminarily believe that this change is why posterior fossa ependymomas occur in some children. In his role with the CERN Foundation, he focuses on two primary objectives: the first is how can we better classify ependymomas to identify which children are at the highest risk and really need treatment prioritized and which children are at the lowest risk, possibly allowing for a reduced treatment. In order to accomplish this, their research team has created the largest ever study of ependymoma, with the collection of tissue from 820 cases of childhood posterior fossa ependymoma from around the world. Once they have classified these tumors biologically, meaning without review of the clinical information, they then go back and assign clinical parameters and try to determine which group of tumors is responding well, and which group of tumors is not responding well. The goal is to try to make a better treatment risk clarification for children with posterior fossa ependymoma, and then secondly, of course, how do we find new and better treatments in the laboratory for ependymoma and carry those treatments over to the clinic.
When we asked Dr. Ramaswamy about his experience with the CERN Foundation thus far, he had this to share with us, "The thing that I admire the most and really appreciate the most is that the CERN Foundation is a very focused organization of people who really care about an otherwise "orphaned" disease. They've taken the lead in championing a disease that a lot of people have set to the wayside. Thankfully, our efforts are really starting to pay off in terms of awareness in the medical community, and advocacy for patients and caregivers. It's amazing that we can have an organization with so much passion and devotion for a relatively rare and neglected disease." Dr. Ramaswamy's excitement and expert knowledge in the field of childhood ependymoma is certainly one of the reasons the CERN Foundation is continuing to move forward in achieving our goals, and we are excited he is part of our team!
While Dr. Ramaswamy spends the majority of his time focusing his efforts and attention on the treatment of ependymoma, in his time away from the clinic and lab, he enjoys traveling as much as possible, domestically and internationally. Of all his travels, Istanbul, a city he described as modern while maintaining the beauty of its past, was the most exciting place Dr. Ramaswamy has visited.
We will look forward to checking back with Dr. Ramaswamy as his CERN fellowship continues!