Spotlight
Vijay Ramaswamy
---
June 2019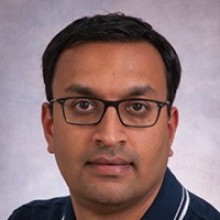 New Discovery to Help Develop Therapies for Children with Ependymoma
Neuro-oncologist Vijay Ramaswamy, M.D., Ph.D., is fascinated with the biology of ependymoma. His research focuses on finding new therapies for children with ependymoma to improve survival.
"Ependymoma does not respond to conventional therapy, so it's very different than other brain tumor types," Dr. Ramaswamy says. He practices at The Hospital for Sick Children in Toronto, Canada. In 2015, Dr. Ramaswamy received the inaugural CERN Basic Science Ependymoma Research Fellowship, which provided $50,000 for two years.
"The fellowship was incredibly important to me. It not only provided me with an opportunity to have protected time to focus on ependymoma research and contribute to the field, it helped me get my first faculty position," Dr. Ramaswamy says. He completed several projects with the fellowship and generated enough data to obtain a grant from the Canadian Institutes for Health Research to continue his investigations.
In 2016, Dr. Ramaswamy and Michael Taylor, M.D., Ph.D., a neurosurgeon at The Hospital for Sick Children and a scientist at the University of Toronto in Canada, completed the largest-ever study analyzing 820 posterior fossa ependymoma cases. The study classified the molecular biology of the tumors and reviewed their clinical information. The study was published in the Journal of Clinical Oncology.
In February 2019, he helped lead the molecular profiling of samples from a closed Children's Oncology Group study, which is the first study to incorporate biology into a prospective clinical trial evaluating the outcome of children with ependymoma. "This study is a huge leap forward. Its findings are important because to design new clinical trials using molecular features to stratify patients according to outcomes, you have to understand what those biomarkers mean in the context of currently used therapies," Dr. Ramaswamy explains.
Using new molecular data to design clinical trial
To complete his recent study, Dr. Ramaswamy teamed with Thomas Merchant, D.O., Ph.D., at St. Jude Children's Research Hospital, and the Children's Oncology Group (COG) to analyze 356 ependymoma cases.
Drs. Ramaswamy and Merchant analyzed the DNA of tissue samples from a closed decade-old COG study (ACNS0121). Although tissue was not collected for research in this study, they were able to re-use discarded slides, and find additional tissue to perform advanced genomics on almost half of all samples. Then, the researchers sent the molecular profile of the tissue samples back to COG to match the clinical details.
The study prospectively treated children as young as age one from across North America with radiation after surgery and showed a dramatic increase in survival over previous approaches. It is also the first study to prospectively evaluate the recent molecular classification of ependymoma. The results were published in the Journal of Clinical Oncology.
"This is the first study to incorporate molecular biology and the new risk stratification in the context of state-of-the-art modern therapy," Dr. Ramaswamy says. "What is also exciting about the study is that we were able to go back to a clinical trial that closed 10 years ago, before the molecular era, and apply a molecular risk stratification developed in the past 5 years."
The results of the study can help researchers design the next generation of clinical trials.
Investigating therapies to improve survival and quality of life
Dr. Ramaswamy is also currently investigating therapeutic targets for recurrent ependymoma in children. His clinical trial goal is to improve survival and quality of life.
"I want to give kids therapy that allows them to reach their full potential and do what they want in life," Dr. Ramaswamy says. This means avoiding very aggressive treatments that leave children with long-term side effects.
Dr. Ramaswamy's clinical trial is based on results from a 2014 study by researchers at The Hospital for Sick Children that tested therapeutic targets in the lab. "By translating those results to a clinical trial, this is a true bench to bedside trial," he says.
Dr. Ramaswamy has opened the trial across Canada, at Children's National Medical Center in Washington and at multiple institutions across Australia and New Zealand.
Dr. Ramaswamy is excited about the next few years of ependymoma research. He is working to identify new therapies for children with ependymoma and to help gain knowledge on better risk stratification.
"Currently, we are still limited to surgery and radiation, but I am very hopeful that with more and more scientists being interested in ependymoma, and through global collaboration, we will find new and less toxic therapies for children," Dr. Ramaswamy says.