The CERN Team
Chas Haynes
---
CERN Advisor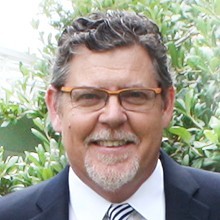 In his role as Strategic Advisor to the CERN Foundation, Chas guides the leadership in strategic decision making and provides valubale insight into professional neuro-oncology dynamics. He also works with the Foundation's outreach team to promote greater awareness of this poorly understood disease.
Education
B.A., University of Texas, Austin, 1987 J.D., South Texas College of Law, Houston, 1998
About Chas
Chas has over 15 years of experience in the leadership and operations management of non-profit medical associations, foundations and professional societies. Throughout his career, his primary focus has been in the areas of neuro-oncology and acquired neuro-trauma.
His clients have included the International Brain Injury Association, the North American Brain Injury Society and the National Spinal Cord Injury Association.
In addition to his work with the CERN Foundation, Chas serves as the Executive Director of the Society for Neuro-Oncology, a position he has held since 2006. Chas has a track record of success in assisting non-profit organizations develop new treatment options and sustainable plans for growth. He also holds a law degree from the South Texas College of Law.