10-Year Spinal Ependymoma Survivor Feels Blessed

Name: Amy V.
Type of Cancer: Grade II Ependymoma
Diagnosed: Age 49, 2009
By: Amy V.
— Categories: Adult Spine
---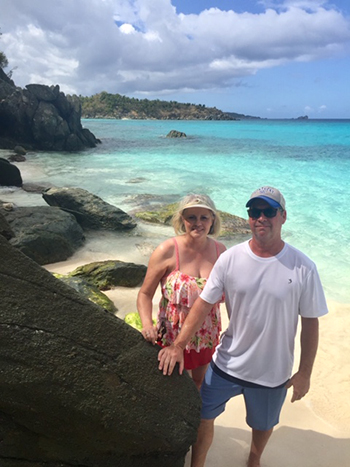 In late January of 2009, a major multi-state ice storm hit our area of Western Kentucky. It was devastating for many but became a blessing in disguise for me. A week or so after it hit, the ice still remained in many areas including my driveway. When I came home from work one afternoon, I slipped on the ice and fell hard on my lower back even though I was being as careful as possible. I was able to get up and I thought I was going to be okay, but the next day I started feeling severe pain on the right side of my back and hip that radiated down my right leg as well. So, I went to our local clinic to be evaluated and they ordered an X-ray. No fractures were detected and I was given a muscle relaxer and told to ice the area and take Advil for the pain. I was scheduled to be on vacation that next week in Florida to visit my parents, so I decided to go ahead with my travel plans since the warmth and sunshine would be good for my recovery.
Well, I made it to Florida and of course the change of scenery helped my morale, but not the pain. It continued to progressively get worse and sitting was the most uncomfortable of positions. I either had to be standing up or laying down to get any relief at all. Once I returned home, I immediately called my doctor and she ordered an MRI. After traveling an hour to the hospital to get the MRI, laying in the machine for a long period and traveling back home, I could barely walk when I arrived back home and was losing control of my right side from the waist down. Needless to say, I was really concerned at this point. Days went by, but I finally got a call from my doctor and the MRI showed what I understood the doctor to say was a tumor ​on my spine and that she would be referring me to a neurosurgeon. Needless to say, I was certainly surprised and very concerned!
Removing the Tumor in My Spine
It was weeks before I got in to see my neurosurgeon. I was shocked to learn that my tumor was not on my spine, but ​in my spinal cord! ​It was about the size of a grape and was pressing on my nerves. It was located between lumbar 1 and 2 and I was lucky that I had not already experienced any permanent paralysis or loss of bladder or bowel control based on where it was located.
I had been previously seeing a neurologist for two years prior to this because of experiencing numbness and tingling issues, but an MRI had only been ordered on my head. The neurologist thought I was possibly in the early stages of multiple sclerosis. So, despite the seriousness of the spinal tumor diagnosis, I was relieved to know that something was actually wrong with me after all this time and hopeful it could be fixed. My neurosurgeon set me up for surgery right away and he felt like from the looks of the tumor it was a benign schwannoma and that I was lucky that it had been caught before permanent damage set in and that I should be fine.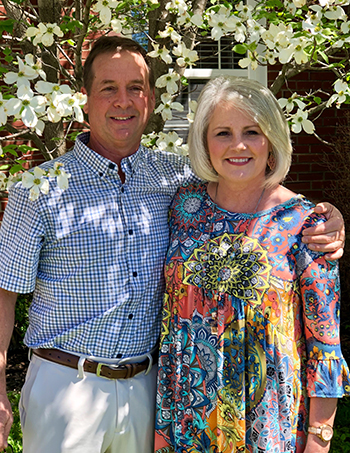 My surgery was considered successful by my surgeon. He felt he was able to completely remove the tumor. My recovery went well considering the intensity of having my backbone sawed through to reach the spinal cord and that I had to lay flat for several days following. I had a follow-up visit two weeks after the surgery and all was going well, or at least I thought so. My surgeon checked me out and was pleased with my progress and was about to release me when he discovered my lab report had come back as a grade II ​ependymoma,​ which is rare and malignant. I will never forget the look on his face. He was totally shocked by the findings, because he had felt it was benign from the looks of it. He immediately set me up with a neuro-oncologist to review my case and for recommendations on further treatment. It was determined that I should follow-up with 30 days of radiation concentrated in the area of where the tumor was removed. I was able to receive treatments locally and even managed to return to work during this time period.
Paying it Forward
Fast forward to 2019, I am happy to report that I remain cancer free after ten years. I was diagnosed at age 49 and will be turning 60 later this year. I know I have been very blessed to be a cancer survivor with few side effects. I have some minimal nerve damage and sciatic pain but am able to lead a normal life. My neurosurgeon actually monitors me with periodic MRI's to check for any recurrence since I am cancer free and don't need an oncologist at this time.
I had never thought about sharing my story until now, because I felt like I never really suffered like most cancer patients who have to go through chemotherapy. Also, the fact that my cancer is rare and there are so many other common cancers that need a cure that affect so many. Ependymomas are rare but deserve attention and awareness as well. I've learned that when they occur in adults, they are usually in the spine, but in children they are normally in the brain and can be devastating. I am thankful for the CERN Foundation and their efforts to research this type of cancer and help others and myself better understand this disease. I participated in their Outcomes and Risk Study last year and hope that my DNA and experience can help someone in the future.
Latest Update
Fast forward from 2009 when I was first diagnosed with ependymoma in my spine, I am happy to report that I still remain cancer free in 2022! It has been 12 years and I am doing well except for some minimal neuropathy in my lower back and legs. I also had to have a right knee replacement a year ago, but have recovered from that as well. I am retired and feel very blessed to be able to enjoy traveling with family and friends.
I am certainly happy that CERN exists to assist those who find out they have this rare cancer. Thank you for your service and for sharing our stories to bring awareness to others.