Dismuke Family Speaks at the 2015 Ependymoma Awareness Day

Name: Ingram D.
Type of Cancer: Anaplastic Ependymoma
Diagnosed: Age 3, 2012
By: Ashley (Ingram's Mom)
— Categories: Brain Pediatric
---
Ashley and Ingram gave these remarks to patients and caregivers at St. Jude Children's Research Hospital, who gathered to raise awareness of this rare form of brain cancer and to collaborate on finding a cure at the 2015 Ependymoma Awareness Day butterfly release.
Ingram:
Hey, my name is Ingram and I'm six and a half years old. I had a brain tumor and came to St. Jude when I was three and a half. Now, I'm finishing Kindergarten this month and I love coming to St. Jude!
Ashley (Ingram's Mom):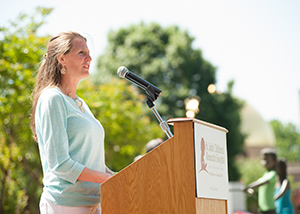 Thank you CERN Foundation and St. Jude Children's Research Hospital for asking us to share our ependymoma journey today. It all started three years ago. Ingram's pre-school teacher called us Thursday, March 29, 2012, to let us know that he had a headache while they were on the playground. She said he started crying really hard and was holding the back of his head. We picked him up right away and he had another headache that afternoon so I saw exactly what they were talking about. The next morning, he had another headache and threw up so we called our pediatrician because that was a little unsettling AND because most children three-and-a-half-years-old don't have headaches. Our pediatrician said if the headaches continued over the weekend to call them Monday. He had so many of them over the weekend that we showed up at the doctor's office Monday morning before they even opened instead of calling them. A CT scan was scheduled for the next day to look for signs of early childhood migraines since everything else looked okay for Ingram.
Ingram had his CT scan the next morning, then we took lunch to Daddy at work and headed home. A few hours later, at 4:40pm on Tuesday, April 3, 2012, our pediatrician called with the results. The first thing he asked me was if I was sitting down and if I could talk. I sat down and that's when he told me it wasn't migraines. At that point, I'm not sure what all was said but I only remember five words: brain, tumor, surgery, hospital, and now. Our daughters, who were eight and ten at the time, will also never forget that phone call because they witnessed my every reaction both during and after that call. After I couldn't get my husband on the phone, our oldest ended up e-mailing my husband because she's so tech savvy. Her email said "Daddy, call Mommy, Ingy needs surgery." Then she signed it with her name and a frowny face. Just like us, I know that each of you, cancer parents, can remember every single detail when you received the news that your child has cancer.
My husband and I drove to the hospital with Ingram, speeding, and we had no idea what to expect. Our world had been shattered by that one phone call and we didn't know if Ingram was going to live or die at that moment. While my husband was driving, Ingram was in the backseat of the car completely clueless to what was growing inside his body and was coloring away with his new blue Spiderman marker that he got from the CT scan folks. He was coloring on his face and his hands, all down his arms and his legs, and the back seat of the car. Seriously, there was blue everywhere!!! When we walked into the ER, the staff started to panic because his lips and face were blue and they thought he was having trouble breathing. When we were telling them about Ingram getting markers from the treasure box and coloring on everything might have been the only time that we laughed that day.
The hospital confirmed a large tumor on his brain stem and he was taken to surgery to remove the tumor that Friday. Watching our helpless three-and-a-half-year-old son go through the doors to the operating room in that little red wagon without us was one of the hardest moments because we didn't know what was going to happen. I mean we were terrified because they were operating on his brain of all places. While Ingram was ICU, just minutes after surgery, Dr. Gajjar, the head of the Brain Tumor Program at St. Jude, came to meet us and told us that they would do everything possible to help Ingram. Even though we didn't grasp the fact that Ingram had cancer yet, I think that was the first time we had hope.
A few days later, we walked through these red doors into St. Jude Children's Research Hospital on Thursday, April 12, 2012 for the first time as a cancer family. While we were trying to figure out what to do next, we met with Dr. Gajjar and were told that Ingram's tumor was called anaplastic ependymoma. The next few moments were hard because we were bombarding Dr. Gajjar with tons and tons of questions about this type of cancer and waiting for his answer to our last question, "Does St. Jude treat this?" We were holding our breath and then after what seemed like forever, he said, "Yes, we do treat ependymoma. In fact, we are leading the Ependymoma Research Study on children for the NCI" and we could breathe again. You have no idea how much of a relief that was to know that Ingram could be treated right here in our hometown and by someone that knows all about his tumor.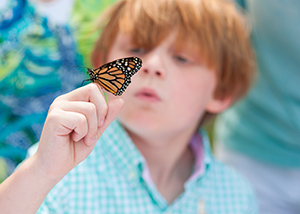 At St. Jude, Ingram had a surgery to place his port, thirty-four rounds of radiation, four rounds of chemotherapy, and too many pokes and transfusions of blood and platelets to count. He went from thirty pounds down to twenty-two pounds, from having bright red shaggy hair to having no hair at all. His skin turned to this awful yellowish grey and you could see the bones all over his body especially towards the end of his treatment. He got sick a lot from everything and out of our three kids was the only one that could throw up in a bucket AND was also the first one to learn to swallow a pill AND is the only one that doesn't cry when he has to get a shot to this day!
Ingram happily shows off his surgery scars and gets really excited when he meets other cancer kids. He has had three more birthdays since we came to St. Jude and is now the happiest six-and-a-half-year-old I know. He weighs over fifty pounds now which is a huge deal and is back to being that feisty little red head that pesters his big sisters all the time! After surgery, Ingram had trouble with walking and balancing and physical therapy helped with that and now he loves to play baseball and soccer and golf and tennis and anything else that has a ball. Most important to Ingram though, is that he can ride his bike on two wheels now. And he doesn't just ride it, he rides it super fast! I think the only thing he doesn't like to do now is get haircuts and that explains the crazy mess of hair he has going on now!
For Ingram and our family, TODAY would not be possible without the lifesaving work that is done at St. Jude Children's Research Hospital. But the work wouldn't be as advanced without the CERN Foundation and all the people that advocate on our behalf for treatment of this horrible disease. They're working tirelessly not only to develop new treatments for ependymoma, but also to improve the lives of ependymoma patients. We will be forever grateful to everyone that is working towards finding cures for cancer and hope that one day, ependymoma will be cured!