Eric Honors His Daughter
Name: Kayla W.
Type of Cancer: Ependymoma
Diagnosed: Age 7, 2005
By: Eric (Kayla's Father)
— Categories: Brain Pediatric
---
Eric gave these remarks to a group of researchers from a range of medical institutions across the country, who gathered to raise awareness of this rare form of brain and spine cancer and to collaborate on finding a cure at the 2012 Ependymoma Awareness Day butterfly release.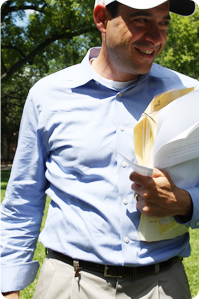 On behalf of my family—my wife Laurie, my children, Sam and Madeleine, my Sisters-in-law, Julie and Debbie, and my nephew Justin—I want to thank the CERN Foundation for inviting us to be here with you for the beautiful butterfly release this afternoon.
We are here, as you may know, to honor the memory of our middle daughter, Kayla, who recently passed away after battling with an ependymoma at the age of 12.The other day, Laurie and I were talking during a softball game for our youngest daughter, Madeleine, about our trip this week to Houston. Another parent overheard and asked, "You're going to Houston—on purpose?" She suggested that if we were going on a vacation to Texas, then Austin or San Antonio would be better choices. We explained about how we recently lost Kayla and what being here today means to our family. We all soon found ourselves crying and hugging.
Kayla had that effect on people all through her more than 5 year-long battle. Now, more than a month after she slipped from our grasps, we find that she still has those same powers—she continues to touch, affect, and inspire people. We continue to receive not only heartwarming notes and generous donations in her memory, but also word of how her story led people to undertake random acts of kindness in her name.
While we are sure that there are actually many lovely and exciting things to do in Houston this time of year. The reason we are here is to see the butterflies that were sponsored in her name. Here you can see a stack of the hundreds of certificates representing butterflies being released in Kayla's memory. Our original plan for this weekend was to joyously celebrate the joint bar and bat mitzvah of Sam and of Kayla. After overcoming their objections by ensuring them that there would still be presents given directly to them, we all agreed to ask guests to make donations for today's butterfly release in lieu of other gifts. We had experienced such generosity from neighbors, friends, family, and co-workers during these past five years that we wanted to give something back. So, butterflies were on our mind at the time of her passing. I cannot tell you how many people showed up at her memorial service not in black, but in pink and with butterflies.
After we lost Kayla, we decided to cancel all of our plans for this weekend. As a little time passed, we realized that we wanted to carry on. We cannot celebrate at a time when the wounds are so raw. Instead, we decided to make a weekend where we honor Sam's accomplishments—and all of the hard work by Kayla who was also fully prepared for her special day—as well as Kayla's memory. We are kicking off that weekend by being here with you today.
Once we made that decision, it seemed like butterflies were everywhere. We spent a few days away at a friends' beach house where we could collect our thoughts and spend time together as a family. We kept noticing that there were butterflies flitting about by the shore as we walked on the sand. It felt like Kayla was visiting us for a moment and telling us that she is alright.
Last Friday night, I was helping to coach my son, Sam's baseball game. I was standing the dugout, there was a chill in the air, and I started thinking about how much Kayla hated going these games. Suddenly, I spotted a beautiful, yellow butterfly which flew over my head, circled first base, and then flew off. I realized that it was another little message from Kayla—this time telling me that she no longer has to go to any more of what she would call "Sam's stupid baseball games."
It is nearly impossible to sum up the essence of Kayla in mere words. Dr. Roger Packer, one of Kayla's Doctors, is here with us today and was with us throughout this 5 year long journey. He can testify to the fact that Kayla was tough as nails, smart as a whip, clever as a fox, and pretty as a princess. She had her own highly developed sense of style and taste. She was typically decked out from head to toe in pink clothing—with matching nail polish. She loved to accessorize with bracelets and necklaces that she picked out or designed. The scarf that Laurie is wearing today is one that Kayla loved dearly. In fact, Kayla would have approved of Laurie's entire ensemble today.
We wish with all of our hearts that we could have beaten this terrible disease back. Had we done so, we would have seen a force that could have changed the world.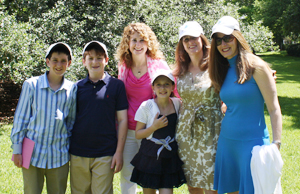 Kayla was an inspiration and a role-model to all of us. Even as adults we find ourselves looking for her footprints to follow. Madeleine put it so well in a note that I used during the memorial service for Kayla when she said, "I look around the house, and I see things that remind me of you, like butterflies and things that are pink and sparkly. I miss seeing you play games and seeing your smile when you won. I miss having sleepovers with you. I miss painting nails, dressing up, and doing make-up together. I miss your gentle kisses and playing with you. It hurts not having you here and not having fully printed footsteps for me to follow you in. It is so depressing when I can't hear your sweet voice and can't smell your pretty fragrance of perfume."
Every day, we find ourselves trying to do things that Kayla would have done. We laugh and cry about things she would have loved—or hated. In many other ways, large and small, people are keeping her spirit and her memory alive. We miss her terribly, but we hope that she is finally at peace and that her pain is gone.
Her brother Sam wrote the following, which we also read at Kayla's memorial service, "Kayla, now that you've passed on to an easier and much safer life in heaven I can't help but feel better now. Before, you were in pain. You took so many medicines that a normal child shouldn't have to take. Now you have no pain. Life is perfect, and your horrific pains and aches are gone. Everything has been left and taken. Including the biggest thing I miss—you."
Our lives were turned upside down by her diagnosis more than 5 years ago. One of the cruel things about this situation is that we never really knew whether we had days, weeks, months, or years. As a result, we tried to walk a fine line between living in the moment and living our lives as normally as we could. If you only knew you had weeks left together as a family, you would live your life dramatically differently than if you knew you had years or decades. But we never really knew.
The past five years, we rode an emotional roller coaster. Throughout, we strived to sustain a careful balance. We celebrated every day, while also trying to go about our everyday lives. Each night, when I tucked Kayla in, I would ask her two questions; 1) did you have a good day; and 2) do you feel loved. There were many hard days. But many more were good than bad. The outcome was not what we worked, hoped, and prayed for. But she always felt loved—and we felt loved by her in return. Through this whole ordeal we also came to realize that we are surrounded by neighbors, co-workers, family, and friends who love and support us.
For us these butterflies are a reflection of all the love that helped to sustain us through the pain of losing Kayla. They give us hope. And we hope we represent all of the families affected by this disease by being here. So, we sincerely thank you for allowing us to join you.
More important than your hospitality here today is the work that you are doing every day. We were not in time to develop a cure to help our beautiful, darling Kayla. We are very hopeful, however, that you will save many other children. We are also hopeful that a child born today and later diagnosed with this terrible disease will be offered the miraculous cure we desperately sought for our own child. And we are hopeful that someday ependymomas will be capable of treatment, so that no family has to experience the gut-wrenching loss that we did the day that Kayla faded in our arms.
Please know that we are grateful to be here with you today representing to so many other families who are fighting this disease now, who fought it before, and who may someday fight be forced to join the fight. Your work through the CERN Foundation gives us all hope. We in turn hope that these butterflies inspire to find the answers we all are seeking.
Kayla's Family and Friends Honor Her Memory
As Kayla's 13th birthday approached on January 28, 2013, aunts Debbie and Julie, struggled with how to both celebrate her life and honor her memory. They decided to collect donations for a park bench dedicated in Kayla's name for Ependymoma Awareness Day. READ MORE.