Ian Speaks At Ependymoma Awareness Day
Name: Colin H.
Type of Cancer: Anaplastic Ependymoma
Diagnosed: Age 2
By: Ian (Colin's Dad)
— Categories: Brain Pediatric
---
Ian gave these remarks to the CERN members as well as patients and caregivers at St. Jude Children's Research Hospital, who gathered to raise awareness of this rare form of brain cancer and to collaborate on finding a cure at the 2013 Ependymoma Awareness Day butterfly release.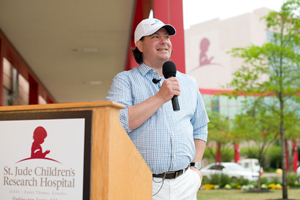 Brain tumors cause a complex cascade of issues that strain the limits of our understanding of the human body and effective treatments. When our son Colin was diagnosed with anaplastic ependymoma at age two, we did not know what to do. As parents, my wife and I were faced not just with the question of how to keep the cancer from progressing but dealing with an array of challenges created by the tumor itself and surgery.
In the face of that uncertainty, we placed ourselves in the hands of Dr. Amar Gajjar at St. Jude Children's Research Hospital. As the head of Neuro-Oncology and an expert on ependymoma, he understood key elements about tackling the disease and providing the best care for our son. Perhaps the most important lesson and the critical starting point for our journey: patience.
Ependymoma requires the patience to assume a multi-disciplinary approach and peel back the layers of a very complicated array of medical issues. Ultimately, the keys to unlocking the disease and providing more effective and less damaging cures will also come through the patient analysis of its many variations and a concentrated focus on identifying the commonalities and differences.
In Colin's case, he went through two major brain surgeries to remove as much of the tumor as we could. What then? All of the data shows that children do the best when all of the tumor is gone and then we can give him radiation. On top of that, we had on our hands a child who had been robbed of his most basic faculties. Unable to sit up, speak or even swallow, he was trapped in a little body that had become distorted by medication and atrophy.
To many people's eyes, Colin was a child who was beyond hope. It was difficult for us to envision his future; even if he survived the disease, what would his fate be? Fortunately, Dr. Gajjar knew to take a more patient approach, draw together the resources to support a child who was struggling to become himself, and tackle the disease.
I am happy to announce today that all of the patience has paid off. Here is a list of Colin's firsts since completing treatment: a first day at the beach; a first day of kindergarten; first independent steps since that initial surgery; a first time skiing, swimming and simply being able to enjoy the most basic childhood pursuits. There are too many to list and many more to come.
The child who was once trapped within his own skin is truly living in it and we owe a tremendous debt to the many researchers, clinicians, and medical teams that have made today possible and give hope to other families who find themselves in our shoes. Ependymoma is persistent, but with the patience and dedication that we have already seen, I know that CERN will be successful in giving a better chance to the next patients who come face-to-face with ependymoma.