Fatigue
You Spoke… We Listened
You Spoke:
"It makes me feel good to know that I'm not the only [one] having fatigue, depression, no energy. I can't get my positive mind and my fatigued body on the same page. Frustrating. I used to be a jet before cancer and I am still adapting to being a sailboat after diagnosis. I just want to do more, like my old self. I'm thrilled I get to wake up every day. That is a blessing!" ~ AEO Project Participant
We Listened:
Fatigue is common in people with all types of tumors and those who are undergoing treatment such as radiation and chemotherapy. As part of the Adult Ependymoma Outcomes (AEO) survey, we asked people with ependymoma to tell us about their fatigue. One question was whether the person got tired easily, and over 40% said they did quite a bit or very much of the time.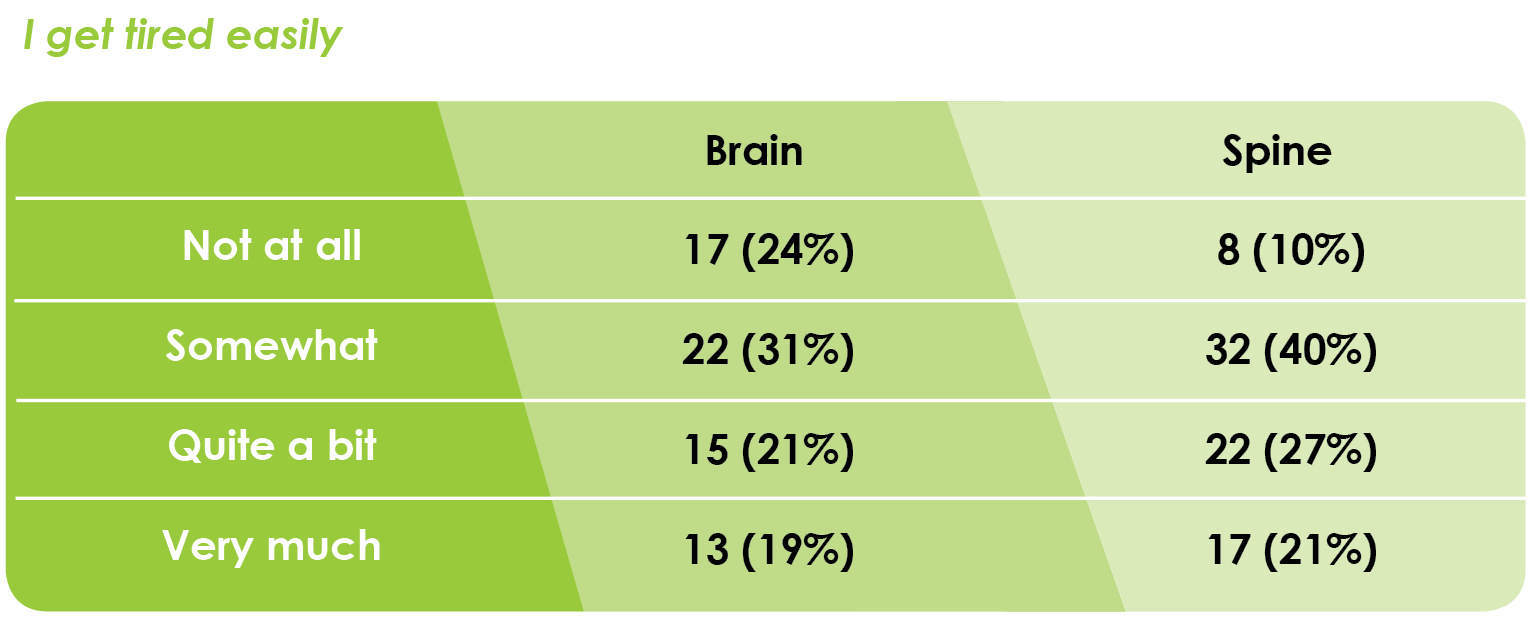 We also asked them to rate their fatigue on a scale from 0-10 in the last 24 hours with '0' indicating no fatigue and '10' indicated the worst fatigue they can imagine. Over 30% reported that the fatigue was moderate to severe in the last 24 hours, a rating that has been shown to affect daily activities and quality of life.

Fatigue occurs in people with ependymoma in the brain as well as the spine. When we asked those with brain ependymoma and spine ependymoma to rate their fatigue on the same 0-10 scale, 30% of those with brain and 44% of those with spine ependymoma rated their fatigue as 5 or higher.

If you have fatigue, here are some helpful hints to help manage it. Be sure to discuss any symptom you have with your health care provider.
Ways to Manage Fatigue
Stay active - Regular exercise has been shown to improve fatigue in people with other cancers. Exercise should be done in moderation. Do not exercise to the point of feeling winded or exhausted. Walking is an exercise that has been shown to be helpful in other cancers. Talk to your health care professional about specific exercise recommendations for you.
Rest - Short naps or breaks in activity may help you manage daily tasks. If you nap, don't overdo it. In general, 30 minutes of napping or less are recommended so you don't disrupt your sleep during the night. If you have difficulty sleeping at night or require more rest than 30 minutes during the day, talk to your health care professional.
Plan ahead and accept help - It may be helpful to spread your activities during the day. Or you may want to plan a rest period before strenuous activity. Prioritize what you want to do and what you need to get done during the day. If there are certain tasks that are difficult for you to do or drain your energy, accept help from family or friends. Don't push yourself to do more than you can manage.
Eat well and drink fluids - Food and fluids are the fuel to help you complete the tasks that you need to do. If you have lack of appetite or have had a change in weight, talk to your health care professional.
Get support - you are not alone Fatigue is a problem for many people with tumors and who are getting treatment. Consider joining a support group. See our recommended support organizations.
Below are additional websites with more detailed information on how to manage fatigue: