2013 Ependymoma Awareness Day Outreach
— Categories: Press Release Posted on May 6, 2013
In a groundswell of international support, patients, caregivers, professionals and advocates participated in a variety of events marking April 18, 2013, as Ependymoma Awareness Day.
Collectively, these events helped to create a greater understanding of ependymoma. Below are a few of the Ependymoma Awareness Day activities that were held around the world this year!
Butterfly Release Held in San Diego, CA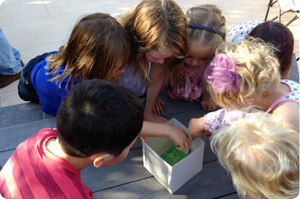 Jennifer, diagnosed with anaplastic ependymoma, held her second annual butterfly release in her back yard in San Diego, California. She sent out invitations to friends and family, asking them to attend the event to support Jennifer and the CERN Foundation. They served fresh fruit, cheese, wine, beer, scones and set up a decorate-your-own cupcake station in their dining room. It was a beautiful warm and sunny day. The butterfly cage was opened around 5 pm. Jennifer said, "We could hear approximately 40 butterflies flapping their wings against the cage, and the butterflies slowly spread their wings and fluttered around out backyard. The butterflies were a little slow to fly away and were surprisingly friendly; most of them landed on our hands and let us get close to look at them." Guests were very generous and donated $260 to the CERN Foundation. In addition, a very good friend gave Jennifer's family a Red Butterflies Milkweed bush that had a caterpillar crawling on it, which they plan to plant in their garden and they are excited to see another butterfly hatch and fly away. Her daughters, Katie and Lily, took one butterfly to school the next day to show their friends and then they release the butterfly in the afternoon when they got home from school.
Bracelets Sold in Lacey, WA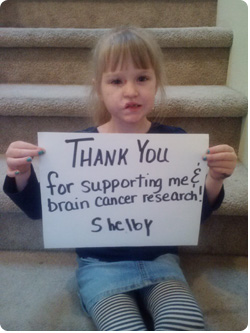 Shelby, diagnosed with ependymoma when she was one, sold bracelets online. With help from her mom, Marci, Shelby created and sold bracelets that were grey and said Shelby Warrior Princess – Fight Like A Girl. Shelby was quite the little sales lady and raised over $400 for the CERN Foundation. Once the bracelets were purchased, Shelby sent out a personalized card with her photo, holding a sign saying, "Thank you for supporting me and brain cancer research!"
Proclamations
On a local level, many chose to participate in activities to create awareness about ependymoma where they live. The day was officially proclaimed Ependymoma Awareness Day by 30 elected officials around the US, including: District of Columbia, State of Colorado, State of Illinois, State of Indiana, State of Missouri, State of New Hampshire, State of New York, State of North Carolina, State of Ohio, State of Oregon, State of Pennsylvania, State of Tennessee, State of Texas, State of Virginia, Montgomery County (MD), Shelby County (TN), Toronto (Canada), City of Austin, City of Chicago, City of Dayton, City of Eureka, City of Happy Valley, City of Houston, City of Ithaca, City of Los Angeles, City of Memphis, City of Palo Alto, City of Pittsburgh, City of San Diego and City of Sunnyvale.
Pamperfest Held in the UK
Samatha created a Pamperfest event in memory of her daughter, Mia, who passed away from ependymoma in 2007. The Pamperfest included a lot of pampering: beauty therapist, hair dressers, make-up artists, beauty supplies for sale, hand bags for sale and jewelry for sale. The event was held at a local rugby club in a little village in south Wales, UK. Everyone relaxed with a glass of wine and had a girlie night out! There was a raffle with lots of prizes and everyone learned the signs and symptoms of ependymoma. Lots of local people came out to support Samantha and over $750 went to the CERN Foundation.
Audrey Wore Butterfly Headband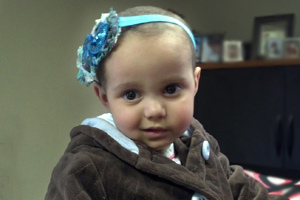 Audrey, diagnosed with ependymoma at the age of one, wearing the butterfly headband sold on the CERN Foundation website.
Others Create Awareness
Many families, patients, bloggers and advocacy organizations spread the word about Ependymoma Awareness Day and their experiences on Twitter, Facebook or their personal blogs. Here are some of those posts.
Students Wore Butterfly Tattoos in Houston, TX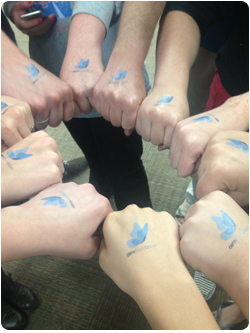 The entire Freshman class of the Post Oak High School, located in Houston, TX, celebrated Ependymoma Awareness Day this year. The recognition, lead by student Grace included several activities during the day. This included a reading to the class about ependymoma and the CERN Foundation. The group then showed support by wearing the butterfly tattoos, which allowed them to spread awareness outside of their class.