2022 Ependymoma Awareness Day Outreach Report
— Categories: Press Release Ependymoma Community Posted on May 27, 2022
In a groundswell of international support, patients, care partners, medical professionals and advocates participated in a variety of events marking May 10, 2022 as Ependymoma Awareness Day.
Collectively, these events helped to create a greater awareness of ependymoma and garnered momentum from around the world. Below are a few of the 2022 Ependymoma Awareness Day activities that were held around the world this year!
Ependymoma Survivor, Dawn Standera, Launches Her Second Book
Dawn launched a new book that offers much-needed insight into the realities of a rare diagnosis called ReConnected: Stories of Spinal Cord Tumor Survivors. After surgery, patients strive for a reconnection between the central nervous system and their bodies. Her new book addresses an equally important type of reconnection to other survivors. "ReConnected: Stories of Spinal Cord Tumor Survivors" is a collection of real-life stories from people who came through SCT diagnosis, surgery, and treatment to reconnect with themselves and others. The intimate realities of life after diagnosis and surgery are told in their own words.
The idea for this book came directly from connections Dawn made with her first book, "ReWired." Dawn shared, "After the book came out, readers reached out to me, looking for more information about surgical outcomes, or curious about what my life was like during the six years after surgery. I realized that the people I was meeting also had their own stories to tell."
Dawn compiled first-person stories from nine SCT survivors and one healthcare worker. Together, the stories provide a multilayered view of how this complex condition affects each life differently. "My hope is that the wide-ranging experiences offered so generously here will help each reader find information, connection, and hope," Dawn said. "The book also features Inspiration Stories from spinal cord tumor survivors from the CERN Foundation website."
Kansas City Proclamation and Governor Signing
Kansas Governor Laura Kelly signed a proclamation on Friday making May 10 Ependymoma Awareness Day in the state. Ependymoma is a central nervous system tumor that starts in the brain or spinal cord. This signing means a lot to one Kansan. As a child, Caide Timmons was diagnosed with ependymoma and had a craniotomy. He attended the signing at the capitol building and says it's important to bring awareness to this brain cancer. "I think bringing awareness could help not only me but the group of kids who have and people who had this type of cancer because not a whole lot is known about it," Timmons said. Timmons shared that finding others who have gone through similar experiences gives him a sense of community.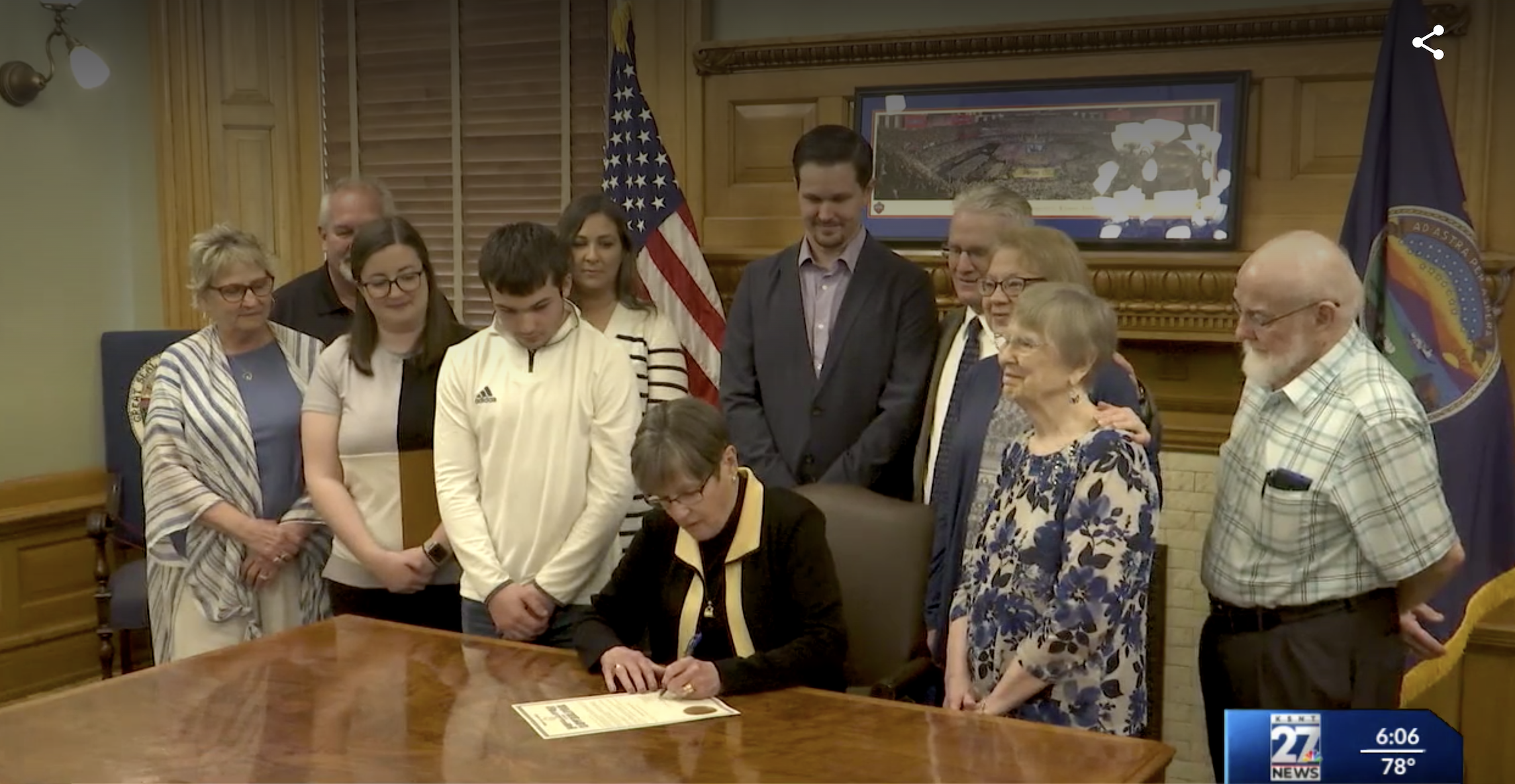 Canadian Family Uses Their Voice To Raise Awareness
Penn was diagnosed with anaplastic ependymoma at three years old. Since 2021, she's had multiple surgeries, radiation treatment, and chemotherapy. Her family is using their voice through social media and a blog titled Penn the Brave, to raise awareness for this disease.
Sample from Penn the Brave Blog Post: "I've had a wave of emotions these past few weeks. Penn underwent her second round of chemotherapy. April 30 being a year since we found out about Penn's tumour. May 3 when she had her first craniotomy a year ago. And celebrating Mother's Day this past weekend. I'm not going to lie. Things have been hard. Extremely hard. I don't even know what to say when people ask how are you doing? What can I do for you? I want to answer, my old life back. A world with no cancer. A cure for Penn.
Penn has been diagnosed with anaplastic ependymoma. This means that her cancer is a high grade tumour that multiplies rapidly in her brain and spine. May 10 has been chosen as Ependymoma Awareness Day due to the 10 different molecular groups of ependymoma. In the science world, ependymoma is a heterogeneous disease (multiple diseases within a disease). This makes treatment extremely complex.
Penn's willingness to fight and be brave throughout all of her treatments has left me wanting to fight too. No family should be going through this. No family or child should have to battle cancer. Although it's been hard on our family, we know there are other families that don't have the support of family and friends like we do." You can learn more @Pennthebraveyyc. Content and branding was created by Fostercreative.ca.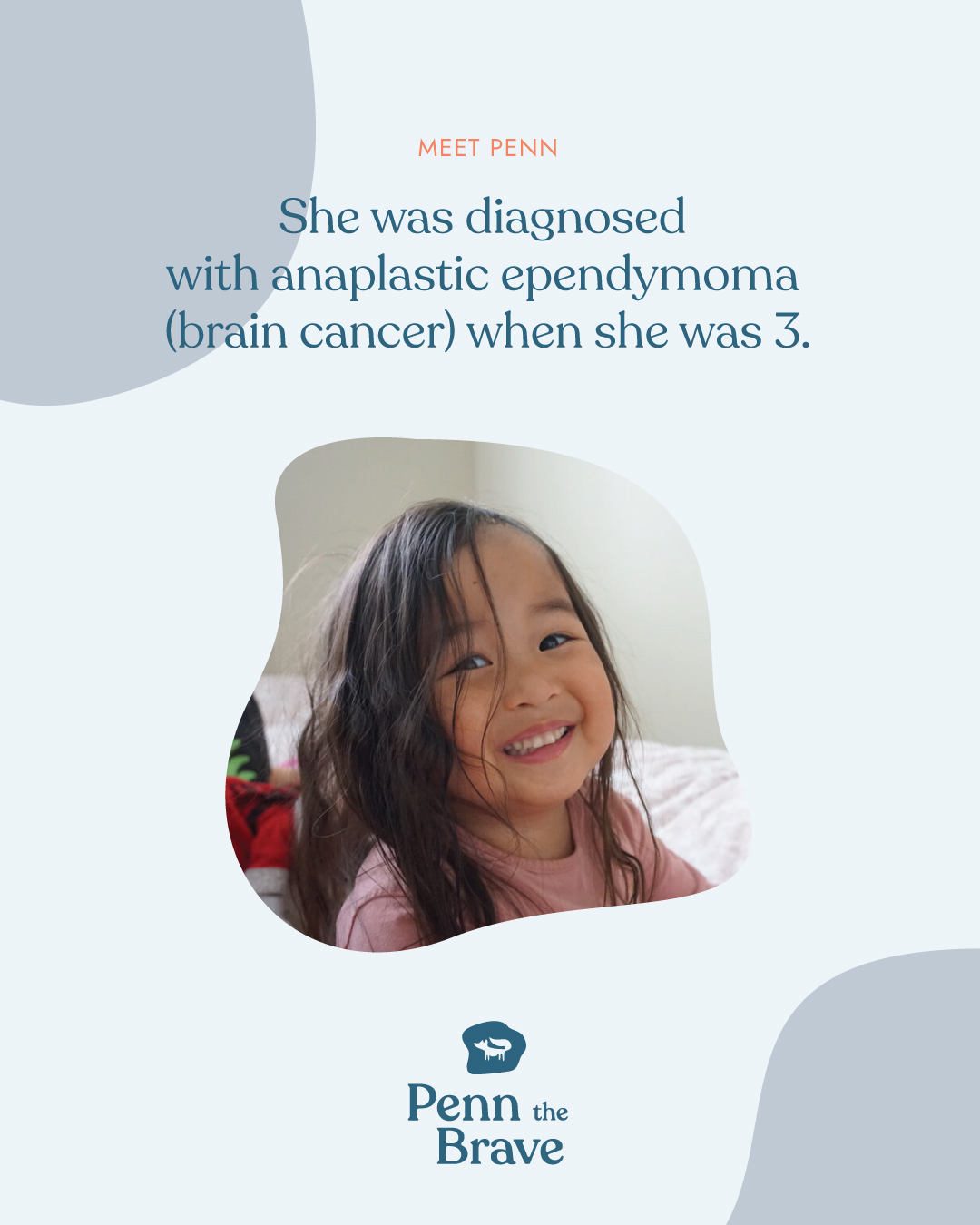 School In Montreal Releases Butterflies To Raise Awareness for Teacher's Son Who Has Ependymoma
Mary shared, "May 10 was a very special day for the children at CPE Les Coquins d'abord as they were able to release butterflies they raised from eggs! The children proudly wore their CERN Foundation butterfly tattoos and stickers for the event.
This is a foundation that now holds dear to me as my son has been suffering from Ependymoma, a very rare form of cancer, for 18 months now.
Thank you to the children who participated in this beautiful adventure and to you dear parents who accepted that I could publish this event so we could raise awareness to as many people as possible.
Of course you will notice in the pictures that the handsome young man is my son Thomas. This is my hero who came to join our flight."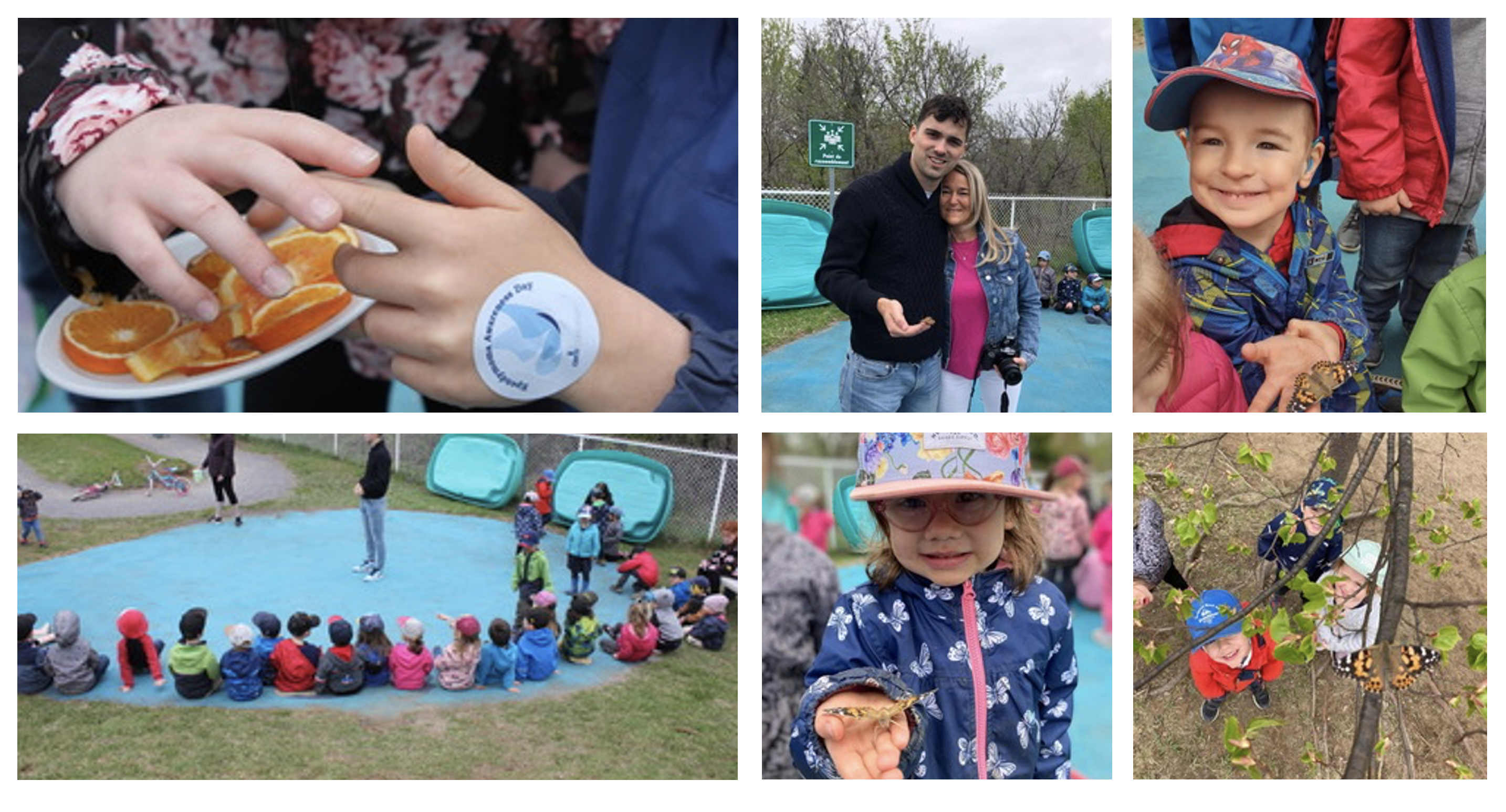 Foundation Raises Awareness in Germany for the Fight Against Cancer
Ein Kiwi gegen Krebs, A Kiwi for Cancer, is committed to the fight for a childhood without cancer and above all, supports brain tumor research efforts at KiTZ Heidelberg. To recognize Ependymoma Awareness Day, the team brought butterfly balloons filled with helium to the children's oncology ward in Heidelberg. In connection with a fundraising week in a clothing store (H&M) in Heidelberg, people wrote their names on butterflies and hung them on a wall.
The foundation's real action, which takes place between Ependymoma Awareness Day and World Brain Cancer Day, is that their Kiwi goes on a journey - traveling around the world - collecting donations for research. This year, their kiwi will be accompanied by a butterfly. The butterfly is gray (brain tumors) and yellow/gold (childhood cancer) and can be seen in all the pictures with the kiwi.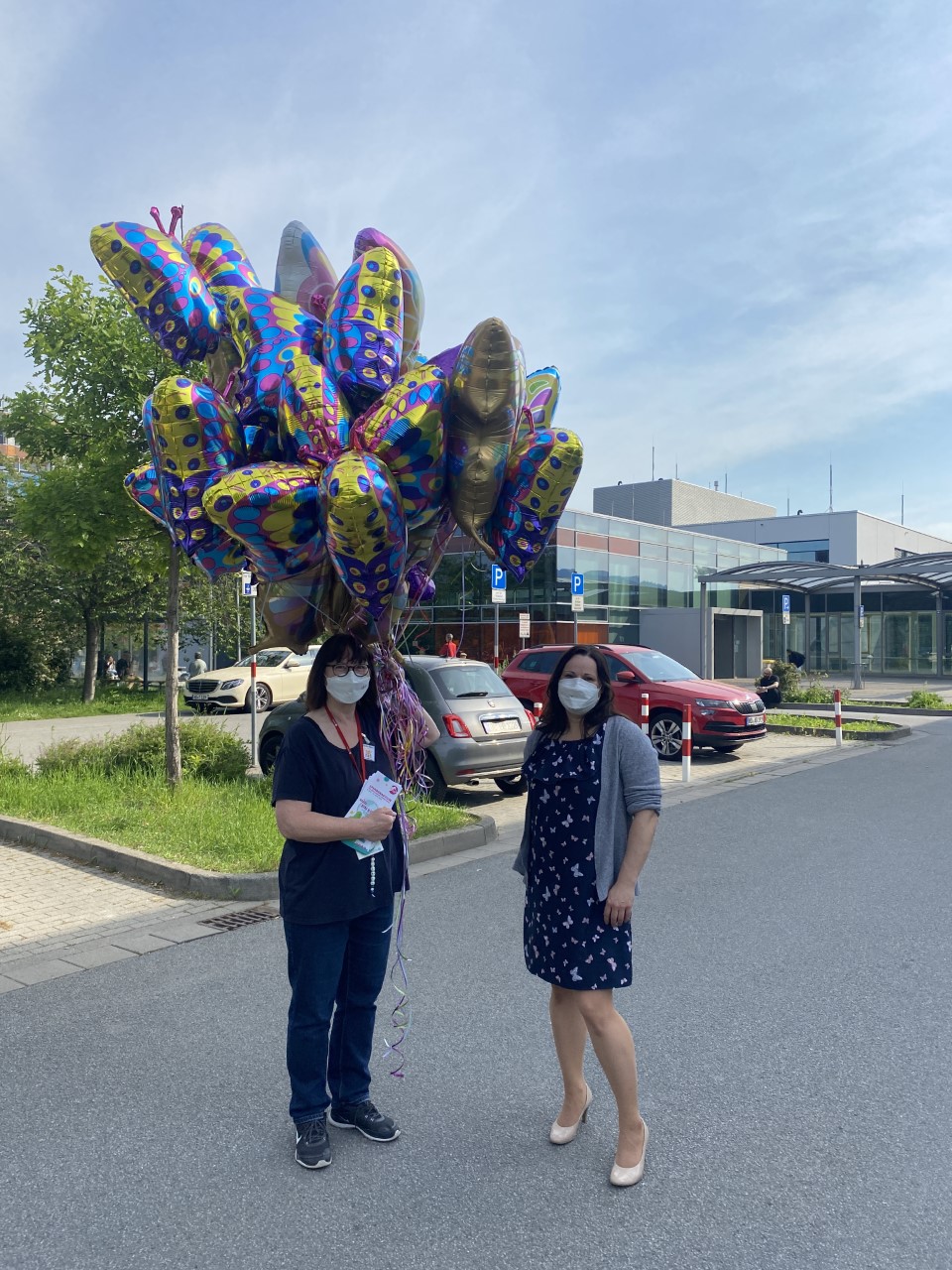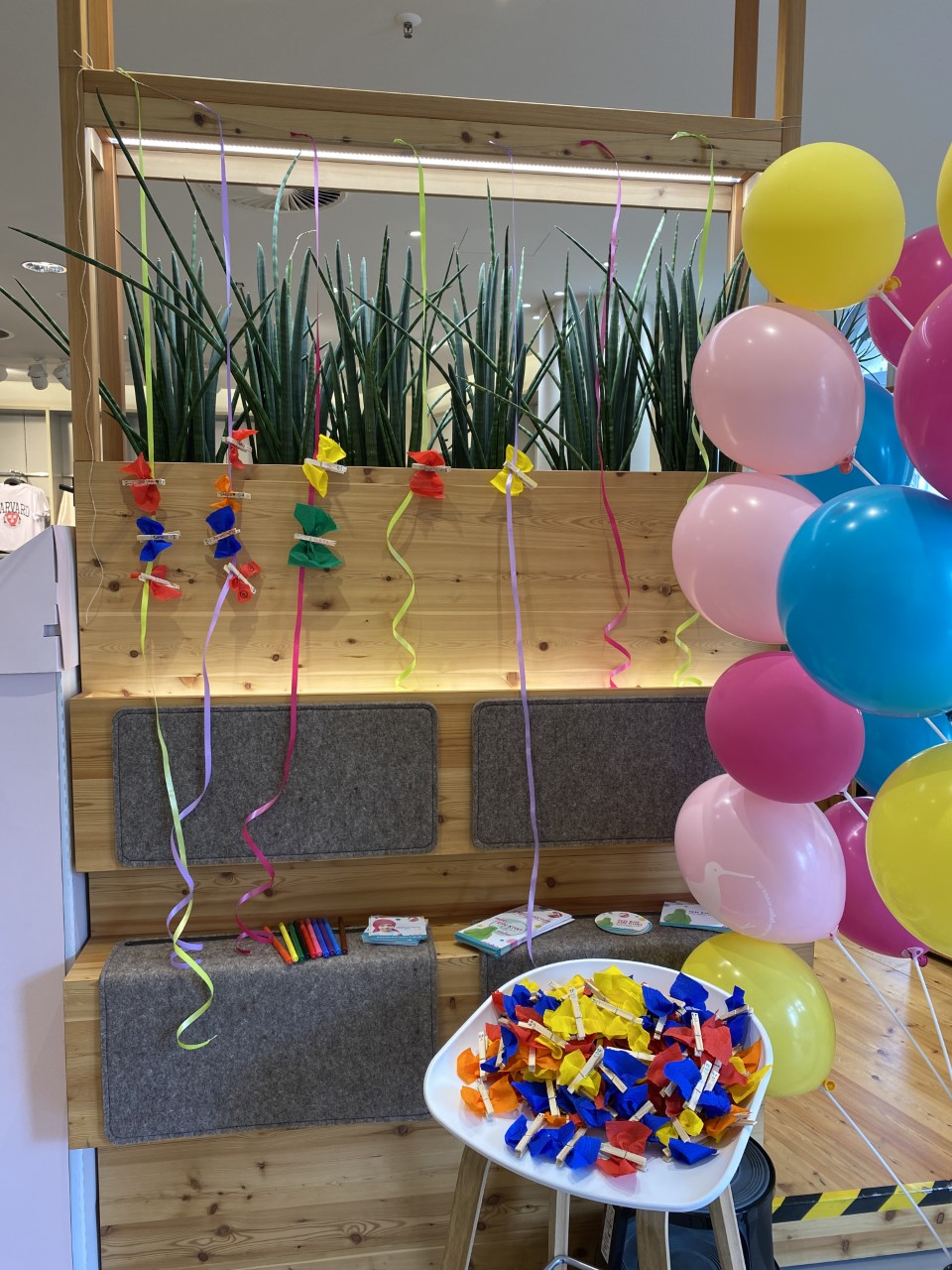 Community Outreach through Social Media
On May 10, hundreds of families around the world took to social media to spread awareness about ependymoma. New this year were infographics listed in the toolkit on the EAD website for people to share and personalize. Some examples from the ependymoma community included the following hashtags #CERNButterfly #epENDymoma #EpendymomaAwarenessDay and #BTAM. Thank you to our community and partners for helping to raise awareness about this rare disease!