Colgate Uplifting Athletes Host Lift for Life Fundraiser
— Categories: Press Release Posted on April 29, 2013
Colgate Uplifting Athletes chapter hosted its annual Lift for Life strength and skills competition in Hamilton, NY, on April 17, 2013, to raise funds for the CERN Foundation.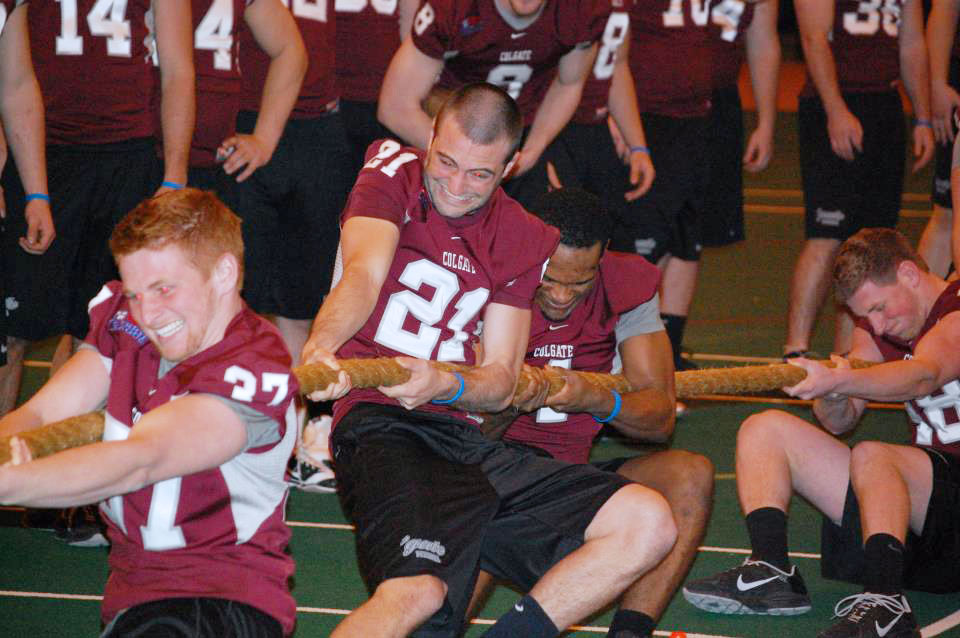 This marks the third consecutive spring that Colgate's chapter has hosted this exciting event.
In 2011, the Colgate Uplifting Athletes University football team, known as the Raiders, were inspired to fundraise for this rare cancer when they found out their own offensive line coach, Casey Vogt, was diagnosed with spinal ependymoma. He was honored that the team chose to raise money and awareness for ependymoma. Last fall, Colgate's Uplifting Athletes raised more than half of its $20,000 goal for the entire 2012-13 season.
"We are delighted to have the opportunity to connect with Colgate University and Uplifting Athletes on this fundraising effort to raise the visibility of ependymoma," said Mark Gilbert, MD, who serves as the Principal Investigator of CERN. "Through fundraising by generous donors, including the inspiring work at Colgate and Uplifting Athletes on behalf of Coach Casey Vogt, CERN is taking significant steps to achieve our ultimate goal – to cure ependymoma."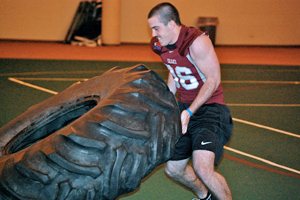 Many people attended the Lift for Life event to support the Raiders in this endeavor and they showed that all of their hard work can help a good cause. Andrew Nairin, Colgate's Chapter President, helped plan the Lift for Life event and will enter his senior season on the Raiders football team this fall.
Each Colgate football player had their own player page where friends and family could pledge money. The chapter also hosted an online auction of sports merchandise that was donated to the cause from many professional athletes. The auction featured an autographed football from the 2013 New England Patriots, including Tom Brady, Wes Welker and Rob Gronkowski; an autographed football from former Miami Dolphin, Jason Taylor; and an autographed baseball signed by the 1977 New York Yankees, just to name a few. There are still items available to bid on.
"Thanks to everyone for their support of Uplifting Athletes," Nairin said. "With your help, we can make a meaningful difference in the lives of those suffering from ependymoma. Together, we are stronger!"