Ian Delivers Speech at Ependymoma Awareness Day
— Categories: Press Release Posted on May 29, 2019
Ependymoma survivor, Ian, gave these remarks to patients and caregivers at the Bracewell law firm during the National Brain Tumor Society's Head to the Hill event.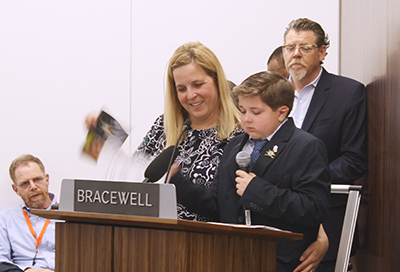 Participants gathered to raise awareness of ependymoma at the 2019 Ependymoma Awareness Day butterfly release.
I am a son
I am a brother
I am a dreamer
I am a fighter
I am a Spartan
I am an ependymoma survivor
But most of all I am Ian!
I didn't choose cancer, it chose me. But I do know I am going to move mountains because of it.
I don't remember the day they discovered my brain tumor, but my mom says it's a day she will never forget. It was Mother's Day and I was only 15 months old. My surgery began. I died for a moment, but as you can see... I fought back. I had a bigger plan of my own.
My doctors say things like, "We hit a home run with this one!" and "He's a medical wonder."
I think I'm just me, Ian, the kid with nice hair that likes peanut butter just about anyway. I didn't choose ependymoma - it chose me.
I didn't choose to lose 17 months of my childhood to hang out at hospitals with IV drips, harmful drugs with awful side effects, horrible port infections, and a feeding tube! I didn't want to miss playing at the park or my own birthday party. Cancer chose that for me.
Ian shares a photo of him when he was 15-months-old. This was me the day I didn't feel good... my head hurt really bad but I was too young to tell anyone. No one thought cancer. Not even the emergency doctor the first time. Good thing my parents knew to ask another doctor!
Ian shares a photo of him after surgery. Here was the day we hit the home run. I slept through the whole 22 hours. My parents didn't sleep at all. I lost my hearing and one vocal cord that day.
Ian shares photos of him in the hospital and recovery. These were days I'm glad I don't remember. They make me cry because I see my family cry when they talk about it. You see cancer doesn't just affect me, it affects my whole family and everyone who loves me. It still does. You can't erase it. Just ask my brother and sister.
Ian shares photos of him with his family. These are days I never want to forget! This is my awesome life beyond cancer the way it should be! I have the best job, the best friends, and the best family!
I didn't choose cancer, but I did choose to beat it!
In closing, I just want to give others HOPE that there are good days to come. Fight for them.
Go green! #BECAUSEOFIAN