Kimberly Speaks At 2015 Ependymoma Awareness Day
— Categories: Press Release Posted on May 16, 2015
Kimberly gave these remarks to patients and caregivers at St. Jude Children's Research Hospital, who gathered to raise awareness of this rare form of brain and spine cancer.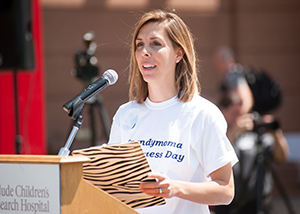 Participants gathered to collaborate on finding a cure at the 2015 Ependymoma Awareness Day butterfly release.
On behalf of the leadership team at the CERN Foundation I am excited about some of the new opportunities we are privileged to be a part of in order to expand our efforts. As we look back we can celebrate monumental milestones in clinical and basic science research efforts that will be hallmarks of our success. As we look forward there are new opportunities to strengthen and expand our collaboration worldwide.
Recently, a father of a child who has ependymoma wrote to me and said "we need more than interest". He is exactly right. We are desperate for action; action that helps translate into meaningful changes for the future of people diagnosed with ependymoma. Futures that are brighter and longer than the outlook some are currently faced with. And with that said, I am honored to announce our new CERN Foundation Research Fellowship, which will support rising young investigators focusing on ependymoma research. This research effort is made possible entirely from donations from our remarkable ependymoma community. Your generosity will have a meaningful impact on the research being done in the ependymoma field in honor or in memorial of your loved one. It is with great humbleness and pride that we accept your contributions and continue to create activity that is undoubtedly needed.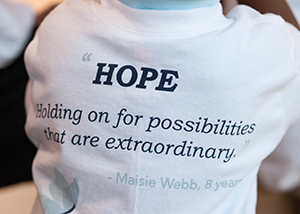 This year, we asked people from our community to submit quotes about what hope meant to them. It was evident from this exercise and from other interactions in the past, that hope changes its shape and even its meaning throughout the very difficult journey of an ependymoma diagnosis. For many of us in beginning of the journey, hope can mean successful surgeries, minimal treatment, complete healing, and hope that it will never return. For those of us traveling somewhere through the middle parts of the journey hope is for clean scans, new treatment options, and hope that a cure is on the horizon. And for those of us who are forced to face the end of the journey hope can still shines a speck of light in darkness and can mean the possibility of peace and the hope that someday no other family will have to go through the despair and sadness we did. Through all of the faces that hope wears, eight-year-old Maisie W., captured the essence of its power best "HOPE is – Holding on for possibilities that are extraordinary."
With that said, the butterflies were chosen as a symbol to represent hope through change. Just as the butterfly dramatically changes its shape so does the meaning of hope. Through change in awareness, funding, and research for ependymoma we can hold on for possibilities that are extraordinary.