CERN Foundation to Become A Designated Program of NBTS
— Categories: Press Release Ependymoma Community Posted on September 17, 2020
National Brain Tumor Society (NBTS) and the CERN Foundation Announce Official Plans for CERN to Become a Designated Program of the NBTS

Greetings Ependymoma Community,
We want to share an update on exciting changes for the CERN Foundation regarding our relationship with the National Brain Tumor Society. Effective immediately, the CERN Foundation will officially become a designated program of NBTS. Building upon years of collaboration, starting with co-hosting the Ependymoma Awareness Day event in Washington, D.C., then Head to the Hill participation, and most recently the joint creation of the Ependymoma Fund for Research and Education, the move to fully integrate our organizations will further enhance and codify a relationship that has been embraced by, and benefited, all stakeholders.
With CERN's focus and expertise in ependymoma, the National Brain Tumor Society's broad platform for advocacy, and a shared commitment to collaborative, treatment-focused research, we are combining the strengths of each organization to better serve patients and their families. We hold tightly to the values and mission of the CERN Foundation and feel they very closely align with those of the NBTS and that we'll be in a better position to deliver on our objectives within this new structure.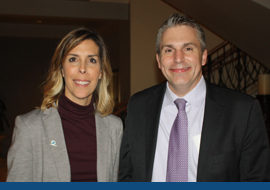 "As we've continued to work more closely with the CERN Foundation in the last few years, the synergies, compatibility, and shared values and beliefs of the two organizations have become ever more apparent," said David Arons, CEO, National Brain Tumor Society. "Taking our previously announced partnership even one step further to full integration between the two organizations was a logical next move to realize the full potential and benefits of our long-standing collaboration. We're excited to welcome the CERN Foundation as a program of the National Brain Tumor Society."
CERN will retain its identity and independent website, while highlighting its position as a program with the full backing and support of the National Brain Tumor Society's infrastructure. Kim Wallgren will continue to lead this effort as the Executive Director of the CERN Foundation, a program of the National Brain Tumor Society.
"This integration is a tremendous opportunity for our rare disease community and will ultimately have many benefits for our organization and the families we serve, by ensuring durability and impact now and in the future," shares Kim Wallgren.
This comes at an exciting time as we kick off September with Childhood Cancer Awareness Month (CCAM). NBTS offers extensive community outreach for CCAM activities, which CERN and the ependymoma community will now have a larger voice in, and is a perfect example of the benefits this integration will bring to our community. Please consider getting involved to show your continued support for the Ependymoma Fund in this next chapter.
Sincerely,
Kimberly Wallgren
Executive Director, CERN Foundation,
a program of National Brain Tumor Society

David F. Arons, JD
Chief Executive Officer
National Brain Tumor Society