The Cern Team
Kristin Odom
---
Communications Coordinator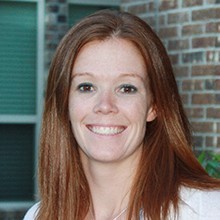 In her role as the Communications Coordinator, Kristin works on the social media, communication and administrative aspects of the CERN Foundation.
Contact Kristin: kodom@cern-foundation.org
Education
B.F.A., Louisiana Tech University; Graphic Design, 2003
About Kristin
Prior to her work as Communications Coordinator, Kristin worked as the Composing Manager at a newspaper and a graphic designer at a marketing company in Louisiana. With her background in design and family history of cancer, Kristin decided she wanted a career that would make a difference and help others and that led her to the CERN Foundation.
In addition to her work for the CERN Foundation, Kristin works as the Communications Editor for the Neuro-Oncology Branch at the National Cancer Institute and the Society of Neuro-Oncology (SNO).